Customer Profile: Hillberg & Berk
December 18, 2015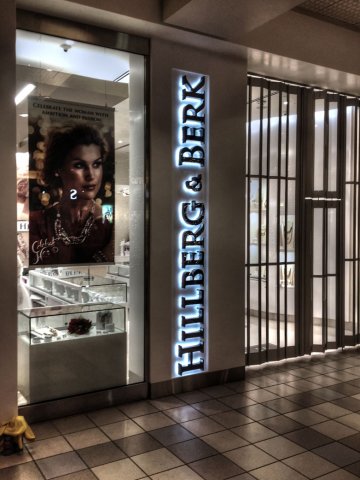 Electra Signs Regina branch Prairie Sign was pleased to work with Hillberg & Berk and help with their branding awareness of their new location. The sign features internally and environmentally friendly LED (light-emitting diode) creating a small ECO friendly footprint. It was very important that the signs be clean and readable so a classic halo illuminated sign was designed and installed which gives the store a further look of sophistication and style.
About: Hillberg & Berk designs luxurious, everyday jewellery for women with a keen sense of style. Our jewellery is modern yet timeless. Through Education, Inspiration and Opportunity, We are women empowering women – one sparkle at a time.
-Rachel Mielke, CEO
You can purchase Hillberg & Berk jewellery in the Regina showroom; at select boutiques, galleries and stores; or on the website.
New Location:
Hillberg & Berk
Midtown Plaza
201 1 Ave S
Saskatoon, SK. S7K1J9
(306) 931-2533
Flagship Location:
Hillberg & Berk
2169 McIntyre Street
Regina, SK, S4P 2R8
(306) 522-5801
The difference in quality starts with employees that love what they do. Electra Sign Ltd. Winnipeg Manitoba and Prairie Sign Regina Saskatchewan show this in every project we create.
MAKE THE RIGHT TURN ON AVENUE 4
January 17, 2017
Creating a difference in our re-launch for the Electra Sign website needed special attention and the right team. Avenue 4 stepped up and earned our business and respect. Digging deep into our company philosophy, experience and quality workmanship, they took things to the next level.
Our recent installation of their new signage increased the level of awareness on the exterior while they as well re-launched their brand with an exceptional design. Halo-lit letters created a main entry to the company that boasts creativity in marketing and communications.
From design to development, strategy and fulfillment. Their team will innovate and custom-build solutions and services for your needs. Make the best decisions for your brand and increase your ROI by contact the Avenue 4 team today.
Winnipeg Office:
Ph: 1-877-946-5001
1740 Wellington Ave.
Winnipeg, MB R3H 0E8
Montreal Office:
Ph: 1-450-937-9945
2686-B CH De La Petite-Cote
Laval, QC H7L 5Z7
Website: www.avenue4.com
Facebook: https://www.facebook.com/avenue4com
Twitter: https://twitter.com/Avenue_4
LinkedIn: https://www.linkedin.com/company/avenue-4

Complete sign solutions by Electra Sign Ltd. Winnipeg Manitoba and Prairie Sign Regina Saskatchewan, leading the signage industry in award-winning custom design and manufacturing.
Electra Sign: 2016 WSA Distinguished Contributor Award
January 15, 2016
Electra Sign Ltd. was honored to receive the 2016 WSA Distinguished Contributor certificate recognizing the ongoing support of World Sign Association and its division events and association activities.
Branding & Awareness through effective signage. We are here to help at Electra Sign Ltd. Winnipeg Manitoba and Prairie Sign Regina Saskatchewan.
← Older Posts
Newer Posts →