A Community Difference in Banking
November 24, 2017
Founded in 1978 Me-Dian as the Métis Credit Union of Manitoba, it first was recognized as a "closed bond" credit union. Members of closed bond credit unions share a distinct association based on religion, profession, culture or some other criteria, and nearly every credit union in the province has been closed bond at one time or another.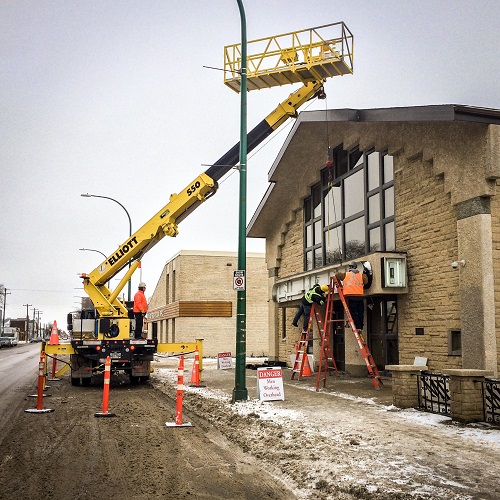 It was in 2009 the doors were widened, welcoming those who are not of aboriginal heritage as associate members of the credit union.

Almost 8 years later, Me-Dian Credit Union continues to share their community commitment in celebrating their high standards of service. With this came the request for Electra Sign to assist in their well-known brand by creating custom LED signage. Poised to meet their fast-approaching Grand Opening, Electra Sign committed to removing all previous signage and install new eco-friendly LED illuminated cabinets, channel letters that would showcase their long standing logo and history behind it.
On November 20th, 2017 Me-Dian Credit Union and their staff held an open-door ceremony in traditional Metis style while they welcomed members to enjoy the making of new memories. The re-launch included a new online look with the website and local media was on-site for the opening ceremonies.
Visit the Me-Dian Credit Union and the great staff today and learn more about the benefits of banking.
The Me-Dian Credit Union
303 Selkirk Ave.
Winnipeg, MB
Phone: 204.943.9111
FACEBOOK
Instagram
Time-lapse look at our crew installing their new signs...
Youtube

The difference in quality starts with employees that love what they do. Electra Sign Ltd. Winnipeg Manitoba and Prairie Sign Regina Saskatchewan show this in every project we create.
Can You Inspire Your Community with a Sign?
July 29, 2013
LED signs, churches and places of worship.
LED signs are an extremely cost-effective form of communication. A new LED sign in conjunction with your new or existing signs can cost less than 15 cents per thousand exposures while reaching the very people who are geographically close enough to act on your message immediately. How important is it for you to keep your congregation informed and growing? With an attention-grabbing LED message center, your church can reach out with inspiration and excitement to your flock as well as the surrounding community. LED displays provide energy-efficient communications 24/7, using light, color, and motion to bring greater visibility to your congregation's programs. With the addition of an LED sign, your church can become your community's beacon of light.
Benefits:
• Extend a warm welcome to newcomers and passer-bys
• Share daily or hourly affirmations with your whole community
• Communicate weddings, festivals and special events
• Promote school spirit, sporting events, and student activities
• Acknowledge student, staff and ministry achievements
• Seek community support for fundraising events
• Draw attention with time, temperature and date displays
An authorized reseller of Watchfire LED signs, Electra Sign and Prairie Sign offers full signage solutions throughout Manitoba, Saskatchewan and Alberta. From one-of-a-kind signs to all-encompassing sign programs, Electra Sign and Prairie Sign are dedicated to providing the highest quality service to all of our clients.
That's why when it comes to LED signs, we work exclusively with Watchfire Signs, which engineers and manufactures LED signs to help businesses and organizations increase visibility and drive growth. The company has created more than 15,000 LED signs for banks, retailers, schools, places of worship and other locations throughout North America and is thoroughly committed to the highest level of education, training and support to make our customers successful.
Complete sign solutions by Electra Sign Ltd. Winnipeg Manitoba and Prairie Sign Regina Saskatchewan, leading the signage industry in award-winning custom design and manufacturing.
Proud Sponsor for JDRF Golf
August 10, 2012
Prairie Sign, a division of Electra Sign, is pleased to be one a hole sponsor for JDRF Golf's "Chipping in for the Cure". They have helped raised over $52,000 in their 5th annual Juvenile Diabetes Charity Golf Tournament which makes the foundation the largest non-walk, non-ride fundraiser for JDRF in Canada!
As one of their sponsorships, Prairie Sign was granted the opportunity to have their corporate logo posted proudly at the events' T-Box.
About JDRF:
There are over 65,000 Saskatchewan residents directly impacted by diabetes. We are confident each of us personally knows a family member, friend, or coworker affected by diabetes. In addition to the great personal cost, this disease is estimated to cost the Canadian health care system and economy, through lost productivity, some $9.2 billion annually. Proceeds from this event will contribute directly to finding a cure for Type 1 Diabetes.
The difference in quality starts with employees that love what they do. Electra Sign Ltd. Winnipeg Manitoba and Prairie Sign Regina Saskatchewan show this in every project we create.
← Older Posts
Newer Posts →