Customer Profile: Gospel Mission Church
June 1, 2017
On April 12th, 2015, the shovels hit the ground on new real estate in Winkler, Manitoba. This sod turning event marked the first stages in moving the Gospel Mission Church from its Pembina Ave. location after 11 years to 15th Street. From the first service in a shared building in April 2005 with Emmanuel Mennonite Church, to holding their first service in their new building on April 24th, 2016 – the changes were welcomed.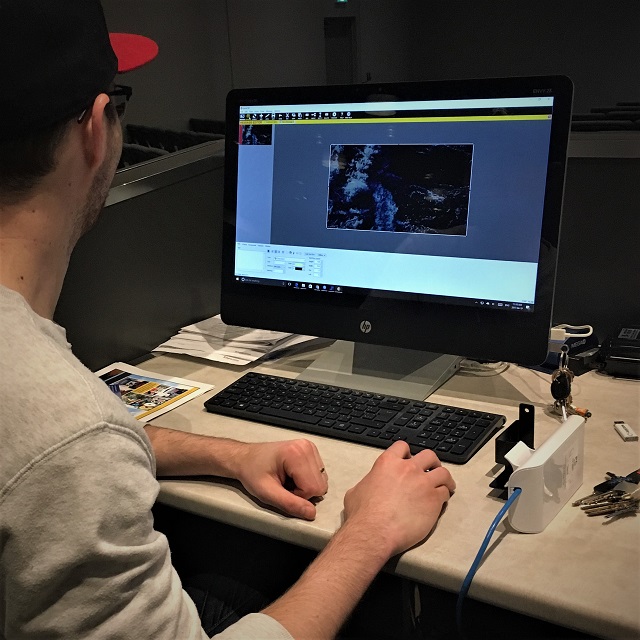 Image: Training on the Watchfire EMC sign software.
Driving onto the gravel parking lot to meet for the first time, Electra Sign provided a detailed presentation using the EMC Demo Truck to visualize the technologies available in an electronic messaging centre(EMC). How these technologies would enhance the communications of the Church and the surrounding communities. With more than 250 members and service attendance of over 800 regularly, Gospel Mission Church has become a recognized gathering with members(partners) growing constantly.
Capturing the unique beauty of the Church, Electra Sign's team custom designed, manufactured and installed a 14-foot-high, double-sided 12mm electronic messaging centre. Boasting full colour high resolution imagery and animation, this structure compliments the building and its shape.
When you find yourself in Winkler, drop in and say hello. Also visit them online and have a look at the construction development, details and pictures.

Website: www.gmchurch.ca
Gospel Mission Church
855 15th Street
Winkler, MB
Phone: (204) 325-6388
The difference in quality starts with employees that love what they do. Electra Sign Ltd. Winnipeg Manitoba and Prairie Sign Regina Saskatchewan show this in every project we create.
Signs 101: Illuminated channel letters on a budget?
April 20, 2017
Channel letters are custom-made metal or plastic letters that are commonly used on the buildings of business, churches, and other organizations for exterior signage. They can be illuminated or non-illuminated and can give your business a clean and sophisticated look.
Unfortunately, illuminated channel letters can be financially out of reach for some signage budgets. In many situations though, similar effects can be achieved in a more affordable way with our LED-illuminated push-through letters. Typically, this type of letter is routed from a thick polycarbonate substrate to give it dimension, and then back-lit with LEDs. It won't be quite as thick as a traditional channel letter but can be fabricated at smaller overall sizes when required. Push-through letters also offer the benefit of side-lighting at no extra cost, adorning the letter edges with an eye-catching halo light effect at night.
If you'd like more info about our illuminated channel letters or push-through letters, please contact us.
Complete sign solutions by Electra Sign Ltd. Winnipeg Manitoba and Prairie Sign Regina Saskatchewan, leading the signage industry in award-winning custom design and manufacturing.
Award Winning Design: Not All Signs are Created Equal Series
November 26, 2012
With over 25 years of experience, along with our focus on innovation and quality, our creative department prides itself on making design recommendations to meet your budget and make your business look incomparable. We can provide customized presentations, using digital technology, illustrating what the finished signs will look like – on and around their premises. Electra Sign truly understands the importance of image for your business.
Before your next sign purchase, ask yourself… Are you getting the same quality that Electra Sign offers?
Award winning designs spotted throughout the West and into Ontario - Let Prairie Sign Regina Saskatchewan and Electra Sign Ltd. Winnipeg Manitoba improve your branding today.
← Older Posts
Newer Posts →