Getting Cold Feet: Santa Claus Parade 2018
November 19, 2018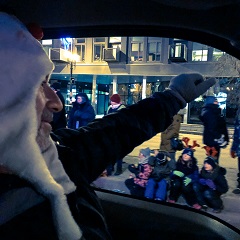 It's was a cold and windy day in Winnipeg, but that never stops the love of families coming out to take in the Santa Claus Parade and all its wonders.

This year in 2018 was a very special event that almost didn't take place. Funding was low, and the Santa float needed huge repairs, otherwise, the parade would be canceled. Several sponsors stepped up to the ice-cold plate and donated enough to keep Santa's float and the parade moving forward.

Electra Sign was pleased to answer a unique call from the Parade organizers to drive Manitoba's only Mobile LED Messaging Truck displaying the names of all sponsors and thanking them for making this happen.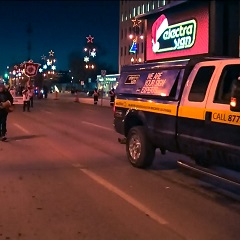 Taking the centre spot in the floats, the crowds watched the electronic screens and made lots of noise to thank these sponsors for their generous support. There are many online posts and pics including...

Website: winnipegsantaparade.com
Twitter: twitter.com/WpgSantaParade
Instagram: instagram.com/wpgsantaparade
Facebook: facebook.com/WpgSantaParade

A Historical Ride Enters Manitoba: Royal Enfield Customer Profile
August 15, 2018
In 1909, Royal Enfield expanded its offerings by introducing a small motorcycle with a Swiss origin motor. Fast forward into 1949 where India took to enjoy the look and feel of these genuine products. It wasn't until 1955 when the Indian Government made the decision to employ their police departments and army forces with the Bullet 350 as the necessary bike for the job.
It was then that the original manufacturer out of Redditch, Worcestershire (Redditch Company) had partnered with Madras Motors in India and formed Enfield India where the passing years saw the Bullet dominating the Indian Highways and became increasingly popular year after year. In 1994 the name changed and became Royal Enfield.
Bringing this amazing brand of precision engineering closer to home, Electra Sign was asked to keep the branding intact and create a custom LED sign that would influence motorcycle enthusiasts to enter into a new experience. Read more on the history of Royal Enfield at www.royalenfield.com/ca and then drop by and visit their Manitoba showroom at 41 Higgins Ave. in Winnipeg, MB.
Royal Enfield
Facebook: Royal-Enfield-Canada-122290377840719/
Twitter: @RoyalEnfieldCAN
Instagram: @royalenfield
Healthy Expansions | Customer Profile: Northway Pharmacy
June 26, 2018
Creating relationships with your pharmacists helps in building stronger communities. Northway Pharmacy is quickly becoming a recognized brand by uniting pharmacies under one umbrella of health. They are the same pharmacies you've come to trust over the years and Northway wants to keep it that way.
Understanding the high standards expected, Electra Sign was asked to design and manufacture unique LED signage that would further increase this growing brand. With multiple pharmacists excited to accept this partnership and the shared goal in healthcare, this trusted name is quickly becoming recognized.
Continuing to develop pharmacy practices is what the team at Northway does and whom better to do it with, then your well-known pharmacist.
Visit the Northway Pharmacy website today and learn more about their services and locations in your community.
www.NorthwayPharmacy.ca
Ph: (204)334-0062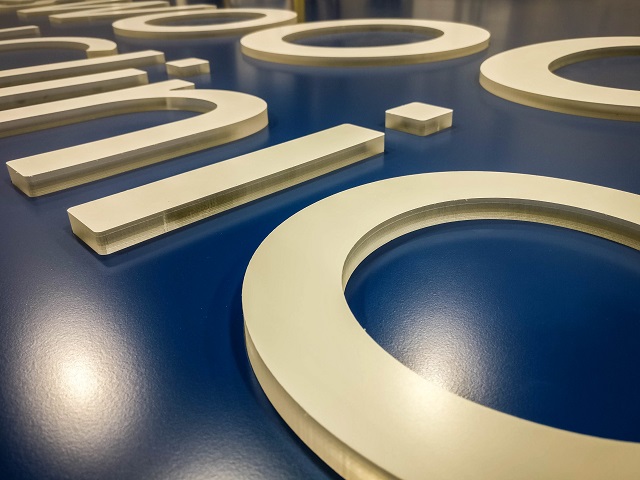 Sign details: Eco-friendly LED illuminated sign cabinets that feature routed out graphics backed with ¾" thick clear acrylic push thru letters to create a beautiful halo effect at night. Sign cabinets are finished with a high-gloss aircraft quality paint finish to last many years.
← Older Posts
Newer Posts →