Electra Sign on the cover of Sign Media Canada Magazine
September 14, 2017
We are very proud to be featured on the cover of this month's latest issue Sign Media Canada Magazine!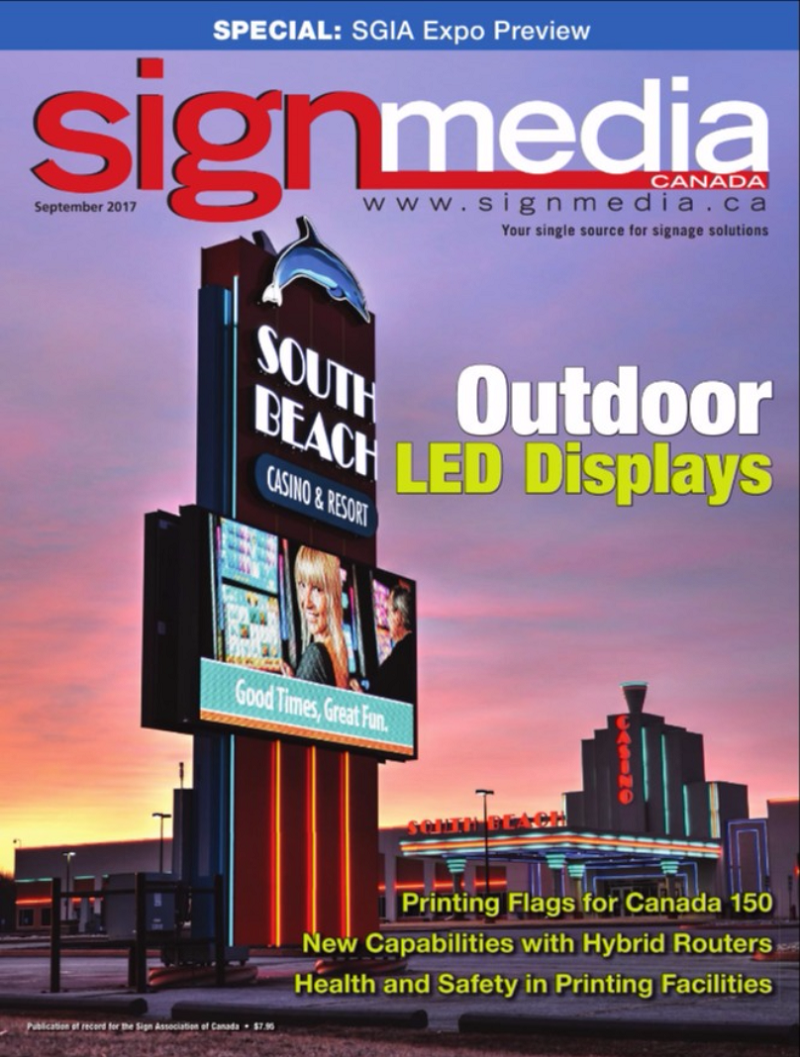 Via Sign Media Magazine... Winnipeg based Electra Sign is the only Canadian winner in Watchfire Signs' 2017 LED Sign Awards program, honored for the pylon sign it built for South Beach Casino & Resort on the Brokenhead Ojibway Nation Reserve.

Designed with an art deco theme and installed in 2016, the pylon sign features a high-definition (HD) light-emitting diode (LED) electronic message centre (EMC) from Watchfire beneath the facility's name and blue dolphin logo. The Casino is located 30-minute drive north from Winnipeg on High 59 and features the art deco theme throughout.

"We congratulate all the winners," says David Warns, Watchfire's vice-president (VP) of on-premise sales. "We share the goal of bringing timely, relevant advertising to audiences while still maintaining the artistry that has been a hallmark of sign shop for decades."
Link... Sign Media Canada Magazine

Complete sign solutions by Electra Sign Ltd. Winnipeg Manitoba and Prairie Sign Regina Saskatchewan, leading the signage industry in award-winning custom design and manufacturing.
Creating a Community difference in Healthcare
September 11, 2017
Customer Profile: Bison Family Medical Clinic

The summer of 2017 will see an old building redeveloped into a healthcare facility, offering new options to the surrounding areas. The Bison Family Medical Clinic is opening a 2nd location at 1686 Pembina Hwy., that will provide exceptional medical care to the community. The physicians plan to give easy access and empathetic medical care to it's visitors. Providing family and walk-in medicine, Bison Family Medical Clinic will have psychiatry, procedural, women's health, as well as a dietician, pharmacy and nursing support.
Bison Family Medical Clinic on Pembina plans to have a dedicated procedure room, conference room, ECG, Spirometry, X-Ray and casting supplies with a state of the art lab. Their qualified physicians will be made available to provide comprehensive care to a growing community with a variety of needs in evenings and on weekends. Leila Pharmacy will be located onsite for even further convenience and comfort.
When you put so much into caring for so many, it's equally important to let everyone know where you are. With this, Electra Sign was asked to consult with the owners and provide LED signage that would recognize this complete care facility and the redevelopment of the building. Accenting the new signage will be a custom-crafted centre canopy as unique as the building itself.
Bison Family Medical Clinic
1686 Pembina Hwy. Winnipeg, MB
Website: www.BisonFamilyMedical.com
Facebook: @SuperstoreBisonMedicalClinic
Customer Profile: Cory Common Mall - Saskatoon, Saskatchewan
August 23, 2017
Cory Common is Stonebridge's latest business development. Located in the south part of Saskatoon, Saskatchewan, Cory Common is close to downtown and will ultimately serve about 13,200 locals with a storied and convenient collection of retail and dining outlets. Cory Common could very well be the go-to destination to set up your new business.

We were pleased to work with the Cory Common team. They helped make it easy for us to deliver a fantastic new pylon sign that seamlessly complements their property's architecture while greeting passersby and patrons alike with our top-of-the-line LED signage. Come on down to Cory Common and see for yourself.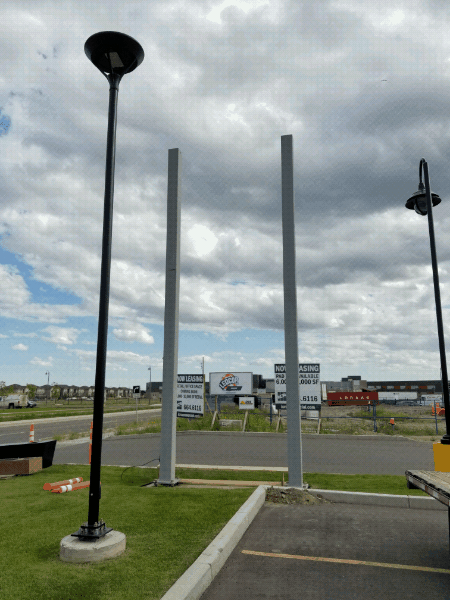 Call Electra Sign Ltd. Winnipeg Manitoba today for your custom manufactured LED creation.












← Older Posts
Newer Posts →