Customer Profile: Hillberg & Berk
December 18, 2015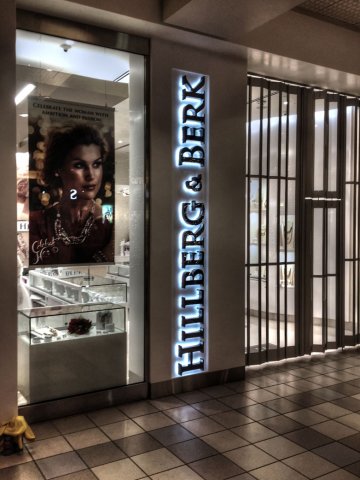 Electra Sign was pleased to work with Hillberg & Berk and help with their branding awareness of their new location. The sign features internally and environmentally friendly LED (light-emitting diode) creating a small ECO friendly footprint. It was very important that the signs be clean and readable so a classic halo illuminated sign was designed and installed which gives the store a further look of sophistication and style.
About: Hillberg & Berk designs luxurious, everyday jewellery for women with a keen sense of style. Our jewellery is modern yet timeless. Through Education, Inspiration and Opportunity, We are women empowering women – one sparkle at a time.
-Rachel Mielke, CEO
You can purchase Hillberg & Berk jewellery in the Regina showroom; at select boutiques, galleries and stores; or on the website.
New Location:
Hillberg & Berk
Midtown Plaza
201 1 Ave S
Saskatoon, SK. S7K1J9
(306) 931-2533
Flagship Location:
Hillberg & Berk
2169 McIntyre Street
Regina, SK, S4P 2R8
(306) 522-5801
The difference in quality starts with employees that love what they do. Electra Sign Ltd. Winnipeg Manitoba and show this in every project we create.