ROLLING IN THE RIGHT DIRECTION: Turk Enterprises
November 12, 2015
From their State of the Art building to the latest LED technology in signage, this company has all the right moves. Since 1988, Dave Tyrchniewicz and his team have made it their mission to be the best refrigerated transport carrier in Canada. Offering a 3600 square foot HACCP certified cooler with four dock doors enables them to store and cross dock loads of food products when necessary.
.
When transporting perishable commodities, having the right equipment is critical to ensuring that the shipment is protected. That's why Turk Enterprises maintains a modern fleet of state-of-the-art trailers, all equipped with the latest in temperature-control technology. One of their tractors can be seen in pink as they spread the word in hopes for a cure for Cancer.
.
When special care and needs are important for transporting goods, give Dave and his team at Turk Enterprises a call at their home base in St. Andrews, MB. at 1-800-667-8875 or visit them online at www.TurkEnterprises.com
Serving Western Canada with the brightest solutions, call the professionals at Prairie Sign Regina Saskatchewan or Electra Sign Ltd. Winnipeg today.
Signs of Winter as Mooyah Mooves Into Winnipeg
November 19, 2015
Electra Sign crews battle the weather to install the signs at the new Mooyah 1765 Kenaston location.
MOOYAH Burgers, Fries & Shakes is a fast-casual, "better burger" concept serving mouth-watering made-to-order burgers, hand-cut French fries made from high-quality Idaho potatoes, and handcrafted 100-percent ice cream shakes.

Founded in 2007, the Plano, Texas-based company only uses fresh, American lean beef and all-natural Jennie-O® turkey burgers, buns baked in house, real cheeses and toppings made from garden-fresh ingredients. It offers online ordering, and a cookout trailer for corporate, social and fundraising events.
MOOYAH, with nearly 100 open restaurants, has been ranked 1st overall in Restaurant Business's 2013 Future 50 list, listed as No. 8 in Fast Casual Magazine's annual Top 100 Movers & Shakers in 2013, a list they have been at the top of for several years in a row, and BurgerBusiness included MOOYAH in its list of "11 Burger Chains to Watch in 2011."
The brand was also recognized in USA Today's Top 50 Franchises for Military Veterans in June of 2013. For more information on MOOYAH, its menu or franchising opportunities, please visit www.mooyah.com. Follow MOOYAH on Twitter @MooyahBurger and connect with MOOYAH on Facebook Fan Page.
Building Canada's businesses better and brighter at Prairie Sign Regina Saskatchewan and Electra Sign Ltd. Winnipeg Manitoba. The region's largest custom sign manufacturer.
Customer Profile: Hillberg & Berk
December 18, 2015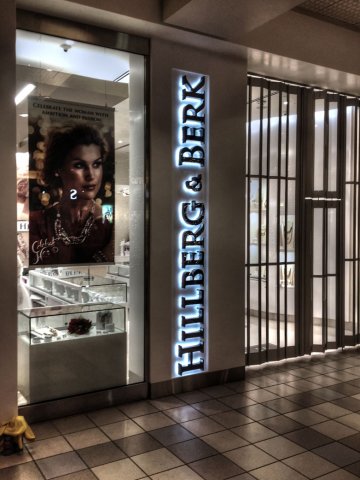 Electra Signs Regina branch Prairie Sign was pleased to work with Hillberg & Berk and help with their branding awareness of their new location. The sign features internally and environmentally friendly LED (light-emitting diode) creating a small ECO friendly footprint. It was very important that the signs be clean and readable so a classic halo illuminated sign was designed and installed which gives the store a further look of sophistication and style.
About: Hillberg & Berk designs luxurious, everyday jewellery for women with a keen sense of style. Our jewellery is modern yet timeless. Through Education, Inspiration and Opportunity, We are women empowering women – one sparkle at a time.
-Rachel Mielke, CEO
You can purchase Hillberg & Berk jewellery in the Regina showroom; at select boutiques, galleries and stores; or on the website.
New Location:
Hillberg & Berk
Midtown Plaza
201 1 Ave S
Saskatoon, SK. S7K1J9
(306) 931-2533
Flagship Location:
Hillberg & Berk
2169 McIntyre Street
Regina, SK, S4P 2R8
(306) 522-5801
The difference in quality starts with employees that love what they do. Electra Sign Ltd. Winnipeg Manitoba and Prairie Sign Regina Saskatchewan show this in every project we create.
← Older Posts
Newer Posts →