Customer Profile: Little Caesars Swift Current Saskatchewan
July 25, 2017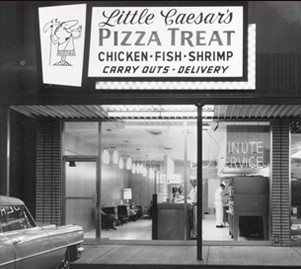 Electra Sign Winnipeg and Prairie Sign Regina were pleased to work again with Little Caesars and their latest location being opened in Swift Current Saskatchewan very soon. Little Caesars has a deep history that started way back in 1959 when husband and wife founders Mike and Marian Ilitch invested their life savings into their first pizza store (pictured left) in Garden City, Michigan, a suburb of Detroit. Since then Little Caesars has become the largest carryout-only pizza chain in the U.S. and an internationally known brand.
Serving Western Canada with the brightest solutions, call the professionals at Prairie Sign Regina Saskatchewan or Electra Sign Ltd. Winnipeg today.
Little Caesars
1669-1150 Central Ave. N.
Swift Current, SK S9H 4C8
Kapil Sony – Owner (pictured below)
Latest Home Inn & Suites Goes Green with an LED Sign Solution
August 24, 2012
Prairie Sign and Electra Sign Ltd. were pleased to work with d3h Hotels Inc. on the Home Inn & Suites project located in Swift Current SK. The striking new signs are internally illuminated by energy efficient LED's creating a small ECO friendly foot print for there newset hotel.
Customer Profile: Based in Saskatoon, d3h Hotels is a hotel management company that owns and operates nine hotels across Western Canada with its two new and upcoming builds of Home Inn & Suites in Swift Current and Yorkton starting in the fall of 2011.
Over the past 13 years, d3h Hotels has gained extensive knowledge and experience in the design and construction of hotels. The company recently celebrated its 10th build, pushing this young management company to retain the honour of being the largest franchisee of Days Inns in Canada.
Saskatchewan's "best kept secret" not only builds, owns and manages hotels but also franchises the Home brand to potential hoteliers. The HomeSuites and Home Inn & Suites franchise offers hassle-free, turnkey solutions that will allow the franchisee to focus on running a profitable business from day one
d3h's vision is to 'work together as a team to provide customers with "stay experience" that makes them feel they were at home'.
d3h Hotels Inc.
1139 – 8th Street East
Saskatoon, SK
www.d3h.ca
Branding & Awareness through effective signage. We are here to help at Electra Sign Ltd. Winnipeg Manitoba and Prairie Sign Regina Saskatchewan.
BDI – Keeping their cool for 60 Years!
June 30, 2017
On May 1st in 1957, the Bridge Drive-In slid open their serving windows for the first time and created a FROZEN FRENZY in Winnipeg's Elm Park neighbourhood. In 1974, its namesake bridge (already a community landmark itself for over 60 years at that point) was closed to vehicular traffic, solidifying BDI as a scenic destination of choice for Winnipeggers to enjoy their favourite frozen treats for decades to come.
As you may already know, BDI's signature treat is the famous Goog, which is spun upside down before handing it off. This time-honoured test proves the Goog's delicious thickness, keeping the spoon straight and the taste buds thankful. And the quality doesn't stop there! Justin and Jessica Jacob both continue to keep classic treat-making traditions alive and well throughout the menu, boasting more signature sundaes, the Creamiest Shake in Winnipeg, and 11 soft serve flavours of ice cream. But even though classic treats never go out of style, this family-owned business is always looking forward. They pulled out all the stops when they unveiled the GOOG TO GO truck in 2016, which gets around town in delicious style.
With their 60th Anniversary happening in the summer of 2017, Electra Sign was asked to update their original signage while blending some new creations in at the same time, including a custom-sculpted LED ice cream cone, and a red light strip pinpointing where to line up for a taste of tradition. Along with a refresh on the street sign, menu boards and awnings – its good to go for decades more!
Enjoy the summer and bring your friends and family down for some great tastes soon. The menu is large and the staff is ready to create some memories for you to enjoy!
Bridge Drive-In
766 Jubilee Ave.
Winnipeg, MB
Facebook: /BridgeDriveIn
Twitter: @BridgeDriveIn
Instagram: @BridgeDriveIn
Call Electra Sign Ltd. Winnipeg Manitoba or Prairie Sign Regina Saskatchewan today for your custom manufactured LED creation.
← Older Posts
Newer Posts →