CLIENT PROFILE: Richardson Innovation Centre
February 3, 2021
We were pleased to work with Richardson International on their new iconic building signage for the new 62,000 sq. ft. Richardson Innovation Centre facility.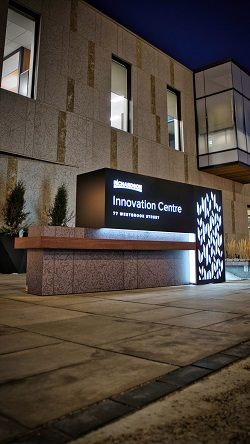 Located in the heart of downtown Winnipeg the facility was designed for advanced food product development. The building is also home to the Richardson Food & Ingredients Team, Oilseed & Milling Product Development Suites, Analytical Laboratory and a Culinary Testing and Demonstration Kitchen. They work with companies to provide comprehensive guidance in areas such as product conceptualization, formulating prototypes, recipe optimization, ingredient analysis, and manufacturing.

The new building letters and monument Electra Sign designed to accent the dramatic angular form of transparent glass and Tyndall stone architecture designed by Number TEN Architectural Group. The LED illuminated signage was crafted to make a bold impact with an engaging evening glow that utilizes environmentally-friendly LED lighting.

Richardson Innovation Centre
77 Westbrook St. Winnipeg, MB.
richardsonfoodandingredients.com
A welcome to Connor Snyder our newest Account Executive
December 30, 2020
We'd like to welcome the newest member to the Electra Sign family.

Connor was born in Toronto, raised in Winnipeg, but wishes he was sitting on a dock at Lake of the Woods. After graduating from the University of Winnipeg with a degree in Marketing & International Business, he started working with companies around the world to develop distribution for a product manufacturer. Throughout his career he has travelled to over 20 countries and to 42/50 states in the USA, building relationships with companies such as NASA and Microsoft.

Now with his roots planted in Winnipeg, he brings his sales and marketing experience to the Electra Sign Team as an Account Executive. In his spare time, Connor enjoys the outdoors, playing music, working on his motorcycle, and sports.
The Psychology of Signage: Font
September 2, 2020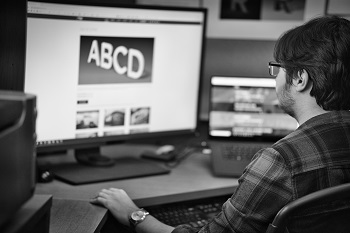 Nowadays it's really easy to overlook the value of good signage, or even dismiss it. And that would be a mistake because, in truth, there's a lot going on behind the scenes. Your signage is your business' first impression, and that will directly affect the psychology of your consumers. In the first part of this series, we'll be going over fonts, and how different styles of font can create different impressions on people.

Fonts, as you may know, come in many shapes and sizes. There is such a massive collection of them that picking a style can be very challenging. And though it may seem menial, it is actually one of the most important aspects in controlling a consumer's initial impression of your business. This is because font choice, if done well, is used to compliment your other design choices --which reinforces your brand as a whole. And likewise, poor font choice can actually deter people's intended perception of your business.

When selecting a font, you'll find that there is a multitude of styles to choose from. And all that choice can be overwhelming. Before you decide, ask yourself what exactly you want to convey. What do you want people's impression of your business to be? Different styles of font convey different ideas, and those ideas are what drives your brand.
If you want your business to be perceived as competent, authoritative, or formal, a font in a serif style would suit your needs. Such a font also makes a business seem more safe and trustworthy. Furthermore, sans serif font styles are the modernized alternative to regular serif. It's minimalistic and oftentimes used by tech-centric companies. Script fonts, which mimic cursive, are perceived as more elegant, sophisticated, and personal than other styles. And if you want to make your business seem more jovial and inviting, bubbly or rounded font styles will suit your needs.
And as a rule, thin-lined fonts are used to convey beauty whereas obscure typefaces convey uniqueness, and slanted letters convey speed.

But in the grand scheme of things, all of these examples are just the tip of the iceberg. There's still plenty of excellent resources on the internet and we encourage you to further explore the ever-evolving world of typography.
← Older Posts
Newer Posts →