Client Profile: Anchor Point Church
March 11, 2022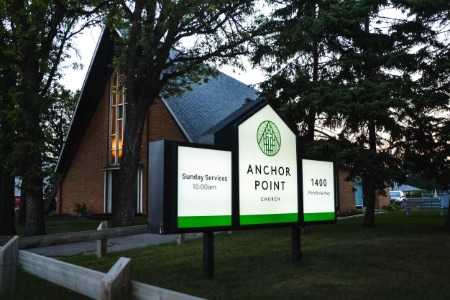 Anchor Point Church started as a Bible study made up of people called to begin the journey of planting a new church in Winnipeg. Pastor Al Friesen had planted many churches before, and at the core of his approach was the need to take young leaders on the journey with him. He believed in discipleship – the active leading of people towards an abundant walk with God.
Anchor Point Church is located at 1400 Pembina Highway in Winnipeg, MB. They have Sunday services starting at 9 am & 11 am, and would love for you to join them!

Pictured above is a project we helped them out with. Their church recently expanded and required some new entrance signage. We designed some new LED halo-lit letters and logo for the front entrance and some non-lit letters for the rear entrance. The already amazing architecture of the church is only enhanced by the signs and provides an inviting feel to new and existing people.


Visit them:
IG: https://www.instagram.com/youranchorpoint/
FB: https://www.facebook.com/youranchorpointchurch
Email: info@youranchorpoint.com
204 272 9223
1400 Pembina Hwy
Winnipeg, MB
R3T 2C1