Client Profile: Thom Bargen Coffee Roasters
December 16, 2022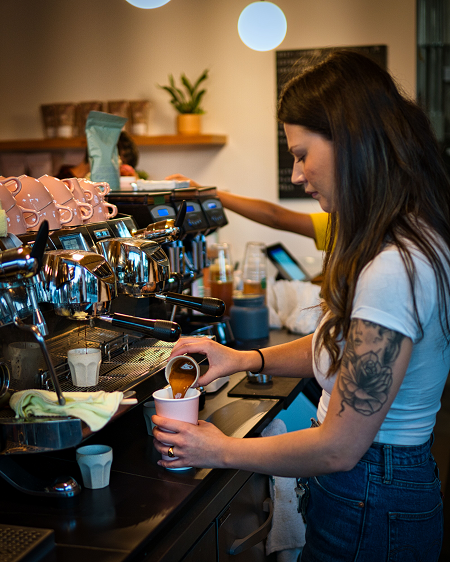 Thom Bargen is inspired by the tireless work of coffee farmers across the world...

Thom Bargen Coffe Roasters strives to make the best coffee they can while honouring the farms they purchase from. They offer freshly brewed coffee, gift cards, coffee subscriptions, merch and brew gear.

743 Corydon Ave is their newest location. With warm wood designed to transition from morning to evening, this spot is cozy. Bright windows line the corner of Cockburn and Corydon creating a real vibe.

THOM BARGEN MISSION:

OVER SEVEN YEARS, ONE FATEFUL BIKE RIDE, A BOARDED-UP BUILDING, THREE COFFEE SHOPS, TRIPS AROUND THE WORLD, AND YEARS OF HARD WORK, WE CAN RESIST NO LONGER.

INSPIRED BY THE TIRELESS WORK OF THE COFFEE FARMERS WE PARTNER WITH ACROSS THE WORLD, OUR PASSION FOR COFFEE HAS LED US TO ROAST. IT'S THOSE FARMERS THAT WE HONOUR WITH THIS BAG. WE HOPE YOU LOVE IT.

Locations:
743 CORYDON: Mon-Fri 7-9, Sat-Sun 8-9
64 SHERBROOK: Mon-Fri 7-5, Sat-Sun 8-5
250 KENNEDY: Mon-Fri 7-4
365 MAIN: permanently closed
www.thombargen.com

Signage Details:
Large Letters: led illum. trim-cap letters / wall mounted / white acrylic faces / black trims & returns / white leds.
Small Letters: non-lit letters acrylic: non. illum. letters / 3/8" thick acrylic / rail mounted to wall surface.