MICHELLE: Electra Sign Graphics Finisher
January 13, 2023
Meet Michelle, a creative and dynamic individual who has always had a passion for both art and business. Michelle grew up in Winnipeg with her three brothers, and today works as a graphic finisher here at Electra Sign, where she applies printed graphics to sign faces among many other tasks that require her finesse.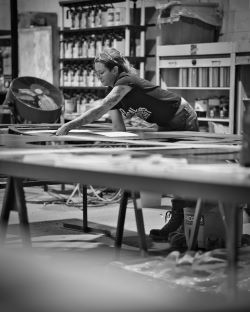 Before starting her career in the sign industry, Michelle ran her own wedding and event planning business for over 10 years. In her spare time, Michelle is a jack-of-all-trades, with hobbies ranging from tattooing and digital art to singing and just making noise.

When it comes to entertainment, Michelle is a fan of Gilmore Girls and Mr. Right and enjoys all kinds of music as long as it has a good beat. In school, Michelle's favourite subject was human development and the arts.

Overall, Michelle describes themselves as delightfully chaotic and a "beautiful mess." With a wealth of creativity and energy, there's no telling what this dynamic individual will do next and we are very lucky to have her as part of the Electra Sign Team!