Customer Profile: Bluenotes Jeans
February 12, 2016
Founded in 1984, Bluenotes has been one of Canada's leading denim retailers for over 30 years. Electra Sign was pleased to work with Bluenotes in creating their recent exterior branding package at St. Vital Shopping Centre, Winnipeg. The signs feature Eco-friendly LED illumination which provides a brightly lit, impactful punch that is incredibly energy efficient.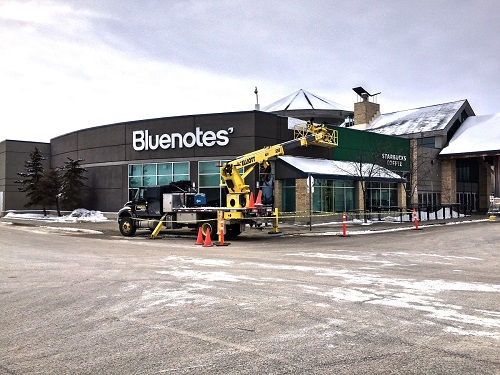 Product Philosophy: Bluenotes' distinct brand of retailing focuses on denim as the standard, as well as hoodies, graphic tees, polos, tanks, and other wardrobe must-haves. Bluenotes strives to provide its customers with unparalleled quality and value. Bluenotes currently operates 125 stores in Canada. The online store www.blnts.com has recently crossed over the border and launched US shipping in November '09.
Community Involvement: Since 1997 Bluenotes has been a proud and major sponsor for Kids Help Phone, raising more than $1.3 million throughout its years of involvement.
Drop by their spacious retail location at 1225 St. Mary's Rd. Winnipeg, MB. or visit them online.
Web: http://blnts.com
Twitter: https://twitter.com/BluenotesJeans
Facebook: https://www.facebook.com/BluenotesJeans
Instagram: https://www.instagram.com/bluenotesjeans/
Youtube: https://www.youtube.com/user/BluenotesJeans
Complete sign solutions by Electra Sign Ltd. Winnipeg Manitoba, leading the signage industry in award-winning custom design and manufacturing.