Customer Profile: Gospel Mission Church
June 1, 2017
On April 12th, 2015, the shovels hit the ground on new real estate in Winkler, Manitoba. This sod turning event marked the first stages in moving the Gospel Mission Church from its Pembina Ave. location after 11 years to 15th Street. From the first service in a shared building in April 2005 with Emmanuel Mennonite Church, to holding their first service in their new building on April 24th, 2016 – the changes were welcomed.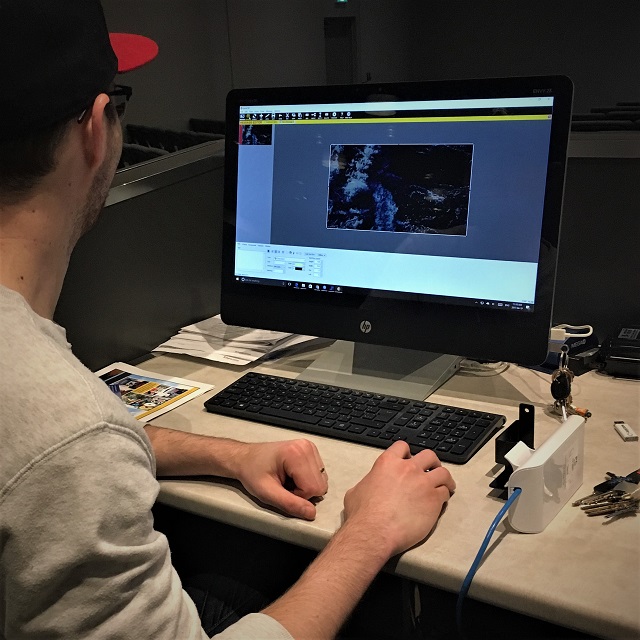 Image: Training on the Watchfire EMC sign software.
Driving onto the gravel parking lot to meet for the first time, Electra Sign provided a detailed presentation using the EMC Demo Truck to visualize the technologies available in an electronic messaging centre(EMC). How these technologies would enhance the communications of the Church and the surrounding communities. With more than 250 members and service attendance of over 800 regularly, Gospel Mission Church has become a recognized gathering with members(partners) growing constantly.
Capturing the unique beauty of the Church, Electra Sign's team custom designed, manufactured and installed a 14-foot-high, double-sided 12mm electronic messaging centre. Boasting full colour high resolution imagery and animation, this structure compliments the building and its shape.
When you find yourself in Winkler, drop in and say hello. Also visit them online and have a look at the construction development, details and pictures.

Website: www.gmchurch.ca
Gospel Mission Church
855 15th Street
Winkler, MB
Phone: (204) 325-6388
The difference in quality starts with employees that love what they do. Electra Sign Ltd. Winnipeg Manitoba shows this in every project we create.