History repeats itself in grand style: Centennial Concert Hall
June 28, 2017
What began as an urban renewal project in 1960 has to this day remained the center of attention in Manitoba's arts & culture community. The Manitoba Centennial Centre Corporation is the overseer of Centennial Concert Hall, Manitoba Museum, The Planetarium, and the Royal Manitoba Theatre Centre (and more)! The MCCC stands proud among the finest of Canada's cultural organizations.


On October 1, 1965, the shovels first hit the ground for a concept that would house incredible programs under the MCCC umbrella of performing arts. Three years later, Centennial Concert Hall opened its doors. Professionals from all over Canada worked together to create this landmark, $8 million, 253,014 square foot building; a venue that would go on to host some of the world's most talented performers in the following decades.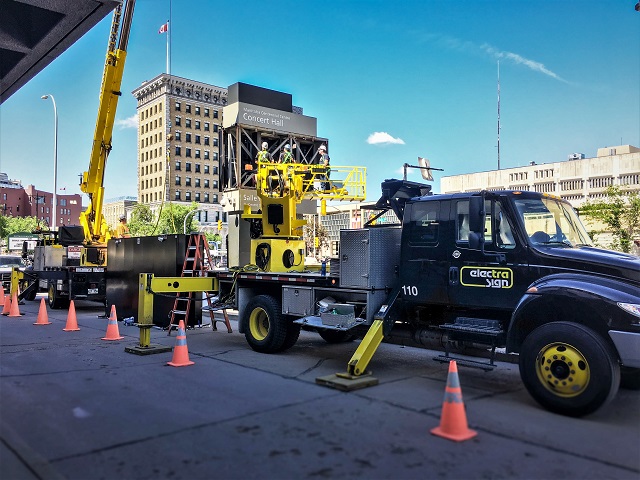 In 2007, Electra Sign was tasked with creating a sign structure that would complement the surrounding buildings, draw visual attention to the area, and further create awareness for the programs offered. Now, more than a decade later, our crew returned to Centennial Concert Hall to upgrade the sign's electronic messaging centre, replacing the previously installed 16mm model with the latest high-resolution 12mm model from Watchfire Signs. The difference in picture quality has to be seen to be believed, but ease-of-use received an upgrade as well! Less than a day after installation had concluded, Gerry McDougal (Manager, Marketing and I.T.) had the Concert Hall's messages brilliantly displayed for all of Winnipeg's passersby to see.


With amazing shows, exhibits, and more for the whole family to enjoy – visit Centennial Concert Hall and the entire Manitoba Centennial Centre and learn more about the many venues offered. Located in the heart of the city, access is simple via bus, bike, car, or take a walk and enjoy the upcoming celebrations of Canada's 150th birthday along the way!

Centennial Concert Hall

555 Main St.
Winnipeg, M
B
Website: centennialconcerthall.com
Facebook:
facebook.com/
CentennialConcertHall
Twitter:
@
Concert_Hall
Instagram: @
centennialconcerthall
Building Canada's businesses better and brighter at Electra Sign Ltd. Winnipeg Manitoba. The region's largest custom sign manufacturer.
VIRTUAL MADNESS: LED Pixel Configurations Explained
June 20, 2017
Via WatchfireSigns.com Pixel pitch is a common way the sign industry describes an LED sign's resolution. A pixel is comprised of a single grouping or cluster of LED diodes – typically one red, one blue and one green. The pixel may share a lens, as in the case of a surface mount diode, or it may be made up of three separate LEDs.
The simple rule of thumb is that a lower pitch measurement, where each cluster is close together, results in a higher quality image. Unfortunately, some manufacturers have introduced alternative pixel distance calculations as a way to reduce costs. These configurations are often marketed as "virtual," "enhanced," or "optimized." Here is a look at a few different pixel options and how they impact image quality.
The Real Deal: True pixel configurations are measured from the center of each pixel and do not rely on sharing LEDs. Watchfire's 10mm uses a surface mount device (SMD) that contains red, green and blue under a single lens. This produces a high-quality display that provides exceptional resolution for crisp, vivid content and wide viewing angles.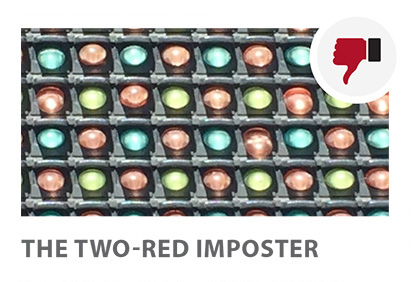 The Two-Red Imposter Module: Virtual pixel configurations are set up completely different. In order to pass off a lower resolution product, some manufacturers will add a second red LED to each cluster. This configuration results in a pixel that has two red, one blue and one green LED. Then to claim the product is high resolution, these deceitful manufacturers will market it based on the measurement between each individual LED. The product will be marketed as an optimized 10mm, but in reality it has a true pixel pitch of 20mm.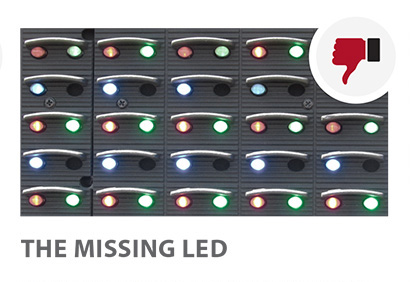 The Missing LED Module: Another way some manufacturers are being deceptive is by using a technique known as LED sharing to claim a higher resolution. LEDs are shared to neighboring pixels to complete a grouping, effectively counting some LEDs up to four times. This layout has visibly larger spaces between LEDs and may even give the appearance that an LED is missing from the board layout. To market this configuration, pitch is measured between overlapping pixels so that the product can be promoted at a much higher resolution than it actually delivers.
The Cold Shoulder Module: Some manufacturers also use through-hole LEDs for higher resolution products like a true 10mm sign. Placing individual red, green and blue LEDs into a circuit board with 10mm spacing creates a product that is not robust enough for long term reliability. This configuration also creates an issue known as shouldering, where the LED lenses block the light of neighboring diodes. Shouldering results in limited viewing angles and can make the display look discolored when it is viewed off-center.
Disadvantages of Virtual Pixel Configurations: LED sharing results in weak color contrast and uneven edges on text as the pixels bleed into one another when they overlap.
Virtual resolutions with two red LEDs cause white graphics and text to look pink because red LEDs dim at a slower rate than blue and green.
Pixel layouts that use 4 LEDs do not allow for consistent black space. This results in fuzzy images that may appear washed out.
Color blending suffers on virtual configurations using the missing LED layout, compromising image quality.
Photos showing the disadvantages of virtual pixel configurations...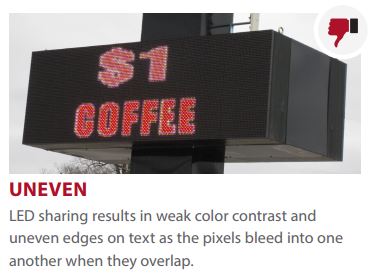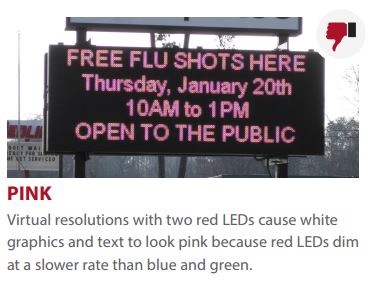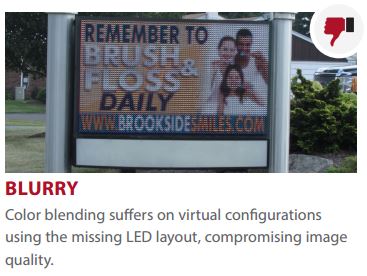 Full article via Watchfire Signs... http://www.watchfiresigns.com/blog/virtual-madness-true-vs-virtual-pixel-configurations
Serving Western Canada with the brightest solutions, call the professionals at Electra Sign Ltd. Winnipeg today.
2017 WATCHFIRE LED SIGN AWARDS WINNERS ANNOUNCED
June 12, 2017
Watchfire Signs is proud to present the winners of the 2017 Watchfire LED Sign Awards, established to recognize Watchfire dealer partners who showcase the capabilities of on-premise digital advertising in superior sign design. The award recognizes sign companies who have displayed excellence in effectiveness, design, and how well the artwork showcases the digital components of on-premise advertising.
2017 Gold Winner
Electra Sign Ltd., South Beach Casino
Full list of winners... http://www.watchfiresigns.com/signawards
Complete sign solutions by Electra Sign Ltd. Winnipeg Manitoba, leading the signage industry in award-winning custom design and manufacturing.