Drilling into a Manitoban Success Story
February 7, 2017
Since its inception in 1892 when C.K. Friesen founded the company, his vision to keep Manitoba on the map remains solid. With the fourth generation of the family name continuing to work the business, Friesen's shows no signs of slowing down.
Recognized as a Steinbach success and icon in the area, they were looking to increase their presence off the #12 highway and Electra Sign delivered. Already having a head start with a great name and logo, our discussions to create further presence was well underway. The final results show well as you head into or out of Steinbach, MB.
Friesen Drillers provides complete services from simple residential water wells to complex piling for building constructions. Operating at a maximum capacity of 10 drilling rigs ready to move at a moment's notice, the Friesen family is ready to take on your projects. Drop by their location and walk into a big piece of history when you open the door. Their antiques well preserved for all to see from the pick-up truck to the gas pumps.
Friesen Drillers Ltd.
307 PTH 12 N
Steinbach, MB. R5G1T8
Ph: 204-326-2485
Fax: 204-326-2483
Toll-Free: 1-888-794-WELL (9355)
Award-winning designs spotted throughout the West and into Ontario - Let Electra Sign Ltd. Winnipeg Manitoba improve your branding today.
Grand Opening of Carl's Jr. First Location
July 17, 2015
Robyn and Ernie Kouros opened Regina's first Carl's Jr. location this month. Prairie Sign (Electra Sign's Saskatchewan branch) was pleased to work Robyn and Ernie and help with their branding awareness of the new location at 1920 Victoria Ave E Regina SK. This sign package features internally and environmentally friendly LED (light-emitting diode) creating a small ECO friendly footprint for there new location. It was very important that the signs be clean and readable to capture attention.
About: Carl's Jr.® has become known as the place to go all across the Western North America for juicy, delicious charbroiled burgers. We have stores across Canada. To find a location near you, please visit: http://carlsjr.ca/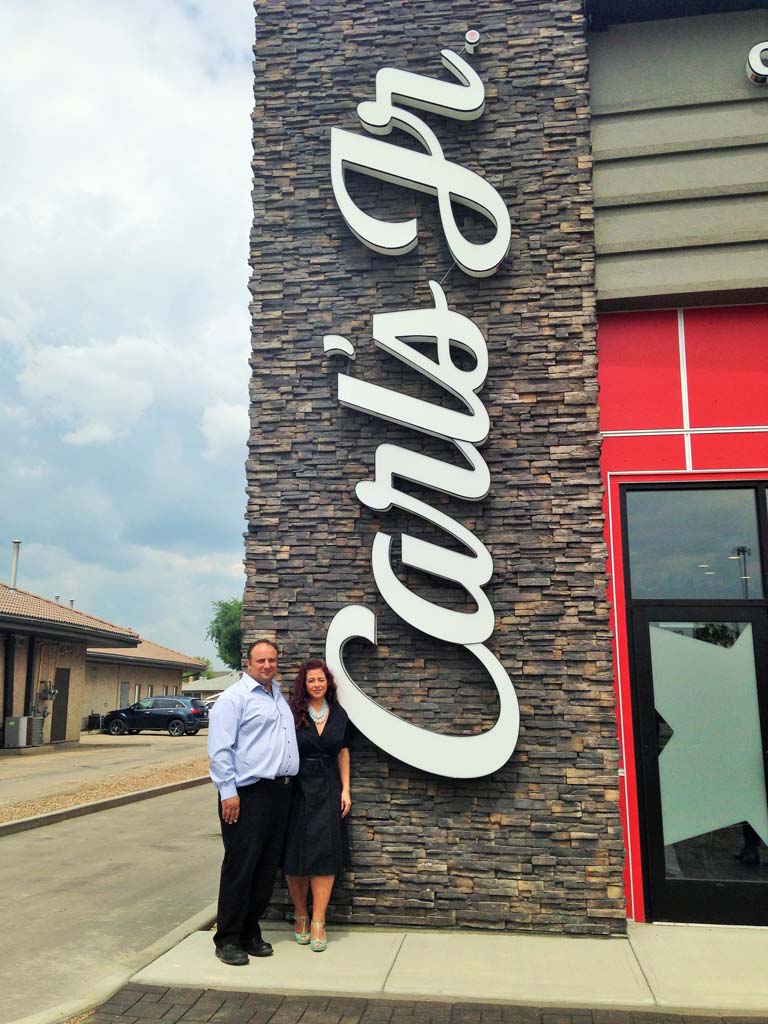 Cuisine: American (New), American (Traditional), Breakfast, Burgers and Fast Food
Branding & Awareness through effective signage. We are here to help at Electra Sign Ltd. Winnipeg Manitoba.
Sign Media Canada 2015 Competition Results: Mere Hotel Winnipeg
July 15, 2015
The 2015 competition attracted many projects of extremely high caliber, representing the best of the best from all corners of the Canadian sign industry. With final scores proving very close in many categories, all of the entrants deserve congratulations for the fantastic quality of their work. signmedia.ca
Electra Sign was recognized in the Building Sign category of this year's Sign Media Canada National Sign Competition for its work on Mere Hotel Winnipeg MB. merehotel.com
Call Electra Sign Ltd. Winnipeg Manitoba today for your custom manufactured LED creation.
← Older Posts
Newer Posts →