Customer Profile: Little Caesars Swift Current Saskatchewan
July 25, 2017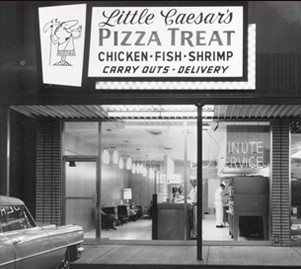 Electra Sign was pleased to work again with Little Caesars and their latest location being opened in Swift Current Saskatchewan very soon. Little Caesars has a deep history that started way back in 1959 when husband and wife founders Mike and Marian Ilitch invested their life savings into their first pizza store (pictured left) in Garden City, Michigan, a suburb of Detroit. Since then Little Caesars has become the largest carryout-only pizza chain in the U.S. and an internationally known brand.
Serving Western Canada with the brightest solutions, call the professionals at Electra Sign Ltd. Winnipeg today.
Little Caesars
1669-1150 Central Ave. N.
Swift Current, SK S9H 4C8
Kapil Sony – Owner (pictured below)
Three Reasons Why You Should Update Your Old Signage with LEDs
June 24, 2020
"I'm the owner of an established restaurant here in Winnipeg. I already have attractive signage that draws in business from the area so I'm not quite ready to update my current branding. Though the fluorescent lighting on my existing signs is outdated, and this creates various issues.
My outdated signage requires frequent maintenance, which can become exceedingly expensive. Another issue I have is that my fluorescent lighting is not energy efficient, nor is it environmentally friendly since I must frequently dispose of my used fluorescent lamps when I replace them. What can I do about this?"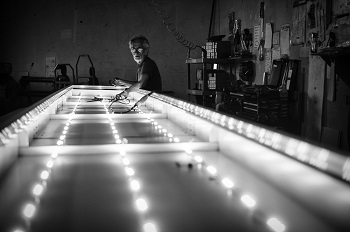 This is a common dilemma that many kinds of businesses face. Nowadays more and more people are asking this type of question as they want to save on maintenance and electrical costs and because they want to be more responsible, overall. Though it may not seem that way, the solution to this problem is actually very simple --and no, you don't need to replace your sign altogether. You can convert your old signs' outdated lighting system to LED's, which isn't as costly as you would assume. Not to mention that having a new LED lighting system is a great investment with many additional benefits. Here are a few:
They are much brighter...
New LED systems are bright, offering the appearance of a new sign without the added cost. They make existing logos and graphics more vivid and eye-catching, which attracts more attention and thus, creating more potential customers.
They use less energy...
It's common knowledge that LED's preserve energy better than traditional fluorescent and incandescent lighting. But how much more effective is it, really? LED's can be up to 90% more efficient to run compared to traditional lighting. Over time, this will a save you lot of money.
They will need less servicing...
LED lights can last up to 100,000 hours. Compare that to traditional fluorescent lighting which typically only lasts from 7,000 to 15,000 hours and you'll notice a major difference. A sign service crew of two men and a truck typically costs $150 per hour, with LEDs you'll have to pay for their expensive services significantly less often.
Electra Sign recognizes the importance of signs as an investment for your business. If we can help you prolong that investment, please feel free to reach out to us for an estimate.
Grasslands' Unique Signage Captures Attention
June 15, 2012


Electra Sign is proud to support such an incomparable design for Grasslands. This unique design is a sight to see and it contributes to a landmark location.
The Grassland sign was composed to fit the theme of the building it represents;
The base was built to match the architecture and bring both as a unit. In addition to this, the blades of grass are custom-cut layers of steel and coloured keyed to match the Grasslands logo for further consistency.
Call Electra Sign Ltd. Winnipeg Manitoba today for your custom manufactured LED creation.
← Older Posts
Newer Posts →