Electra Sign on the cover of Sign Media Canada Magazine
September 14, 2017
We are very proud to be featured on the cover of this month's latest issue Sign Media Canada Magazine!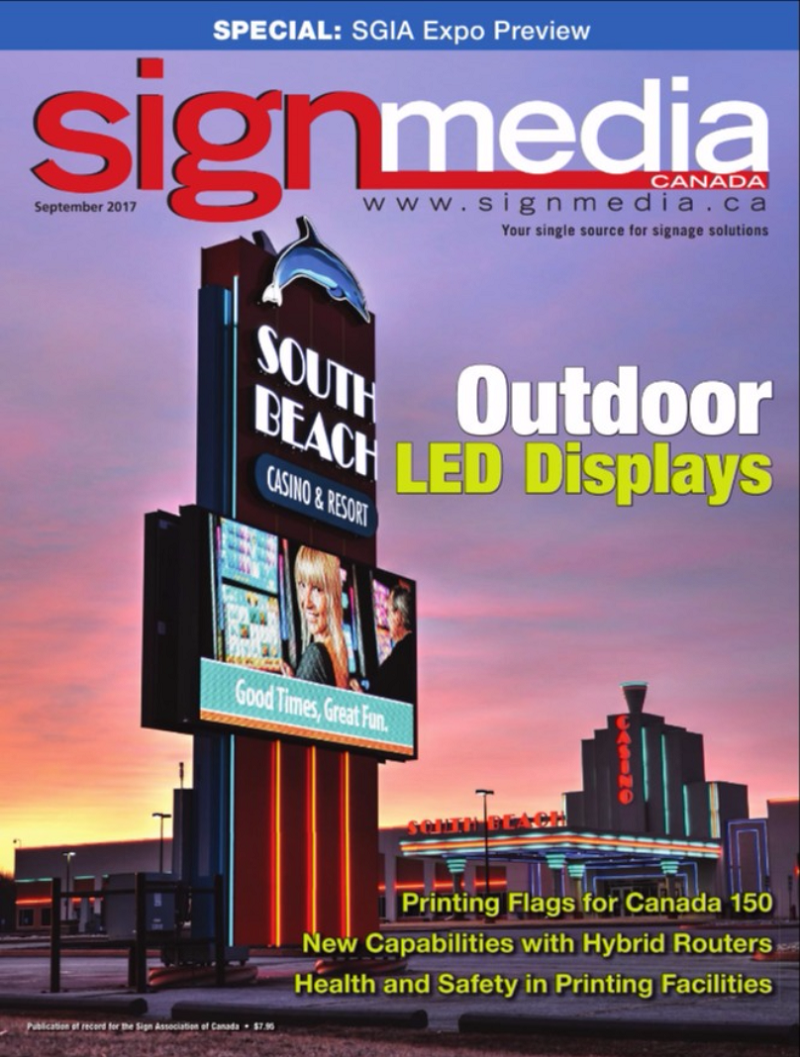 Via Sign Media Magazine... Winnipeg based Electra Sign is the only Canadian winner in Watchfire Signs' 2017 LED Sign Awards program, honored for the pylon sign it built for South Beach Casino & Resort on the Brokenhead Ojibway Nation Reserve.

Designed with an art deco theme and installed in 2016, the pylon sign features a high-definition (HD) light-emitting diode (LED) electronic message centre (EMC) from Watchfire beneath the facility's name and blue dolphin logo. The Casino is located 30-minute drive north from Winnipeg on High 59 and features the art deco theme throughout.

"We congratulate all the winners," says David Warns, Watchfire's vice-president (VP) of on-premise sales. "We share the goal of bringing timely, relevant advertising to audiences while still maintaining the artistry that has been a hallmark of sign shop for decades."
Link... Sign Media Canada Magazine

Complete sign solutions by Electra Sign Ltd. Winnipeg Manitoba, leading the signage industry in award-winning custom design and manufacturing.
2017 WATCHFIRE LED SIGN AWARDS WINNERS ANNOUNCED
June 12, 2017
Watchfire Signs is proud to present the winners of the 2017 Watchfire LED Sign Awards, established to recognize Watchfire dealer partners who showcase the capabilities of on-premise digital advertising in superior sign design. The award recognizes sign companies who have displayed excellence in effectiveness, design, and how well the artwork showcases the digital components of on-premise advertising.
2017 Gold Winner
Electra Sign Ltd., South Beach Casino
Full list of winners... http://www.watchfiresigns.com/signawards
Complete sign solutions by Electra Sign Ltd. Winnipeg Manitoba, leading the signage industry in award-winning custom design and manufacturing.
Attention to Detail in Life and Business
March 29, 2017
The World of Wheels Auto Show recently rolled into Winnipeg, Manitoba. This huge event showcased hundreds of the best automobiles around, ranging from stock to fabricated designs. This year, Electra Sign president Ken Devine was asked to exhibit his fully restored 1968 Camaro RS | Z/28. As a car enthusiast, the opportunity to showcase both this gorgeous classic car and the loving workmanship put into it was an honor. Out of five "Best of Show Awards", Ken's car won in the "Best Restored" category.
The care and attention to detail put into his Camaro stems from the same passion that has helped Ken create and cultivate Electra Sign's continued success for over 35 years. Every design is built to promote and involves the client from start to the finish. Mr. Devine's personal involvement in each project ensures his expected high standards are recognized company-wide; from sales to design to manufacturing.
As in life and in business, Ken works hard to deliver quality results and detailed craftsmanship. This focus has led to Electra Sign being recognized for its professional approach and high-quality work.

The difference in quality starts with employees that love what they do. Electra Sign Ltd. Winnipeg Manitoba shows this in every project we create.
← Older Posts