Jorge Diaz: Blending Artistry and Precision in the Sign Industry
June 9, 2023
Meet Jorge Diaz, an innovative mind in the sign industry. With a bachelor's degree in architecture from the University of Havana, Jorge brings a wealth of experience to his role at Electra Sign as a CAD Technician and CNC Operator. His meticulous attention to detail and eye for aesthetics have made him a valuable asset to the team.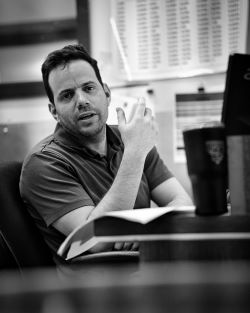 Outside of work, Jorge is an avid sports enthusiast, particularly passionate about football. He also delves into philosophy, human interaction theory, and photography. His favorite movies include Star Wars, South Park, Friends, and The Lord of the Rings.

Rock music resonates with Jorge, along with an appreciation for classical composers like Wagner and Joaquin Sabina. His favorite subjects in school were mathematics, art, computer science, and chemistry.

Jorge's natural curiosity and desire for knowledge drive his designs, rooted in understanding human behavior and expectations. He has received numerous accolades, including four Best Design Awards at the Havana International Fair, and has exhibited his artwork internationally. Jorge was also invited to speak at Cornell University's Architecture Faculty on Cuban architecture.

Jorge Diaz continues to push the boundaries of design and drafting in the ever-evolving sign industry.
Team Profile: Sam Nimchonok Account Executive
May 12, 2023
Pictured Above: Sam Nimchonok, Electra Sign Sales Team

Meet Sam, one of our team of exceptional Account Executives here at Electra Sign Ltd.
Sam understands the needs of business owners and managers, delivering results with a touch of emotion. With an impressive portfolio of trade shows and collaborations with industry giants, Sam brings expertise to every project.
Beyond his professional achievements, Sam is also a talented voice-over artist, lending his voice to corporate projects, commercials, and animations. With a background in acting and representing Canada in Martial Arts tournaments, he brings discipline and a strong work ethic to his role.
If you're looking for a dedicated and accomplished professional in the signage and branding industry, Sam is your go-to person. Based in Winnipeg, Manitoba, he is well-versed in the local business landscape.
Reach out to Sam Nimchonok at Electra Sign Ltd. and experience his exceptional service and expertise firsthand!
Client Profile: Calvary Temple Church Winnipeg
April 6, 2023
Pictured Above: Calvary Temple, Winnipeg MB.

Calvary Temple Church Winnipeg is a vibrant and thriving community of believers, dedicated to sharing the love of God and spreading the gospel to all who will listen. The church has been serving the Winnipeg area for many years, offering a warm and welcoming atmosphere for people of all ages and backgrounds to come and experience the love of Jesus.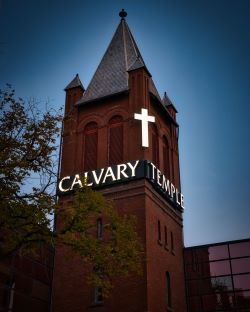 Recently, Calvary Temple Church Winnipeg embarked on a project to update their signage and branding, with the goal of making their presence known and attracting new members to the church. After researching various sign companies, they chose Electra Sign Ltd to design and install their new signage.

Electra Sign Ltd is a trusted name in the industry, with years of experience and a reputation for delivering high-quality signs and graphics. Our team of experts worked closely with the church to understand their needs and vision, and we were able to create a custom signage solution that met all of their requirements.

The new signage features bright and bold graphics that are eye-catching and easy to read, making it easier for people to find the church and know exactly what it represents. The signs also include a clear and concise message, inviting people to come and experience the love of Jesus for themselves.

The new signage was designed to reflect the values and mission of Calvary Temple Church Winnipeg, and we were honored to be a part of this project. Our team worked diligently to ensure that the signs were designed, fabricated, and installed to the highest standards, and the end result is a beautiful and impactful representation of the church.

In conclusion, Calvary Temple Church Winnipeg has made a great investment in their new signage, and Electra Sign Ltd is proud to have been a part of this project. The new signs are a testament to the church's commitment to serving the community and sharing the gospel with those who are seeking a deeper relationship with God. We look forward to working with Calvary Temple Church Winnipeg in the future, and we are confident that the new signs will have a positive impact on their ministry for many years to come.
← Older Posts