Client Profile: IVC Vita Health
March 10, 2023
At Electra Sign Ltd. we take pride in every project we undertake. Collaborating with IVC Vita Health was a rewarding experience for us, and we are thrilled with the outcome of the new monument sign at 150 BEGHIN AVENUE in Winnipeg, MB.
Our team worked closely with IVC Vita Health to design and construct a sign that accurately reflects their brand identity their location. The monument sign was custom-made to fit the specific needs and requirements of the client.
The sign's design incorporates a combination of materials, including aluminum, acrylic, and LED lighting. The use of high-quality materials ensures that the sign is durable and withstands harsh weather conditions.
The monument sign features IVC Vita Health's logo prominently, making it easily recognizable to passerbys. The LED lighting enhances the sign's visibility, ensuring that it can be seen from a distance, even at night.
At Electra Sign Ltd., we understand the importance of creating a sign that accurately represents a business's brand and identity. Our team works tirelessly to ensure that each project we undertake is completed to the highest standards of quality and excellence.
We are proud to have been part of this project and look forward to collaborating with IVC Vita Health on future projects. Thank you for choosing Electra Sign Ltd. to design and create your new monument sign.
Top 5 Things to Know Before You Buy a Sign
January 19, 2023
1. Purpose: Determine the purpose of the sign, such as providing directions, advertising a product or service, or promoting a brand. This will help you decide on the size, design, and location of the sign.
2. Audience: Consider who the sign is intended for and tailor the design and language accordingly. For example, a sign intended for children should use simple language and bright colors.
3. Material and Durability: Choose a material that is suitable for the sign's location and the intended duration of its use. Some materials, such as metal or plastic, are more durable than others and can withstand harsh weather conditions.
4. Local regulations: Research and abide by any local regulations for signs, including zoning laws, permits, and size restrictions.
5. Cost: Be aware of the total cost of the sign, including any necessary permits or installation fees, so you can compare options and stay within your budget.
In conclusion, before purchasing a sign, it is important to consider the purpose of the sign, the audience it is intended for, the material and durability, local regulations, and cost. Carefully considering these factors will help ensure that the sign meets your needs and is effective in communicating your message. Additionally, it is important to make sure that the manufacturer or vendor is reputable and has a track record of producing quality signs. By considering these factors, you can make an informed decision on the best sign for your needs.
Client Profile: The Melody Retirement Community
January 6, 2023
The Melody Retirement Community in Waverly Heights, Winnipeg Manitoba is a top-rated assisted living facility for seniors. Located in a beautiful and peaceful neighbourhood, this community offers a wide range of amenities and services to make sure that residents have a comfortable and fulfilling retirement.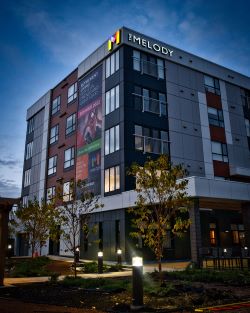 One of the standout features of The Melody Retirement Community is its spacious and well-appointed living quarters. Each apartment is designed with seniors in mind, with features like grab bars, emergency call systems, and wheelchair accessibility. The community also offers a variety of floor plans to suit different needs and preferences, including one and two bedroom apartments, as well as studios.

In addition to comfortable living spaces, The Melody Retirement Community also offers a wide range of activities and amenities to keep residents engaged and active. The community has a fitness center, a swimming pool, a putting green, and a garden for residents to enjoy. There are also regular events and outings organized by the community, such as movie nights, art classes, and group outings to local attractions.

But what really sets The Melody Retirement Community apart is the quality of its care and support services. The community has a team of highly trained and compassionate staff members who are available 24/7 to assist residents with tasks such as bathing, dressing, and medication management. The community also has a nurse on-site at all times, and residents can receive additional medical support through visiting healthcare professionals.

Overall, The Melody Retirement Community in Waverly Heights is a fantastic choice for seniors who are looking for a comfortable, active, and supportive retirement community. If you or a loved one is interested in learning more, we highly recommend reaching out to the community to schedule a tour and see all that it has to offer in person.
GET IN TOUCH!
Leasing Inquiries:
(866) 806-8584
E-mail:
inquiries@themelody.ca
Hours:
Book a tour to see what The Melody is all about. Open for tours 7 days a week. Call to schedule yours today. Or drop in during a Welcome Wednesday Open house every Wednesday from 11am-7pm - no appointment needed!
Address:
920 Chancellor Drive
Winnipeg, MB R3T 6H8


---

Signage Details: led illum. trim-cap letters and logo / wall mounted / white acrylic faces / c/w vinyl applied as shown / black trims & returns / white leds.
← Older Posts
Newer Posts →