AN EDUCATION IN SIGNAGE
March 27, 2019
In the summer of 2018, Red River College put out a call to enhance the landscape of their Notre Dame Campus in Winnipeg, Manitoba. Continuing to market their advancement in Technology & Trades brought to life new buildings and structures for all to appreciate.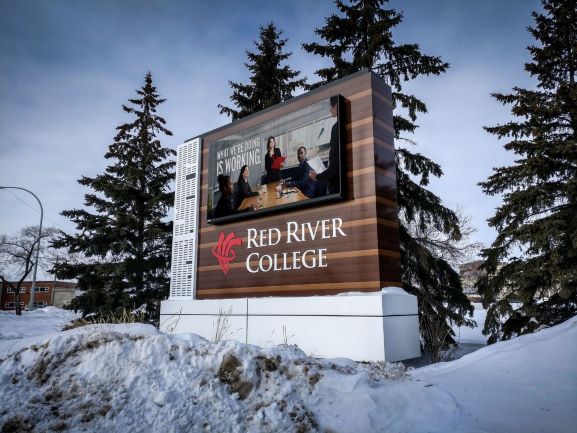 Electra Sign answered that call and manufactured a complete solution including custom designed, LED illuminated monuments for each of the entrances of the campus. The largest of the 7 monuments include an 8mm Hi-Resolution colour electronic messaging system, which explores opportunities available at the College. Each structure compliments the new and recently renovated buildings.
Red River College has eight campuses across Manitoba, including several located in rural communities. Their campuses include state-of-the-art equipment and facilities to ensure that students are ready for the workforce after graduation.
Get in touch with your future today by contacting RRC:
Email: register@rrc.ca
Phone: 204-632-2327
Toll-free: 1-800-903-7707
Web: rrc.ca/studentservicecentres
Twitter: @RRC
Facebook: @redrivercollege
Instagram: @redrivercollege
Cold Weather Arrives for Sign Service & Installation Crews
December 5, 2018
The snow looks majestic as it falls on the new Genstar signs but temps are starting dip this week & our install crews are going to really feel it. Try and stay warm guys!
Pictured above is the most recent install of the Genstar led illuminated channel letter signs in Tuxedo Park, Winnipeg MB.
Raise Property Values with a Well Designed Sign
September 7, 2018
A well-designed property sign can do more than just direct people to where they need to go. They can also add character and value to your property. A very good example of this is a nicely detailed & modestly sized property sign at 725 Kingsway. Picking up on the details of the existing architecture this sign not only directs people but adds a touch of class to the entire surrounding area as seen in the picture above.
Akman Property Management is Winnipeg's premier Apartment, Condo Rental, and Property Management specialist and it was a pleasure to work with them.
Akman Management has been managing residential properties since 1912 and has built an excellent reputation in the industry. They are well known for our personal attention, timely response, integrity and strong communication with, and for, our clients.
They offer comprehensive services tailored to your specific requirements including residential rental services, maintenance programs, financial and accounting reporting, and human resource management.
Akman Property Management
349 Broadway
Winnipeg, MB R3C 0TC
204-944-9721
info@akmanmanagement.ca
← Older Posts
Newer Posts →