What Makes Quality Signage?
December 1, 2023
Creative Director Brett Aho speaks on signage design and quality.

Electra Sign has been creating high quality, effective signage for over 40 years. With award-winning, certified, and full-service solutions, we are your expert signage partners.



Website: https://electrasign.com/
Instagram: https://www.instagram.com/electra.sign/
LinkedIn: https://www.linkedin.com/company/elec...
Facebook: https://www.facebook.com/electrasign
Twitter: https://twitter.com/electrasign
Pinterest: https://www.pinterest.ca/electrasign/

#electrasign #winnipeg #branding #design #manitoba #winnipegmanitoba
Should I invest in a lit or non-lit signage for my business?
October 13, 2023
The decision to invest in a lit or non-lit signage for your business depends on several factors and considerations. Here are a few points to help you make an informed decision:
Visibility: Consider the visibility requirements of your business. If your business operates during the evening or night, or if you're located in an area with low visibility, a lit sign can help attract attention and make your business more noticeable.

Branding and Impact: Evaluate the impact you want to create with your signage. Lit signs tend to be more eye-catching and can create a stronger impression, especially in areas with heavy foot or vehicle traffic. Non-lit signs can be effective as well, but they may not stand out as much in certain environments.

Cost and Maintenance: Compare the initial investment and ongoing maintenance costs. Lit signs require electrical connections, bulbs, and periodic maintenance to ensure proper functioning. Non-lit signs generally have lower upfront costs and don't require electricity, making them more cost-effective over time.

Local Regulations: Check the local regulations and zoning restrictions regarding signage in your area. Some regions have specific guidelines regarding the type, size, and lighting of signs. Ensure that your chosen signage complies with these regulations.

Brand Identity and Aesthetic: Consider your brand identity and the overall aesthetic you want to convey. Lit signs can provide more design options and flexibility in terms of colors, effects, and animation. Non-lit signs may be preferred if you have a more minimalistic or traditional brand image.

Target Audience: Understand your target audience and their preferences. If your target customers are likely to be attracted to bold, illuminated displays, a lit sign might be a better choice. However, if your target audience prefers a more understated or eco-friendly approach, a non-lit sign could be more appropriate.
Ultimately, the decision should be based on a combination of these factors and align with your business goals, budget, and branding strategy. Consider conducting market research, seeking professional advice from signage companies, or even surveying your potential customers to gather insights specific to your business and location.
Jorge Diaz: Blending Artistry and Precision in the Sign Industry
June 9, 2023
Meet Jorge Diaz, an innovative mind in the sign industry. With a bachelor's degree in architecture from the University of Havana, Jorge brings a wealth of experience to his role at Electra Sign as a CAD Technician and CNC Operator. His meticulous attention to detail and eye for aesthetics have made him a valuable asset to the team.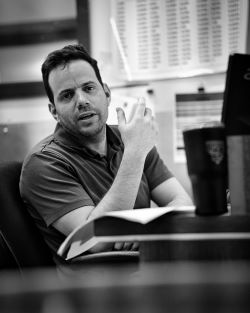 Outside of work, Jorge is an avid sports enthusiast, particularly passionate about football. He also delves into philosophy, human interaction theory, and photography. His favorite movies include Star Wars, South Park, Friends, and The Lord of the Rings.

Rock music resonates with Jorge, along with an appreciation for classical composers like Wagner and Joaquin Sabina. His favorite subjects in school were mathematics, art, computer science, and chemistry.

Jorge's natural curiosity and desire for knowledge drive his designs, rooted in understanding human behavior and expectations. He has received numerous accolades, including four Best Design Awards at the Havana International Fair, and has exhibited his artwork internationally. Jorge was also invited to speak at Cornell University's Architecture Faculty on Cuban architecture.

Jorge Diaz continues to push the boundaries of design and drafting in the ever-evolving sign industry.
← Older Posts