Raise Property Values with a Well Designed Sign
September 7, 2018
A well-designed property sign can do more than just direct people to where they need to go. They can also add character and value to your property. A very good example of this is a nicely detailed & modestly sized property sign at 725 Kingsway. Picking up on the details of the existing architecture this sign not only directs people but adds a touch of class to the entire surrounding area as seen in the picture above.
Akman Property Management is Winnipeg's premier Apartment, Condo Rental, and Property Management specialist and it was a pleasure to work with them.
Akman Management has been managing residential properties since 1912 and has built an excellent reputation in the industry. They are well known for our personal attention, timely response, integrity and strong communication with, and for, our clients.
They offer comprehensive services tailored to your specific requirements including residential rental services, maintenance programs, financial and accounting reporting, and human resource management.
Akman Property Management
349 Broadway
Winnipeg, MB R3C 0TC
204-944-9721
info@akmanmanagement.ca
A Historical Ride Enters Manitoba: Royal Enfield Customer Profile
August 15, 2018
In 1909, Royal Enfield expanded its offerings by introducing a small motorcycle with a Swiss origin motor. Fast forward into 1949 where India took to enjoy the look and feel of these genuine products. It wasn't until 1955 when the Indian Government made the decision to employ their police departments and army forces with the Bullet 350 as the necessary bike for the job.
It was then that the original manufacturer out of Redditch, Worcestershire (Redditch Company) had partnered with Madras Motors in India and formed Enfield India where the passing years saw the Bullet dominating the Indian Highways and became increasingly popular year after year. In 1994 the name changed and became Royal Enfield.
Bringing this amazing brand of precision engineering closer to home, Electra Sign was asked to keep the branding intact and create a custom LED sign that would influence motorcycle enthusiasts to enter into a new experience. Read more on the history of Royal Enfield at www.royalenfield.com/ca and then drop by and visit their Manitoba showroom at 41 Higgins Ave. in Winnipeg, MB.
Royal Enfield
Facebook: Royal-Enfield-Canada-122290377840719/
Twitter: @RoyalEnfieldCAN
Instagram: @royalenfield
Finishing Touches: Inland Furniture (formerly Faveri's)
August 1, 2018
For over 40 years, Inland Furniture (formerly Faveri's) has been a compliment to homes and businesses. A locally owned Winnipeg institution, the owners and staff understand the quality that is expected by their clients. Craftspeople themselves, they look to educate each customer on what to look for and the best solutions. When you first open the doors to Faveri's you will feel welcomed by the fresh smell of wood. Nothing compares to the comfort of that first step inside.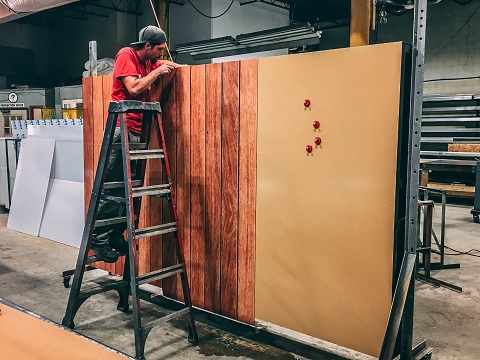 More than a year ago, Electra Sign met with Robert and Lynda and discussed the options to provide enhanced marketing and awareness of their brand. After some struggles with Permits, Variances and Engineering – their existing structure was transformed into a piece of art including the latest technologies in LED and electronic messaging centres.
At Electra Sign, we are very excited to be part of this project and sharing in the emotion to get to this point. Robert, Lynda and their team invite you to visit them and all they have to offer at Inland Furniture (formerly Faveri's) 625 Wall St or…
Ph: 204-957-4940
Website URL: https://inlandmade.com/
Facebook: https://www.facebook.com/InlandMade/
Instagram: https://www.instagram.com/inlandmade/

← Older Posts
Newer Posts →