Customer Profile: Eye For Business Center
November 7, 2017
If you're a Winnipeg business owner or an individual requiring comprehensive professional care, take a good look at the Eye For Business Center. This new destination conveniently located just outside Kenaston Commons aims to be your turnkey solution for all your business professional needs. Whether it's finance, law, real estate, IT, or all of the above, the folks under the Eye For Business roof have you covered, and they'll work together with you as a team to coordinate your efforts and save you time and energy.
The Eye For Business Center itself boasts a bold aesthetic that stands out from its business sector peers, showcasing both their professional edge and friendly, personable touch. Electra Sign was brought on to help realize this cohesive look. Our first step was installing our high-quality, routed-out building letters. We then followed up by delivering a sharp-looking custom-built LED-illuminated pylon sign that serves to showcase the talent within while seamlessly complementing the Center's architectural elements.
Drop by the Eye For Business Center in person or online and see just how much they can do for your business. And whether you're a scrappy start-up, a well-established company, or anything in-between, contact Electra Sign and let us help you to make a great first impression on your clients with signage that stands out from the crowd.
Call Electra Sign Ltd. Winnipeg Manitoba today for your custom manufactured LED creation.
Creating a Community difference in Healthcare
September 11, 2017
Customer Profile: Bison Family Medical Clinic

The summer of 2017 will see an old building redeveloped into a healthcare facility, offering new options to the surrounding areas. The Bison Family Medical Clinic is opening a 2nd location at 1686 Pembina Hwy., that will provide exceptional medical care to the community. The physicians plan to give easy access and empathetic medical care to it's visitors. Providing family and walk-in medicine, Bison Family Medical Clinic will have psychiatry, procedural, women's health, as well as a dietician, pharmacy and nursing support.
Bison Family Medical Clinic on Pembina plans to have a dedicated procedure room, conference room, ECG, Spirometry, X-Ray and casting supplies with a state of the art lab. Their qualified physicians will be made available to provide comprehensive care to a growing community with a variety of needs in evenings and on weekends. Leila Pharmacy will be located onsite for even further convenience and comfort.
When you put so much into caring for so many, it's equally important to let everyone know where you are. With this, Electra Sign was asked to consult with the owners and provide LED signage that would recognize this complete care facility and the redevelopment of the building. Accenting the new signage will be a custom-crafted centre canopy as unique as the building itself.
Bison Family Medical Clinic
1686 Pembina Hwy. Winnipeg, MB
Website: www.BisonFamilyMedical.com
Facebook: @SuperstoreBisonMedicalClinic
Customer Profile: Cory Common Mall - Saskatoon, Saskatchewan
August 23, 2017
Cory Common is Stonebridge's latest business development. Located in the south part of Saskatoon, Saskatchewan, Cory Common is close to downtown and will ultimately serve about 13,200 locals with a storied and convenient collection of retail and dining outlets. Cory Common could very well be the go-to destination to set up your new business.

We were pleased to work with the Cory Common team. They helped make it easy for us to deliver a fantastic new pylon sign that seamlessly complements their property's architecture while greeting passersby and patrons alike with our top-of-the-line LED signage. Come on down to Cory Common and see for yourself.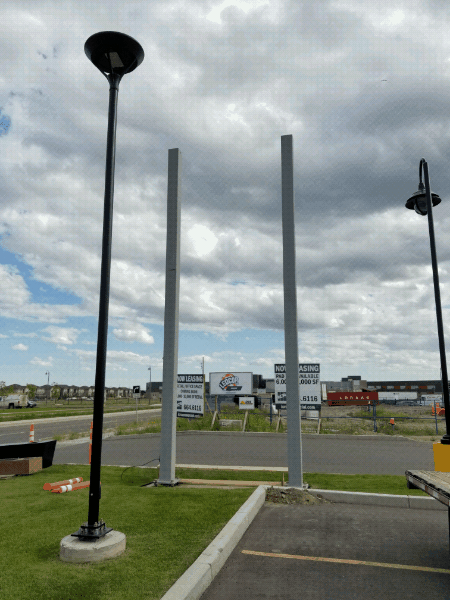 Call Electra Sign Ltd. Winnipeg Manitoba today for your custom manufactured LED creation.












← Older Posts
Newer Posts →