Winnipeg's Little Caesars Pizza Showcases New Logo and Branding
May 15, 2019
In 1993, Richard and Jackie Dean introduced Manitoba to the first of what would soon become many Little Caesars franchises. The first restaurant in Winnipeg opened in Fort Richmond and the location took on the personality of their family which helped make the daily experience, friendly and memorable to all. Today they have multiple locations that serve up some of the tastiest pizza around.
As one of the few preferred signage vendors for Little Caesar Enterprises, Inc. in Canada, Electra Sign ensures that each sign we custom manufacture meets their detailed specs. From the trademark orange acrylics to the brightest LEDs. This year, Little Caesars rolled out a new logo design and branding which includes a full-size new Little Caesar logo.
The first to receive this new logo design and branding will show up at Winnipeg's 845 Dakota Street location when upgraded renovations are complete. Drop by and grab a slice of pizza and say hello to the great staff that has made this location a success for years.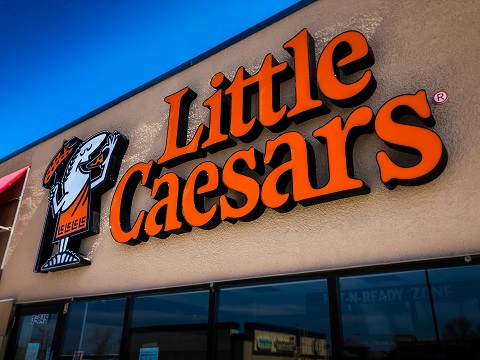 Unit 3 – 845 Dakota St.
Winnipeg, MB R2M 5M3
Ph: 204-257-5555
Facebook: @LCpizzaDakota
Website: littlecaesars.ca
AN EDUCATION IN SIGNAGE
March 27, 2019
In the summer of 2018, Red River College put out a call to enhance the landscape of their Notre Dame Campus in Winnipeg, Manitoba. Continuing to market their advancement in Technology & Trades brought to life new buildings and structures for all to appreciate.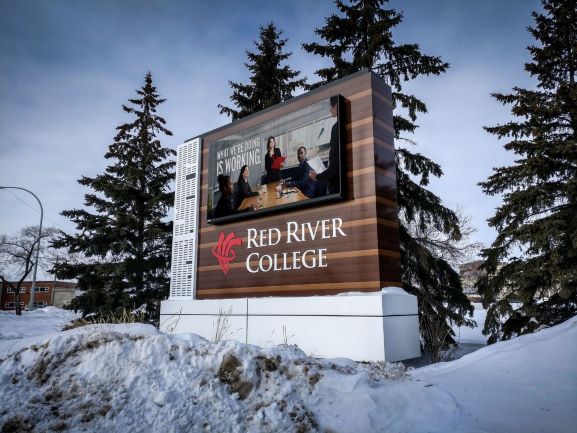 Electra Sign answered that call and manufactured a complete solution including custom designed, LED illuminated monuments for each of the entrances of the campus. The largest of the 7 monuments include an 8mm Hi-Resolution colour electronic messaging system, which explores opportunities available at the College. Each structure compliments the new and recently renovated buildings.
Red River College has eight campuses across Manitoba, including several located in rural communities. Their campuses include state-of-the-art equipment and facilities to ensure that students are ready for the workforce after graduation.
Get in touch with your future today by contacting RRC:
Email: register@rrc.ca
Phone: 204-632-2327
Toll-free: 1-800-903-7707
Web: rrc.ca/studentservicecentres
Twitter: @RRC
Facebook: @redrivercollege
Instagram: @redrivercollege
A NU SENSATION - Customer Profile: NUBURGER
January 30, 2019
Burgers don't get much better than they do at Nuburger, and Electra Sign is privileged to work alongside a company that shares so many of the same values. Electra Sign provided the signage for their newest location at the southeast corner of Regent and Lagimodiere. But whichever of their four locations you stop at, their focus on quality ingredients and ethical practices is guaranteed to leave you feeling satisfied and guilt-free.
Since opening their doors here in Winnipeg, Nuburger's menu offerings have drawn in burger afficianados from all over the world. Each burger is specially crafted, made and topped with only the freshest and most Manitoba-local ingredients possible, and designed to ensure both maximum health benefit and supreme flavour without compromise. Nuburger is a great place to grab a tasty meal that suits the new Canada Food Guide requirements, and will cater to just about any dietary lifestyle or need you could hope for. Are you on a keto-kick, or are you a carb-craver? An ardent vegan, or an unapologetic carnivore? Folks from all walks of life are sure to find a delicious new favourite here.
To match their bold flavours and style, Nuburger wanted to make an impact with the signage for their newest location on Regent. Electra Sign met the challenge with extra-sized LED trimcap letters, accompanied by detail-oriented acrylic secondary copy. But the crown jewel is the custom-built push-thru heart logo that lights up at night and pulses to a heartbeat. It's a unique and memorable sign for a one-of-a-kind burger experience, and a project we were proud to work on.
Connect with Nuburger online to get a taste of what you've been missing!

http://www.ilovenuburger.com/
https://www.facebook.com/nuburgerwinnipeg
https://twitter.com/ilovenuburger
https://www.instagram.com/ilovenuburger/
← Older Posts
Newer Posts →