All the best from Electra Sign!
December 15, 2021
The team here at Electra Sign wishes you peace, joy, and prosperity throughout the coming year. Thank you for your continued support and partnership through these challenging times. We look forward to working with you in the years to come.
Warmest Regards,
The Entire Staff at Electra Sign
Customer Profile: Globe Property Management
July 28, 2021
Globe Property Management is a local Winnipeg-based company that puts an emphasis on the acquisition of both residential and commercial companies throughout Canada. With an impressive range of homes located across Alberta, Saskatchewan, Manitoba. Ontario, and Quebec, Globe Property might just have the apartment you've been looking for!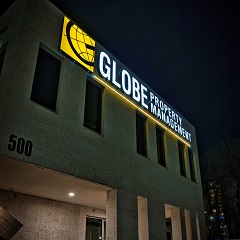 Last year, we had the pleasure of working with Globe Property Management to produce a sign for their corporate offices on St. James street as well as several of their other properties in the area.
Globe Property Management
500 St. James Street
Winnipeg, Manitoba
A welcome to Connor Snyder our newest Account Executive
December 30, 2020
We'd like to welcome the newest member to the Electra Sign family.

Connor was born in Toronto, raised in Winnipeg, but wishes he was sitting on a dock at Lake of the Woods. After graduating from the University of Winnipeg with a degree in Marketing & International Business, he started working with companies around the world to develop distribution for a product manufacturer. Throughout his career he has travelled to over 20 countries and to 42/50 states in the USA, building relationships with companies such as NASA and Microsoft.

Now with his roots planted in Winnipeg, he brings his sales and marketing experience to the Electra Sign Team as an Account Executive. In his spare time, Connor enjoys the outdoors, playing music, working on his motorcycle, and sports.
← Older Posts