Client Profile: Thom Bargen Coffee Roasters
December 16, 2022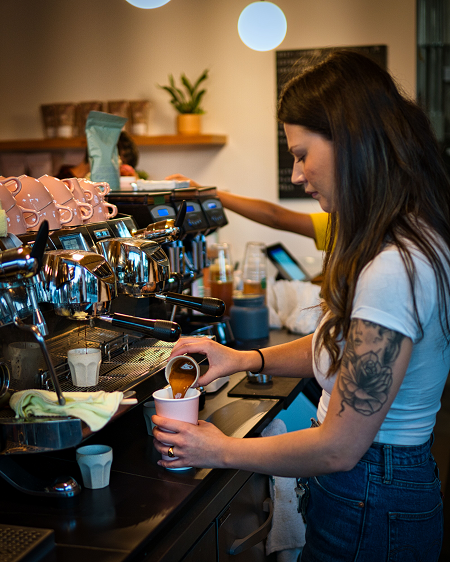 Thom Bargen is inspired by the tireless work of coffee farmers across the world...

Thom Bargen Coffe Roasters strives to make the best coffee they can while honouring the farms they purchase from. They offer freshly brewed coffee, gift cards, coffee subscriptions, merch and brew gear.

743 Corydon Ave is their newest location. With warm wood designed to transition from morning to evening, this spot is cozy. Bright windows line the corner of Cockburn and Corydon creating a real vibe.

THOM BARGEN MISSION:

OVER SEVEN YEARS, ONE FATEFUL BIKE RIDE, A BOARDED-UP BUILDING, THREE COFFEE SHOPS, TRIPS AROUND THE WORLD, AND YEARS OF HARD WORK, WE CAN RESIST NO LONGER.

INSPIRED BY THE TIRELESS WORK OF THE COFFEE FARMERS WE PARTNER WITH ACROSS THE WORLD, OUR PASSION FOR COFFEE HAS LED US TO ROAST. IT'S THOSE FARMERS THAT WE HONOUR WITH THIS BAG. WE HOPE YOU LOVE IT.

Locations:
743 CORYDON: Mon-Fri 7-9, Sat-Sun 8-9
64 SHERBROOK: Mon-Fri 7-5, Sat-Sun 8-5
250 KENNEDY: Mon-Fri 7-4
365 MAIN: permanently closed
www.thombargen.com

Signage Details:
Large Letters: led illum. trim-cap letters / wall mounted / white acrylic faces / black trims & returns / white leds.
Small Letters: non-lit letters acrylic: non. illum. letters / 3/8" thick acrylic / rail mounted to wall surface.
All the best from Electra Sign!
December 15, 2021
The team here at Electra Sign wishes you peace, joy, and prosperity throughout the coming year. Thank you for your continued support and partnership through these challenging times. We look forward to working with you in the years to come.
Warmest Regards,
The Entire Staff at Electra Sign
Important message from Electra Sign Ltd.
March 16, 2020
To our Valued Clients:

As the situation with COVID-19 continues to evolve day-to-day in Canada, the primary focus of Electra Sign remains on protecting the health and safety of our co-workers, and customers we serve.


Our manufacturing facility is large enough that our workers have an ample buffer zone between each individual and proper hygiene to help reduce the risk of infection or spreading infection to others has been put into place. Outdoor crews have been equipped with hand sanitizer in the event hand washing is not available. Rest assured our clients projects are still being produced and serviced in a safe manner.

Our administrative and sales team have been instructed against any non-essential in-person meeting especially at our Electra Sign offices. A phone call or email can be just as effective. The rule of thumb is to stay 6' (2 metres) away from others as much as possible.

We'll continue to closely monitor this evolving situation and are basing our actions and decisions on recommendations from the Public Health Agency of Canada and relevant local authorities. While sanitization has always been a part of our operational procedures, we are taking additional preventative measures to keep our co-workers and clients safe.

Thanks
Jesse Brolly
President/Director of Sales
Electra Sign Ltd.
← Older Posts
Newer Posts →