St. James Assiniboia Centennial Pool: A Community Gem Gets a Fresh Look
February 3, 2023
St. James Assiniboia Centennial Pool, a fixture in Winnipeg's community for over 50 years, has recently undergone a transformation. The indoor pool, which was built in 1967 to celebrate Canada's centennial, has been given new signage that highlights its history and importance to the community.
The new signs, which were installed near the pool's entrance, provide info on pool events. The signs also include information about the pool's hours of operation, rules and regulations, and other important details that visitors need to know before they dive in.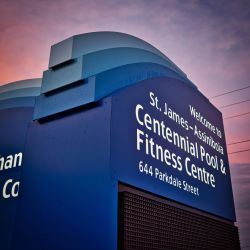 The new signs are not just a visual improvement, they also help to create a safer and more enjoyable experience for visitors. The updated information on the signs will help visitors better understand the rules and regulations of the pool, which in turn will help maintain a safe and enjoyable environment for everyone.

In addition to the new signage, the St. James Assiniboia Centennial Pool has undergone a number of other improvements in recent years. The pool has been repainted, the changing rooms have been refurbished, and new picnic tables and benches have been added to provide visitors with a comfortable place to relax and enjoy their time at the pool.

The St. James Assiniboia Centennial Pool is a much-loved and well-used facility in the community. It's a great place for families to enjoy a day out, for friends to catch up and for individuals to exercise and swim. With its new signage, the pool is now even better equipped to meet the needs of the community and to provide visitors with a safe and enjoyable experience.

Whether you are a lifelong resident of Winnipeg or just visiting for the first time, be sure to check out the St. James Assiniboia Centennial Pool, it's sure to be a highlight of your summer!
Jaw Dropping LED Video Wall Signage in Korean Building Lobby
October 16, 2019
They are doing some amazing LED Video Wall Signage overseas and this one is jaw-dropping. The content for the video wall in the Seoul R&D offices of Nexen, a Korean tire company. The lobby signage is 98 feet wide by 23 feet tall fine pitch LED media wall running a diverse range of custom visuals developed by the agency d'strict.
On a more practical level, you can add things like welcome messages to important visitors if needed.
Abilities Manitoba Annual Golf Tournament
August 22, 2019
Such a beautiful day for a golf tournament @AbilitiesMB. Thanks for letting us help out this year! A huge thank you to all of the Golf Tournament Sponsors and main sponsor Northway Pharmacy Broadway. It has been such a pleasure working with everyone and we look forward to successful future Tournaments as well.
Abilities Manitoba Goals:
1. To promote the interests of Manitobans with intellectual disabilities and the supports necessary to realize their chosen lives in their community.
2. To act as a provincial body on behalf of members, promote member concerns to government, and represent members to relevant planning bodies.
3. To strive for optimum service standards, advocate for the resources necessary to achieve those standards, and promote a shared code of ethics for all members.
4. To facilitate the sharing of information and resources, both between members and with other interested parties.

Abilities Manitoba
500 Madison Street
Winnipeg MB R3H 0L4
Website: https://abilitiesmanitoba.org/
Facebook: https://www.facebook.com/AbilitiesMB
Twitter: https://twitter.com/AbilitiesMB
Phone: 204 890-6751


Northway Broadway Pharmacy
618 Broadway
Winnipeg, MB R3C 0W8

Website: https://northwaypharmacy.ca/
Facebook: https://www.facebook.com/NorthwayBroadwayPharmacy/
Instagram: https://www.instagram.com/northwaypharmacybroadway/


Electra Sign Ltd. | Quality LED Signs & Service for your Business | Winnipeg, Manitoba.
← Older Posts