Can You Inspire Your Community with a Sign?
July 29, 2013
LED signs, churches and places of worship.
LED signs are an extremely cost-effective form of communication. A new LED sign in conjunction with your new or existing signs can cost less than 15 cents per thousand exposures while reaching the very people who are geographically close enough to act on your message immediately. How important is it for you to keep your congregation informed and growing? With an attention-grabbing LED message center, your church can reach out with inspiration and excitement to your flock as well as the surrounding community. LED displays provide energy-efficient communications 24/7, using light, color, and motion to bring greater visibility to your congregation's programs. With the addition of an LED sign, your church can become your community's beacon of light.
Benefits:
• Extend a warm welcome to newcomers and passer-bys
• Share daily or hourly affirmations with your whole community
• Communicate weddings, festivals and special events
• Promote school spirit, sporting events, and student activities
• Acknowledge student, staff and ministry achievements
• Seek community support for fundraising events
• Draw attention with time, temperature and date displays
An authorized reseller of Watchfire LED signs, Electra Sign and Prairie Sign offers full signage solutions throughout Manitoba, Saskatchewan and Alberta. From one-of-a-kind signs to all-encompassing sign programs, Electra Sign and Prairie Sign are dedicated to providing the highest quality service to all of our clients.
That's why when it comes to LED signs, we work exclusively with Watchfire Signs, which engineers and manufactures LED signs to help businesses and organizations increase visibility and drive growth. The company has created more than 15,000 LED signs for banks, retailers, schools, places of worship and other locations throughout North America and is thoroughly committed to the highest level of education, training and support to make our customers successful.
Complete sign solutions by Electra Sign Ltd. Winnipeg Manitoba, leading the signage industry in award-winning custom design and manufacturing.
History repeats itself in grand style: Centennial Concert Hall
June 28, 2017
What began as an urban renewal project in 1960 has to this day remained the center of attention in Manitoba's arts & culture community. The Manitoba Centennial Centre Corporation is the overseer of Centennial Concert Hall, Manitoba Museum, The Planetarium, and the Royal Manitoba Theatre Centre (and more)! The MCCC stands proud among the finest of Canada's cultural organizations.


On October 1, 1965, the shovels first hit the ground for a concept that would house incredible programs under the MCCC umbrella of performing arts. Three years later, Centennial Concert Hall opened its doors. Professionals from all over Canada worked together to create this landmark, $8 million, 253,014 square foot building; a venue that would go on to host some of the world's most talented performers in the following decades.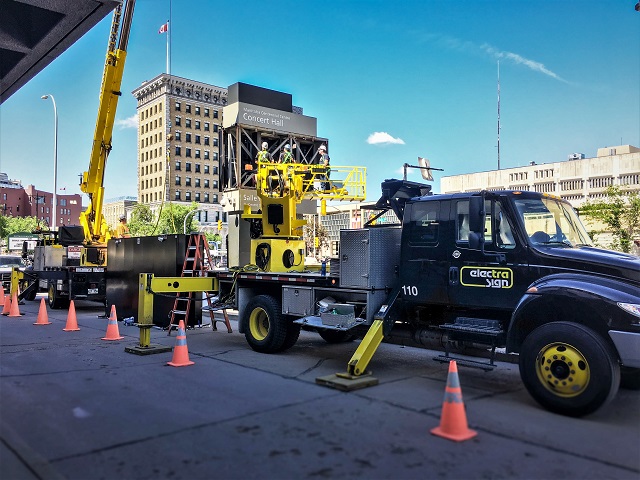 In 2007, Electra Sign was tasked with creating a sign structure that would complement the surrounding buildings, draw visual attention to the area, and further create awareness for the programs offered. Now, more than a decade later, our crew returned to Centennial Concert Hall to upgrade the sign's electronic messaging centre, replacing the previously installed 16mm model with the latest high-resolution 12mm model from Watchfire Signs. The difference in picture quality has to be seen to be believed, but ease-of-use received an upgrade as well! Less than a day after installation had concluded, Gerry McDougal (Manager, Marketing and I.T.) had the Concert Hall's messages brilliantly displayed for all of Winnipeg's passersby to see.


With amazing shows, exhibits, and more for the whole family to enjoy – visit Centennial Concert Hall and the entire Manitoba Centennial Centre and learn more about the many venues offered. Located in the heart of the city, access is simple via bus, bike, car, or take a walk and enjoy the upcoming celebrations of Canada's 150th birthday along the way!

Centennial Concert Hall

555 Main St.
Winnipeg, M
B
Website: centennialconcerthall.com
Facebook:
facebook.com/
CentennialConcertHall
Twitter:
@
Concert_Hall
Instagram: @
centennialconcerthall
Building Canada's businesses better and brighter at Electra Sign Ltd. Winnipeg Manitoba. The region's largest custom sign manufacturer.
2017 WATCHFIRE LED SIGN AWARDS WINNERS ANNOUNCED
June 12, 2017
Watchfire Signs is proud to present the winners of the 2017 Watchfire LED Sign Awards, established to recognize Watchfire dealer partners who showcase the capabilities of on-premise digital advertising in superior sign design. The award recognizes sign companies who have displayed excellence in effectiveness, design, and how well the artwork showcases the digital components of on-premise advertising.
2017 Gold Winner
Electra Sign Ltd., South Beach Casino
Full list of winners... http://www.watchfiresigns.com/signawards
Complete sign solutions by Electra Sign Ltd. Winnipeg Manitoba, leading the signage industry in award-winning custom design and manufacturing.
← Older Posts
Newer Posts →