Sign Media Canada Cover Feature: Electra Sign Ltd.
November 3, 2023
Link to entire article here... https://www.signmedia.ca/a-bright-future-ahead/
---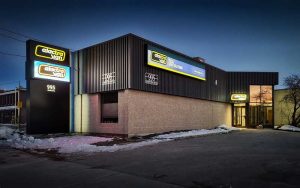 A bright future ahead

October 26, 2023

For more than 40 years, Electra Sign Ltd. has focused on growing a repertoire of captivating signage. Photos courtesy Electra Sign Ltd.

By Carly McHugh
For more than 40 years, Electra Sign Ltd. of Winnipeg has focused on growing a repertoire of bright, eye-catching projects. Serving clients in Western Canada and beyond, their dedication to building iron-clad working relationships and providing white glove service has been of the utmost priority.
Now under new ownership, the company works hard to achieve the same quality, creativity, and customer service they have been known for since the beginning—proof that while some things might change, delivering captivating signs that leave a lasting impression will always remain top of mind.
Sign Media Canada spoke with the shop's creative director, Brett Aho, about the history of Electra Sign, along with its recent projects and specialties, and his team's plans for the future.
The shop specializes in a wide variety of projects, including channel letters, pylon and fascia signs, LED signage, and electronic message centres.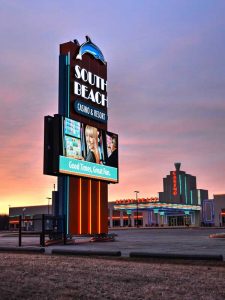 Sign Media Canada (SMC): What is the history of your shop?

Brett Aho (BA): Electra Sign Ltd. was founded in Winnipeg in 1979, by Ken Devine. The name Electra comes from Greek mythology (also spelt Elektra). It's a female name meaning "amber," and thus, "shining" and "incandescent." The company initially focused on creating portable reader panel signs for businesses in the area.

In the 1980s, Electra Sign expanded its services to include electronic message centres (EMCs) and other types of illuminated signs. It gained a reputation for high-quality custom signage and began to work with clients throughout Western Canada and northwest Ontario.

Throughout the 1990s, the company continued to innovate and introduced new types of signage, including LED displays and energy-efficient lighting solutions. It also expanded its operations by opening a second location in Edmonton, as well as a third location in Regina.

In the early 2000s, Electra Sign kept its focus on growing and diversifying its offerings. The company introduced digital signage solutions and aimed to strengthen its online presence through its website and social media channels.
Over the following decade, the company consolidated its operations by closing its Edmonton location and focusing on its Winnipeg headquarters. Throughout this process, it also sought to consistently expand its range of products and services.
In 2019, the company was purchased by Jesse Brolly. Brolly began working with Electra Sign on the installation and service team and is now the company's president and director of sales. Electra Sign also celebrated its 40th anniversary that same year.
Today, the company continues to thrive as a provider of high-quality, custom electric signage across Canada. Our team of designers, fabricators, and installers work together to create unique and impactful signage solutions for a wide range of businesses and organizations.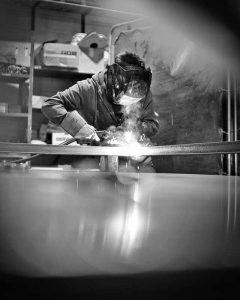 SMC: What makes your company unique?

BA: Having a measurable positive impact for clients has always been rewarding for us. Electra Sign has an effective, experienced leadership that believes in strong client and employee partnerships. We have grown our professional expertise over the past 40 years to become the best choice for signage in the Prairies. It's our passion to apply this experience to ensure great value for the designs and creative concepts we develop for our customers.

SMC: How large is your facility?

BA: We recently upgraded to a much larger location in Winnipeg. Our facility is 1,208 m2 (13,000 sf) with a 3,716-m2 (40,000-sf) compound. We currently have 23 employees.

SMC: What type of signage does your shop primarily install?

BA: We specialize in EMCs, pylon and fascia signs, channel letters, LED signage, and some interior signage.
SMC: What type of projects have you been working on recently?
BA: The variety of projects we work on is ever-changing weekly.
It could be anything from a small LED interior reception sign to 6-m (20-ft) tall LED logos sitting atop a 34-storey building.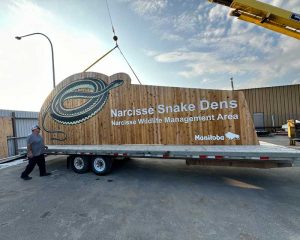 SMC: How much of the sign installation process is handled in-house?

BA: We have two large boom trucks, a service van, and two full-time crews. We handle 100 per cent of our installations ourselves unless we get into a time crunch on a tight deadline.

SMC: What tools and equipment do you currently use to complete your projects?

BA: We have a computer numerical control (CNC) routing table, a large-format digital printer, a rollover table, a vinyl cutter plotter, a spray booth, a letter fabrication machine, welders, metal breaks, a large overhead interior crane system, two boom trucks, one service van, and a pile drilling machine.

SMC: What are some of the steps involved in your planning process?

BA: We have a custom-built software system that starts at the customer relationship management (CRM) stage with clients and then works its way through, moving projects into manufacturing, installation, and billing.
SMC: How is technology changing the way you run your business?
BA: Technology is significantly changing the signage business in many ways. For us, specifically, it has to do with new software which allows us to have better control of the entire signage process—from the first client meeting to streamlining manufacturing, and right to the end, when the crews are heading back to the shop after a successful installation.
SMC: What is the key to staying successful in this industry?
BA: Evolving, learning, and embracing new ways of doing things. Whether it's implementing new software systems or upgrading manufacturing techniques, it's important to stay ahead of the curve, or you'll get left behind very quickly.
SMC: What are your future plans for the growth of your business?
BA: Electra Sign plans continue our growth and become the largest signage manufacturing company in Western Canada. To achieve these goals, we plan to invest heavily in state-of-the-art equipment and technology.
---
Link to entire article here... https://www.signmedia.ca/a-bright-future-ahead/