Customer Profile: Gospel Mission Church
June 1, 2017
On April 12th, 2015, the shovels hit the ground on new real estate in Winkler, Manitoba. This sod turning event marked the first stages in moving the Gospel Mission Church from its Pembina Ave. location after 11 years to 15th Street. From the first service in a shared building in April 2005 with Emmanuel Mennonite Church, to holding their first service in their new building on April 24th, 2016 – the changes were welcomed.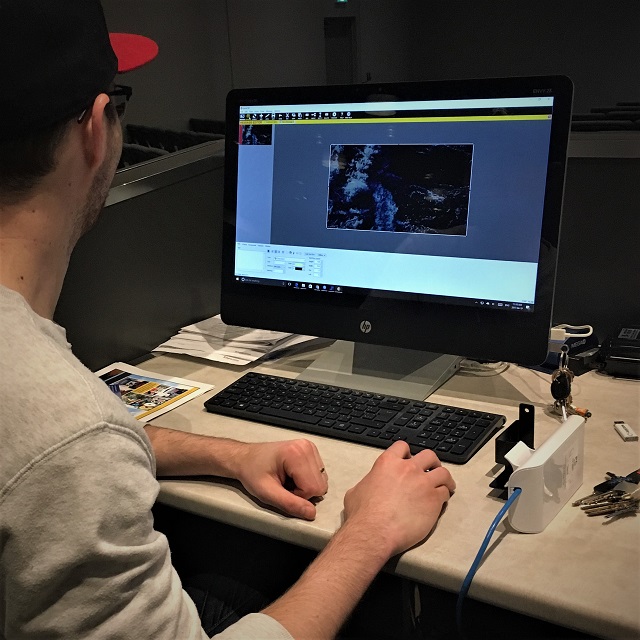 Image: Training on the Watchfire EMC sign software.
Driving onto the gravel parking lot to meet for the first time, Electra Sign provided a detailed presentation using the EMC Demo Truck to visualize the technologies available in an electronic messaging centre(EMC). How these technologies would enhance the communications of the Church and the surrounding communities. With more than 250 members and service attendance of over 800 regularly, Gospel Mission Church has become a recognized gathering with members(partners) growing constantly.
Capturing the unique beauty of the Church, Electra Sign's team custom designed, manufactured and installed a 14-foot-high, double-sided 12mm electronic messaging centre. Boasting full colour high resolution imagery and animation, this structure compliments the building and its shape.
When you find yourself in Winkler, drop in and say hello. Also visit them online and have a look at the construction development, details and pictures.

Website: www.gmchurch.ca
Gospel Mission Church
855 15th Street
Winkler, MB
Phone: (204) 325-6388
The difference in quality starts with employees that love what they do. Electra Sign Ltd. Winnipeg Manitoba shows this in every project we create.
Modern Commercial Construction: The SIGN of a Successful Community
May 17, 2017
I had the honor and pleasure of attending a grand opening for a landmark office building located on the Swan Lake first Nation in Headingly on Friday May 12.

The project is a real success and illustrates what can happen when hard working individuals set their mind to something. It took vision to build a world-class facility and it was achieved through great fiscal management, perseverance and strong partnerships. Chief Francine Meeches had many gracious words to say about everyone involved as did numerous other delegates from the Federal and Provincial governments. I was especially moved by the generosity shown by many visiting Chiefs of other Southern First Nations, with traditional art given to the centre to honor the great accomplishment.

Congratulations to Ernest Haunch Construction Ltd. for helping SLFN to reach their goal!! Congratulations to the community for keeping to your plan and achieving such a great accomplishment!
John Karasevich (link to BIO)
Production Manager
Electra Sign Ltd.
Building Canada's businesses better and brighter at Electra Sign Ltd. Winnipeg Manitoba. The region's largest custom sign manufacturer.
Flexible Signage a Must
May 12, 2017
When it came to a unique signage design, Heather Senderewich of The Yoga Barre wanted to ensure that her new location would showcase her image and brand. Electra Sign worked with Heather to ensure her vision of providing the best in fitness with her offerings was clearly expressed.


The Yoga Barre provides 3 focused areas which include 5+ classes throughout their large studio. Located on the second floor of the Park West Shopping Centre, the private elevator takes you directly into an amazing atmosphere that is very warm and welcoming. Their certified instructors enjoy taking you to the next level of fitness and flexibility, suited for all ages.

Drop by The Yoga Barre and be prepared to have a great time while making your future health goals a reality.


Twitter: @TYBWinnipeg
Serving Western Canada with the brightest solutions, call the professionals at Electra Sign Ltd. Winnipeg today.
← Older Posts
Newer Posts →