Happy Holidays Everyone!
December 13, 2017


It's been an amazing 2017 that could not have been achieved without the great clients we had the privilege to partner with and our staff's hard work. Happy Holidays Everyone!

Electra Sign and Prairie Sign have been creating high quality, effective signage for over 35 years. With award-winning, certified, and full-service solutions, we are your expert signage partners.
A Community Difference in Banking
November 24, 2017
Founded in 1978 Me-Dian as the Métis Credit Union of Manitoba, it first was recognized as a "closed bond" credit union. Members of closed bond credit unions share a distinct association based on religion, profession, culture or some other criteria, and nearly every credit union in the province has been closed bond at one time or another.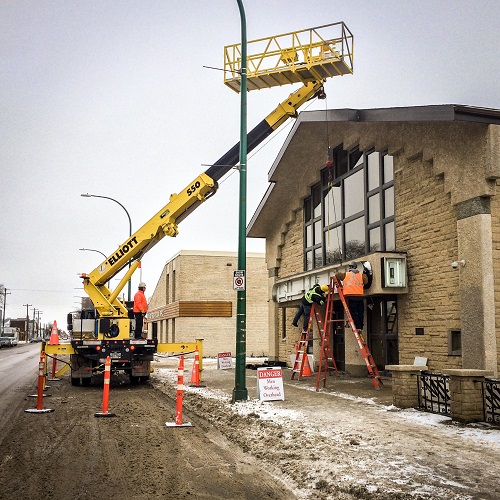 It was in 2009 the doors were widened, welcoming those who are not of aboriginal heritage as associate members of the credit union.

Almost 8 years later, Me-Dian Credit Union continues to share their community commitment in celebrating their high standards of service. With this came the request for Electra Sign to assist in their well-known brand by creating custom LED signage. Poised to meet their fast-approaching Grand Opening, Electra Sign committed to removing all previous signage and install new eco-friendly LED illuminated cabinets, channel letters that would showcase their long standing logo and history behind it.
On November 20th, 2017 Me-Dian Credit Union and their staff held an open-door ceremony in traditional Metis style while they welcomed members to enjoy the making of new memories. The re-launch included a new online look with the website and local media was on-site for the opening ceremonies.
Visit the Me-Dian Credit Union and the great staff today and learn more about the benefits of banking.
The Me-Dian Credit Union
303 Selkirk Ave.
Winnipeg, MB
Phone: 204.943.9111
FACEBOOK
Instagram
Time-lapse look at our crew installing their new signs...
Youtube

The difference in quality starts with employees that love what they do. Electra Sign Ltd. Winnipeg Manitoba shows this in every project we create.
Customer Profile: Eye For Business Center
November 7, 2017
If you're a Winnipeg business owner or an individual requiring comprehensive professional care, take a good look at the Eye For Business Center. This new destination conveniently located just outside Kenaston Commons aims to be your turnkey solution for all your business professional needs. Whether it's finance, law, real estate, IT, or all of the above, the folks under the Eye For Business roof have you covered, and they'll work together with you as a team to coordinate your efforts and save you time and energy.
The Eye For Business Center itself boasts a bold aesthetic that stands out from its business sector peers, showcasing both their professional edge and friendly, personable touch. Electra Sign was brought on to help realize this cohesive look. Our first step was installing our high-quality, routed-out building letters. We then followed up by delivering a sharp-looking custom-built LED-illuminated pylon sign that serves to showcase the talent within while seamlessly complementing the Center's architectural elements.
Drop by the Eye For Business Center in person or online and see just how much they can do for your business. And whether you're a scrappy start-up, a well-established company, or anything in-between, contact Electra Sign and let us help you to make a great first impression on your clients with signage that stands out from the crowd.
Call Electra Sign Ltd. Winnipeg Manitoba today for your custom manufactured LED creation.
← Older Posts
Newer Posts →