Three Reasons Why You Should Update Your Old Signage with LEDs
June 24, 2020
"I'm the owner of an established restaurant here in Winnipeg. I already have attractive signage that draws in business from the area so I'm not quite ready to update my current branding. Though the fluorescent lighting on my existing signs is outdated, and this creates various issues.
My outdated signage requires frequent maintenance, which can become exceedingly expensive. Another issue I have is that my fluorescent lighting is not energy efficient, nor is it environmentally friendly since I must frequently dispose of my used fluorescent lamps when I replace them. What can I do about this?"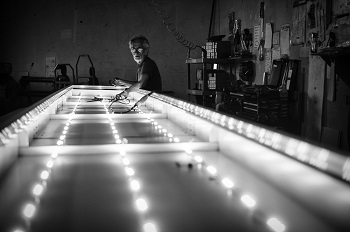 This is a common dilemma that many kinds of businesses face. Nowadays more and more people are asking this type of question as they want to save on maintenance and electrical costs and because they want to be more responsible, overall. Though it may not seem that way, the solution to this problem is actually very simple --and no, you don't need to replace your sign altogether. You can convert your old signs' outdated lighting system to LED's, which isn't as costly as you would assume. Not to mention that having a new LED lighting system is a great investment with many additional benefits. Here are a few:
They are much brighter...
New LED systems are bright, offering the appearance of a new sign without the added cost. They make existing logos and graphics more vivid and eye-catching, which attracts more attention and thus, creating more potential customers.
They use less energy...
It's common knowledge that LED's preserve energy better than traditional fluorescent and incandescent lighting. But how much more effective is it, really? LED's can be up to 90% more efficient to run compared to traditional lighting. Over time, this will a save you lot of money.
They will need less servicing...
LED lights can last up to 100,000 hours. Compare that to traditional fluorescent lighting which typically only lasts from 7,000 to 15,000 hours and you'll notice a major difference. A sign service crew of two men and a truck typically costs $150 per hour, with LEDs you'll have to pay for their expensive services significantly less often.
Electra Sign recognizes the importance of signs as an investment for your business. If we can help you prolong that investment, please feel free to reach out to us for an estimate.
Can You Inspire Your Community with a Sign?
July 29, 2013
LED signs, churches and places of worship.
LED signs are an extremely cost-effective form of communication. A new LED sign in conjunction with your new or existing signs can cost less than 15 cents per thousand exposures while reaching the very people who are geographically close enough to act on your message immediately. How important is it for you to keep your congregation informed and growing? With an attention-grabbing LED message center, your church can reach out with inspiration and excitement to your flock as well as the surrounding community. LED displays provide energy-efficient communications 24/7, using light, color, and motion to bring greater visibility to your congregation's programs. With the addition of an LED sign, your church can become your community's beacon of light.
Benefits:
• Extend a warm welcome to newcomers and passer-bys
• Share daily or hourly affirmations with your whole community
• Communicate weddings, festivals and special events
• Promote school spirit, sporting events, and student activities
• Acknowledge student, staff and ministry achievements
• Seek community support for fundraising events
• Draw attention with time, temperature and date displays
An authorized reseller of Watchfire LED signs, Electra Sign and Prairie Sign offers full signage solutions throughout Manitoba, Saskatchewan and Alberta. From one-of-a-kind signs to all-encompassing sign programs, Electra Sign and Prairie Sign are dedicated to providing the highest quality service to all of our clients.
That's why when it comes to LED signs, we work exclusively with Watchfire Signs, which engineers and manufactures LED signs to help businesses and organizations increase visibility and drive growth. The company has created more than 15,000 LED signs for banks, retailers, schools, places of worship and other locations throughout North America and is thoroughly committed to the highest level of education, training and support to make our customers successful.
Complete sign solutions by Electra Sign Ltd. Winnipeg Manitoba, leading the signage industry in award-winning custom design and manufacturing.
Latest Home Inn & Suites Goes Green with an LED Sign Solution
August 24, 2012
Electra Sign Ltd. was pleased to work with d3h Hotels Inc. on the Home Inn & Suites project located in Swift Current SK. The striking new signs are internally illuminated by energy efficient LED's creating a small ECO friendly foot print for there newset hotel.
Customer Profile: Based in Saskatoon, d3h Hotels is a hotel management company that owns and operates nine hotels across Western Canada with its two new and upcoming builds of Home Inn & Suites in Swift Current and Yorkton starting in the fall of 2011.
Over the past 13 years, d3h Hotels has gained extensive knowledge and experience in the design and construction of hotels. The company recently celebrated its 10th build, pushing this young management company to retain the honour of being the largest franchisee of Days Inns in Canada.
Saskatchewan's "best kept secret" not only builds, owns and manages hotels but also franchises the Home brand to potential hoteliers. The HomeSuites and Home Inn & Suites franchise offers hassle-free, turnkey solutions that will allow the franchisee to focus on running a profitable business from day one
d3h's vision is to 'work together as a team to provide customers with "stay experience" that makes them feel they were at home'.
d3h Hotels Inc.
1139 – 8th Street East
Saskatoon, SK
www.d3h.ca
Branding & Awareness through effective signage. We are here to help at Electra Sign Ltd. Winnipeg Manitoba.
← Older Posts
Newer Posts →