Customer Profile: Brewed Awakening Coffee House
February 3, 2017
We were pleased to work with Brewed Awakening Coffee House again at their 2300 Brewdney location. Congratulations to their dedicated team, which has now grown to six locations (with more to come)! Their devotion to coffee culture shows through their success.
The Brewed Awakening Coffee House Story:
Proudly serving Doi Chaang coffee and espresso from Thailand. - Beyond Fair Trade, single origin, organic, and always fresh.
We boast a large selection of specialty coffee, all made to your specifications. Some house favourites include the cafe latte, cappuccino, chai latte, london fog, and caramel machiatto, as well as some of our own inventions like the CinnaRoll, White Chocolate Brownie, and the ever-popular Funky Monkey. Ask your barista about their favourites!
Always made to order with your choice of 2%, skim milk, soy, or almond milk.
All of our baking is home-made in store by the lovely Linda Little. Our cooler is always stocked with the treats you know and love, like puffed wheat, rice crispie, cinnamon buns, muffins, cheesecakes, pies, and cupcakes, to name only a few. Linda also likes to experiment with different pastries, breads, and squares, so stop by daily and see what's fresh!
Ask us about catering or ordering baking as well!
While we're continuing to build our lunch menu, we currently offer a variety of fresh-made wraps, fresh rolls, quiche, sandwiches, and soups. Our soups are made from scratch by Val Brightman, and are always hot and delicious. Stop by and see what our soups of the day are today!
We also have a large selection of products on display and available for sale. This includes many fine works from local artisans such as Sisters Stepping Stones, Serendipity Bath Products, Vino Tappaderas (for keeping bugs out of your drinks) Michael Phillips Photography, original art by Alyssa Tiefenbach, Serena's greeting cards, and jewellery from DL Designs, Athena and Ruby, Finishing Touch, and Calgary's Bhawana Clark! Lots of great gift ideas!
As well we have scarves, necklaces, earrings, notebooks, and various other items by Village Artesian. Their products are handmade by women in Thailand, and proceeds support helping women and children in Thailand struggling with aids.
Brewed Awakening features a beautiful screen room, seating about a dozen, that is open every day of the year that it is warm enough. Come enjoy your lunch or coffee in the beauty of the outdoors, without the nuisance of wind or bugs! Built by DGL Suncoast.
See you soon, ~
Lisa and Ken MacMurchy
Owners


Website: brewedawake.ca
Email: info@brewedawake.ca
Twitter: https://twitter.com/brewedawaken
Facebook: https://www.facebook.com/brewedregina/
Instagram: https://www.instagram.com/brewedawake/
Regina Locations: PRINCE OF WALES | PRINCE OF WALES | HILL AVE | HARBOUR LANDING | DEWDNEY AVE | GORDON

Branding & Awareness through effective signage. We are here to help at Electra Sign Ltd. Winnipeg Manitoba.
Your next stopover – The Exchange District
January 27, 2017
From travelling the world to accessories for your office, U.N. Luggage should be part of your ongoing checklist of essentials. Branded as Canada's favorite online luggage and bag store, the recent updating to their building exterior was a transformation that included a tastefully designed LED cabinet by Electra Sign. Working with the long-time owner of this family run business, it was important to have a sign that would engage the customer while showcasing the success and longevity of the company.
U.N. Luggage caters to all levels of those looking to travel near or far. Their services not only include finding you the right gear, but has the knowledge and experience to service that piece of luggage you just don't want to let go of.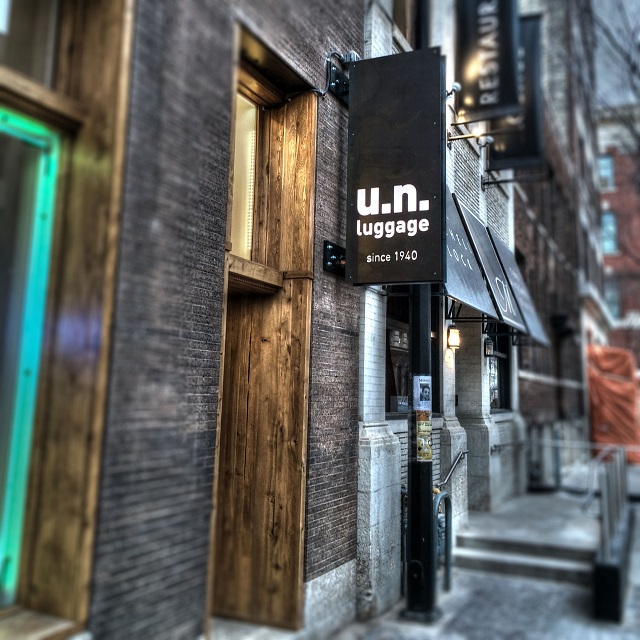 Drop by and visit them today and make your next trip – amazing!
175 McDermot Ave Winnipeg, MB R3B 0S1 Ph: 943.1068
Twitter: https://twitter.com/unluggage
Facebook: https://www.facebook.com/unluggage
Instagram: https://instagram.com/unluggage

The difference in quality starts with employees that love what they do. Electra Sign Ltd. Winnipeg Manitoba shows this in every project we create.