Shining a light on arthritis at the Santa Claus Parade
November 13, 2019
This weekend, Electra Sign Ltd. will be shining a light on a cause close to their hearts: arthritis.
For the second year in a row, Electra is sponsoring a float in Winnipeg Santa Claus Parade. But this year, rather than profile their business, the team at Electra are putting their creativity – and their dynamic signage – to good use in helping raise awareness of arthritis, and the work of the Arthritis Society.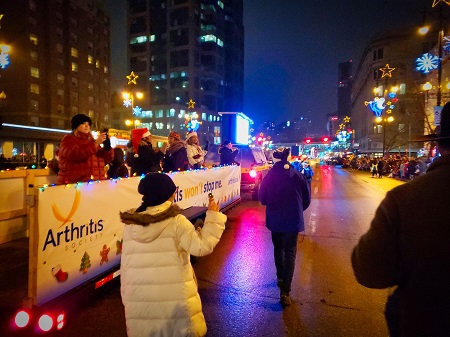 The effort is spearheaded by Electra's Controller, Marinus Van Osch. For several years, Electra has provided signage pro bono for the Society's annual fundraising Walk for Arthritis. This year, they're extending that support to the Santa Claus parade – their media truck's digital signboards will feature arthritis awareness messages, followed by a float full of Arthritis Society volunteers.

The cause is personal for Van Osch: at age 12, his daughter Monique was diagnosed with juvenile psoriatic arthritis, a form of inflammatory arthritis that affects children. She suffered from pain, fatigue, restricted mobility and other symptoms that spiked into unpredictable "flares". The disease disrupted Monique's schooling and put an immediate end to a burgeoning career as a competitive figure skater.
Most people picture arthritis as an old person's disease, says Van Osch, but as they found out, arthritis can strike anyone, at any age, from any walk of life. "That was a challenge for us in educating people when she was a child – no one understands it can affect people at that age."
As many as 24,000 Canadian infants, children and teens living with forms of arthritis – that's 3 out of every 1,000 kids.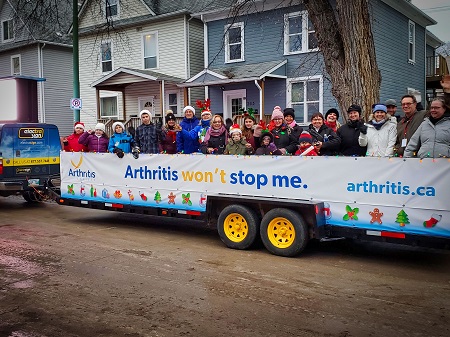 Now an adult, Monique continues to face challenges with her arthritis – there are still days when she can't move or get up in the morning – but she adapts and perseveres, supplementing her medical treatments with activity and nutrition choices that help her cope and live a full life. She now speaks publicly as an ambassador for the Arthritis Society, sharing her experience.

Her father is thankful that families now have resources and supports available, from research to a backpack program to a new camp launched this summer that brings children with arthritis together from Manitoba and Northern Ontario to make friends and have fun outdoors in an understanding and supportive environment. "There was no toolkit for families then, you had to learn on your own," says Van Osch. "Look at the information and resources that are available now – how far they've come in understanding and educating families on things like pain management." But, he adds, there's more work still to do.
Arthritis is the most common chronic health condition in Manitoba, affecting about 1 in 4 women and 1 in 5 men. By 2035, over 300,000 Manitobans will have arthritis.
"We're glad to help raise awareness of this disease," says Jesse Brolly, Electra's President and Director of Sales. "Our business is all about making an impact through visual communication, and it's gratifying to be able to use that expertise to help support the Arthritis Society in its efforts to make people's lives better."
"We can't thank the team at Electra, Marinus, and the Van Osch family enough for their leadership," says Suzan Valenta, Executive Director of the Arthritis Society's Prairies. "They're helping us raise awareness of this devastating disease, the programs available, and the urgency of funding more research to help improve the quality of life for people with arthritis while we work towards a cure."
This year's edition of the Winnipeg Santa Claus Parade runs along Portage Ave this Saturday, November 16, starting around 5 pm.
ABOUT ELECTRA SIGN LTD.
Electra Sign has been creating high quality, effective signage for over 40 years. With award-winning, certified, and full-service solutions, we are your expert signage partners. Electra Sign has an effective, experienced leadership that believes in strong client and employee partnerships. We have grown our professional expertise over the past 40 years to become the best choice for signage on the prairies. Visit electrasign.com.
ABOUT THE ARTHRITIS SOCIETY
The Arthritis Society is a national health charity, fueled by donors and volunteers, with a vision to live in a world where people are free from the devastating effects that arthritis has on lives. Through the trust and support of our donors and sponsors, the Arthritis Society is Canada's largest charitable source of investments in cutting-edge arthritis research, proactive advocacy and innovative solutions that will deliver better health outcomes for people affected by arthritis. The Arthritis Society is accredited under Imagine Canada's Standards Program. For more information and to make a donation, visit arthritis.ca.
Big thanks also should go out to sales, creative and the manufacturing teams at Electra Sign who worked tirelessly behind the scenes to make the float possible. Countless hours of work but for a great cause!