Electra Sign Ltd. Announces Jesse Brolly as new President & Director of Sales
September 16, 2019
In the company's milestone 40 Year Anniversary Jesse Brolly has assumed ownership of Electra Sign Ltd. Jesse becomes only the 2nd owner of the company since Ken Devine founded the company back in 1979. Ken will continue with Electra Sign and will remain active in its day to day operations.


Jesse started working with Electra Sign on the installation and service team. He has a strong work ethic and winning attitude that is shown both in work and play. He has played soccer for Team Canada, Junior A hockey for the Winnipeg South Blues, and was a member of the 3-time championship winning Charleswood Hawks.

Every project is different and brings a new challenge every day, and Jesse is there to meet it head-on with a smile and depth of knowledge that comes from hands-on experience.
Ken who is stepping down as President founded the company and has shepherded its growth and development to the point where its production volume is now the largest in the Manitoba/Saskatchewan/NW Ontario region.

Ken has worked to develop even more business growth and to share his experience and expertise with clients and employees. Ken works with a consultative focus. This focus has led to Electra Sign being recognized for its professional approach and high-quality work.

Having a measurable positive impact for clients has always been rewarding to both Ken and Jesse. Electra Sign enjoys being surrounded by talented people who know that their input and effort is appreciated by customers and will continue for many years to come.
About: Electra Sign has been creating high quality, effective signage for over 40 years. With award-winning, certified, and full-service solutions, we are your expert signage partners. From initial ideas to design and production, we will work tirelessly to meet and exceed your signage expectations. We are proud to serve across the prairies with full service and custom sign solutions.
Electra Sign Ltd.
398 Daly St. North
Winnipeg, Manitoba
R3L 2K6
Phone: 204-452-6168
Toll Free: 1-877-557-7446
Abilities Manitoba Annual Golf Tournament
August 22, 2019
Such a beautiful day for a golf tournament @AbilitiesMB. Thanks for letting us help out this year! A huge thank you to all of the Golf Tournament Sponsors and main sponsor Northway Pharmacy Broadway. It has been such a pleasure working with everyone and we look forward to successful future Tournaments as well.
Abilities Manitoba Goals:
1. To promote the interests of Manitobans with intellectual disabilities and the supports necessary to realize their chosen lives in their community.
2. To act as a provincial body on behalf of members, promote member concerns to government, and represent members to relevant planning bodies.
3. To strive for optimum service standards, advocate for the resources necessary to achieve those standards, and promote a shared code of ethics for all members.
4. To facilitate the sharing of information and resources, both between members and with other interested parties.

Abilities Manitoba
500 Madison Street
Winnipeg MB R3H 0L4
Website: https://abilitiesmanitoba.org/
Facebook: https://www.facebook.com/AbilitiesMB
Twitter: https://twitter.com/AbilitiesMB
Phone: 204 890-6751


Northway Broadway Pharmacy
618 Broadway
Winnipeg, MB R3C 0W8

Website: https://northwaypharmacy.ca/
Facebook: https://www.facebook.com/NorthwayBroadwayPharmacy/
Instagram: https://www.instagram.com/northwaypharmacybroadway/


Electra Sign Ltd. | Quality LED Signs & Service for your Business | Winnipeg, Manitoba.
Winnipeg's Little Caesars Pizza Showcases New Logo and Branding
May 15, 2019
In 1993, Richard and Jackie Dean introduced Manitoba to the first of what would soon become many Little Caesars franchises. The first restaurant in Winnipeg opened in Fort Richmond and the location took on the personality of their family which helped make the daily experience, friendly and memorable to all. Today they have multiple locations that serve up some of the tastiest pizza around.
As one of the few preferred signage vendors for Little Caesar Enterprises, Inc. in Canada, Electra Sign ensures that each sign we custom manufacture meets their detailed specs. From the trademark orange acrylics to the brightest LEDs. This year, Little Caesars rolled out a new logo design and branding which includes a full-size new Little Caesar logo.
The first to receive this new logo design and branding will show up at Winnipeg's 845 Dakota Street location when upgraded renovations are complete. Drop by and grab a slice of pizza and say hello to the great staff that has made this location a success for years.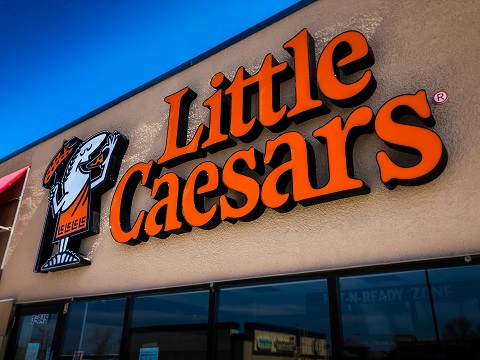 Unit 3 – 845 Dakota St.
Winnipeg, MB R2M 5M3
Ph: 204-257-5555
Facebook: @LCpizzaDakota
Website: littlecaesars.ca
← Older Posts
Newer Posts →