Matt Voth Elected Manitoba Sign Association President
May 8, 2015
On behalf of our staff, we are proud to announce that Matt Voth has been elected President of the Manitoba Sign Association. Matt has been Vice President of MANSA the last 2 years and is excited for the challenge that his new role brings.
Background
10 years ago I came to Electra Sign from Retail Sales and Retail Management at an outdoor sporting goods store. My current position at Electra Sign is Regional Sales Manager for Alberta, Saskatchewan, Manitoba and North West Ontario.
What do you love about the sign industry?
Always dealing with something different. Our national accounts are great because they make you aware of what's going on in other parts of Canada, but the independent one-off stores allow us to get our creativity flowing.
A full listing of the Electra Team can be found here...
The difference in quality starts with employees that love what they do. Electra Sign Ltd. Winnipeg Manitoba and Prairie Sign Regina Saskatchewan show this in every project we create.
Electra Sign Recieves 2014 Million Dollar Dealer Award from Watchfire Signs
June 19, 2015
Electra was honored to receive the Watchfire 2014 Million Dollar Dealer Award in recognition of exceptional achievements and valued partnership.
Electra is the #1 seller of EMC's (electronic message centers) in our region and for good reason. We not only offer the highest quality and most user-friendly EMC on the market, we also offer the best training, support, pricing and warranty. The EMC boards we offer are fully encapsulated with a thin layer of clear silicone for superior weather and water resistance; no other EMC on the market offers this level of protection. We also have a dedicated staff that will set-up, train, and offer after-sales support at any time, plus a full 5 Year Warranty on all labour and material on our premium Watchfire electronic message centre products.
Electra Sign is the exclusive distributor of Watchfire LED message boards in the region.


Building Canada's businesses better and brighter at Prairie Sign Regina Saskatchewan and Electra Sign Ltd. Winnipeg Manitoba. The region's largest custom sign manufacturer.
Grand Opening of Carl's Jr. First Location
July 17, 2015
Robyn and Ernie Kouros opened Regina's first Carl's Jr. location this month. Prairie Sign (Electra Sign's Saskatchewan branch) was pleased to work Robyn and Ernie and help with their branding awareness of the new location at 1920 Victoria Ave E Regina SK. This sign package features internally and environmentally friendly LED (light-emitting diode) creating a small ECO friendly footprint for there new location. It was very important that the signs be clean and readable to capture attention.
About: Carl's Jr.® has become known as the place to go all across the Western North America for juicy, delicious charbroiled burgers. We have stores across Canada. To find a location near you, please visit: http://carlsjr.ca/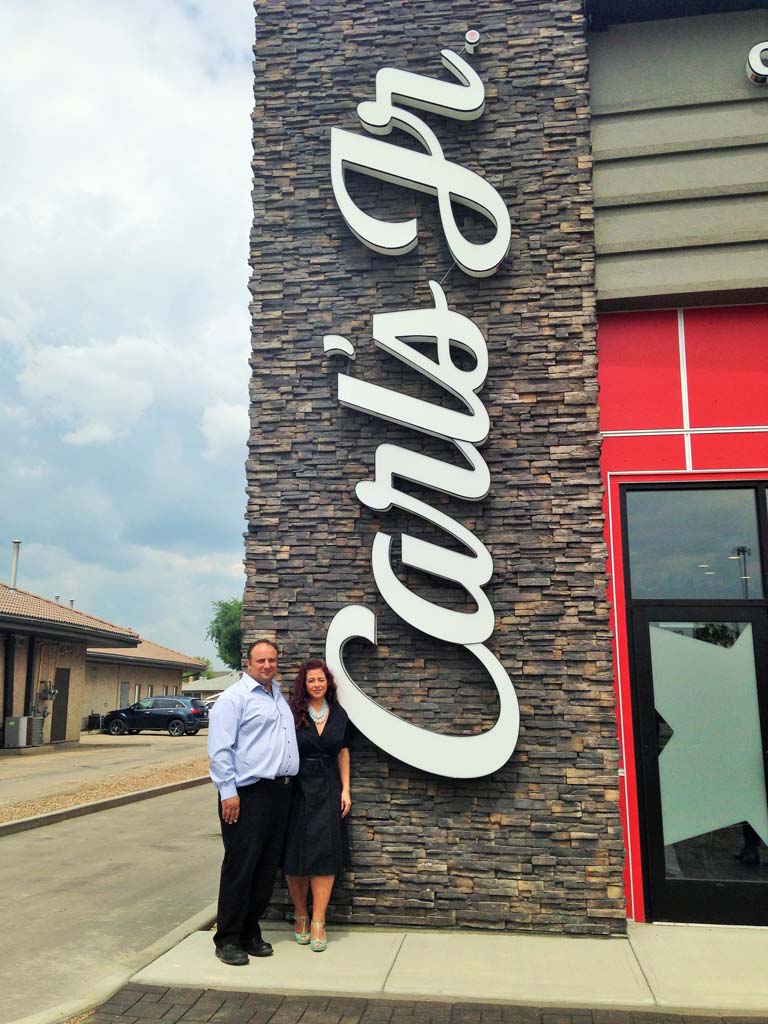 Cuisine: American (New), American (Traditional), Breakfast, Burgers and Fast Food
Branding & Awareness through effective signage. We are here to help at Electra Sign Ltd. Winnipeg Manitoba.
← Older Posts
Newer Posts →