What Makes Quality Signage?
December 1, 2023
Creative Director Brett Aho speaks on signage design and quality.

Electra Sign has been creating high quality, effective signage for over 40 years. With award-winning, certified, and full-service solutions, we are your expert signage partners.



Website: https://electrasign.com/
Instagram: https://www.instagram.com/electra.sign/
LinkedIn: https://www.linkedin.com/company/elec...
Facebook: https://www.facebook.com/electrasign
Twitter: https://twitter.com/electrasign
Pinterest: https://www.pinterest.ca/electrasign/

#electrasign #winnipeg #branding #design #manitoba #winnipegmanitoba
Client Profile: Calvary Temple Church Winnipeg
April 6, 2023
Pictured Above: Calvary Temple, Winnipeg MB.

Calvary Temple Church Winnipeg is a vibrant and thriving community of believers, dedicated to sharing the love of God and spreading the gospel to all who will listen. The church has been serving the Winnipeg area for many years, offering a warm and welcoming atmosphere for people of all ages and backgrounds to come and experience the love of Jesus.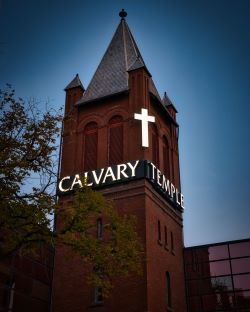 Recently, Calvary Temple Church Winnipeg embarked on a project to update their signage and branding, with the goal of making their presence known and attracting new members to the church. After researching various sign companies, they chose Electra Sign Ltd to design and install their new signage.

Electra Sign Ltd is a trusted name in the industry, with years of experience and a reputation for delivering high-quality signs and graphics. Our team of experts worked closely with the church to understand their needs and vision, and we were able to create a custom signage solution that met all of their requirements.

The new signage features bright and bold graphics that are eye-catching and easy to read, making it easier for people to find the church and know exactly what it represents. The signs also include a clear and concise message, inviting people to come and experience the love of Jesus for themselves.

The new signage was designed to reflect the values and mission of Calvary Temple Church Winnipeg, and we were honored to be a part of this project. Our team worked diligently to ensure that the signs were designed, fabricated, and installed to the highest standards, and the end result is a beautiful and impactful representation of the church.

In conclusion, Calvary Temple Church Winnipeg has made a great investment in their new signage, and Electra Sign Ltd is proud to have been a part of this project. The new signs are a testament to the church's commitment to serving the community and sharing the gospel with those who are seeking a deeper relationship with God. We look forward to working with Calvary Temple Church Winnipeg in the future, and we are confident that the new signs will have a positive impact on their ministry for many years to come.
Client Profile: IVC Vita Health
March 10, 2023
At Electra Sign Ltd. we take pride in every project we undertake. Collaborating with IVC Vita Health was a rewarding experience for us, and we are thrilled with the outcome of the new monument sign at 150 BEGHIN AVENUE in Winnipeg, MB.
Our team worked closely with IVC Vita Health to design and construct a sign that accurately reflects their brand identity their location. The monument sign was custom-made to fit the specific needs and requirements of the client.
The sign's design incorporates a combination of materials, including aluminum, acrylic, and LED lighting. The use of high-quality materials ensures that the sign is durable and withstands harsh weather conditions.
The monument sign features IVC Vita Health's logo prominently, making it easily recognizable to passerbys. The LED lighting enhances the sign's visibility, ensuring that it can be seen from a distance, even at night.
At Electra Sign Ltd., we understand the importance of creating a sign that accurately represents a business's brand and identity. Our team works tirelessly to ensure that each project we undertake is completed to the highest standards of quality and excellence.
We are proud to have been part of this project and look forward to collaborating with IVC Vita Health on future projects. Thank you for choosing Electra Sign Ltd. to design and create your new monument sign.
← Older Posts