Customer Profile: Little Caesars Swift Current Saskatchewan
July 25, 2017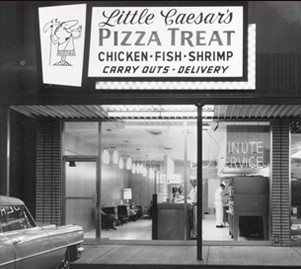 Electra Sign Winnipeg and Prairie Sign Regina were pleased to work again with Little Caesars and their latest location being opened in Swift Current Saskatchewan very soon. Little Caesars has a deep history that started way back in 1959 when husband and wife founders Mike and Marian Ilitch invested their life savings into their first pizza store (pictured left) in Garden City, Michigan, a suburb of Detroit. Since then Little Caesars has become the largest carryout-only pizza chain in the U.S. and an internationally known brand.
Serving Western Canada with the brightest solutions, call the professionals at Prairie Sign Regina Saskatchewan or Electra Sign Ltd. Winnipeg today.
Little Caesars
1669-1150 Central Ave. N.
Swift Current, SK S9H 4C8
Kapil Sony – Owner (pictured below)
Grasslands' Unique Signage Captures Attention
June 15, 2012


Electra Sign is proud to support such an incomparable design for Grasslands. This unique design is a site to see and it contributes in landmark location.
The Grassland sign was composed to fit the theme of the building it represents;
The base was built to match the architecture and bring both as a unit. In addition to this, the blades of grass are custom cut layers of steel and coloured keyed to match the Grasslands logo for further consistency.
Call Electra Sign Ltd. Winnipeg Manitoba or Prairie Sign Regina Saskatchewan today for your custom manufactured LED creation.
Prairie Sign & Electra Sign become One
March 23, 2010
Ken Devine and the staff of Electra Sign Ltd. of Winnipeg wish to announce as of September 1st, 2008 we will acquire Prairie Sign Services.
Prairie Sign Services of Regina Saskatchewan is a 30-year-old sign manufacturer that is a respected industry leader which currently enjoys the position of being by volume the largest custom sign manufacturer in its region.
Phil Moller founder and President of Prairie Sign will be continuing on in a consultative role during the transition and will continue to play an ongoing role on major projects.
Electra Sign looks forward to working with the existing staff and suppliers at Prairie Sign and integrating its leading edge manufacturing and product technology to benefit all Prairie Sign's existing and future customers.
Building Canada's businesses better and brighter at Prairie Sign Regina Saskatchewan and Electra Sign Ltd. Winnipeg Manitoba. The region's largest custom sign manufacturer.
← Older Posts
Newer Posts →