HOW TO GET YOUR HEAD AROUND LED PIXEL PITCH
January 30, 2018
When considering making the advertising investment of an EMC (Electronic Message Centre) for your business you want to ensure that you are buying the right product for your needs. There are many things to consider when choosing and EMC such as viewing distance, the speed of passerby's, optimal size, durability and pixel pitch to name a few. EMC's are great advertising investment for your business and you want to be sure you are getting the best value for your money. Below is an expert from a good article to help understand PIXEL PITCH...
Pixel Pitch & Exterior Displays
Given the range of environments and conditions for exterior LED displays, there are many factors to consider. As with interior displays, pixel pitch is among the most important. For many billboards and building façades, viewers are typically long distances from the display, meaning pixel density may be of less importance. However, there are walk-up outdoor applications as well, where high resolution (tight pixel pitch) is paramount. Additionally, in busier environments where multiple displays are competing for attention (think Times Square or Las Vegas), a higher-quality, higher-resolution display is of much higher value.
And finally, when choosing the right pixel pitch for your display, there are functionality considerations as well. Suppose a display owner wants to take a simple messaging approach with only text and unsophisticated graphics. In this case, a higher pixel pitch (less pixels, lower resolution) might be sufficient. On the other hand, a retailer who has carefully crafted a high-end brand with premium products may want a tighter pixel pitch (more pixels, higher resolution), not because of viewing distance but rather for image quality and better functionality.
What's Best for My Application?
As you might expect, this is a very loaded question. There are many factors you should consider before making an investment in an LED display. If you're not an expert in this technology, it's extremely important for you to find one—a manufacturer, a consultant, an experienced buyer—you trust to help guide you through the decision process.
As explained above, pixel pitch is a huge consideration for this process. It goes hand in hand with other factors such as display size, viewing distance, ambient light conditions, weather and moisture protection, competing media, messaging functionality, image quality and much, much more.
Properly deployed LED displays have the capacity to increase traffic, improve audience engagement, and enhance customer experience. But understanding how the technology will impact both the viewer and your bottom line prior to investment can empower you to make the best decision for your specific needs and budget.
We believe well-informed customers make better decisions for their display needs, leading to better experiences for all involved, and, ultimately, healthier long-term relationships.
Full article by Mitch Leathers can be found here...
Complete sign solutions by Electra Sign Ltd. Winnipeg Manitoba and Prairie Sign Regina Saskatchewan, leading the signage industry in award-winning custom design and manufacturing.
A Community Difference in Banking
November 24, 2017
Founded in 1978 Me-Dian as the Métis Credit Union of Manitoba, it first was recognized as a "closed bond" credit union. Members of closed bond credit unions share a distinct association based on religion, profession, culture or some other criteria, and nearly every credit union in the province has been closed bond at one time or another.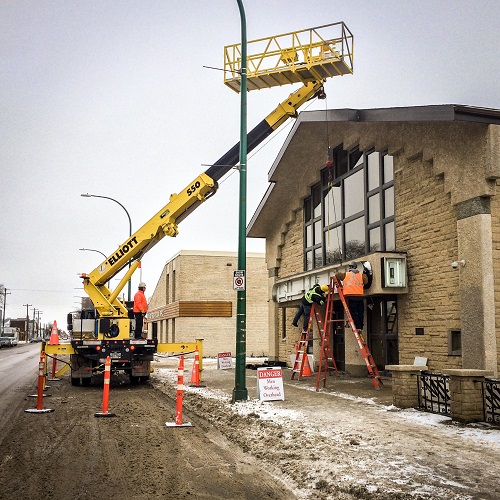 It was in 2009 the doors were widened, welcoming those who are not of aboriginal heritage as associate members of the credit union.

Almost 8 years later, Me-Dian Credit Union continues to share their community commitment in celebrating their high standards of service. With this came the request for Electra Sign to assist in their well-known brand by creating custom LED signage. Poised to meet their fast-approaching Grand Opening, Electra Sign committed to removing all previous signage and install new eco-friendly LED illuminated cabinets, channel letters that would showcase their long standing logo and history behind it.
On November 20th, 2017 Me-Dian Credit Union and their staff held an open-door ceremony in traditional Metis style while they welcomed members to enjoy the making of new memories. The re-launch included a new online look with the website and local media was on-site for the opening ceremonies.
Visit the Me-Dian Credit Union and the great staff today and learn more about the benefits of banking.
The Me-Dian Credit Union
303 Selkirk Ave.
Winnipeg, MB
Phone: 204.943.9111
FACEBOOK
Instagram
Time-lapse look at our crew installing their new signs...
Youtube

The difference in quality starts with employees that love what they do. Electra Sign Ltd. Winnipeg Manitoba and Prairie Sign Regina Saskatchewan show this in every project we create.
Can You Inspire Your Community with a Sign?
July 29, 2013
LED signs, churches and places of worship.
LED signs are an extremely cost-effective form of communication. A new LED sign in conjunction with your new or existing signs can cost less than 15 cents per thousand exposures while reaching the very people who are geographically close enough to act on your message immediately. How important is it for you to keep your congregation informed and growing? With an attention-grabbing LED message center, your church can reach out with inspiration and excitement to your flock as well as the surrounding community. LED displays provide energy-efficient communications 24/7, using light, color, and motion to bring greater visibility to your congregation's programs. With the addition of an LED sign, your church can become your community's beacon of light.
Benefits:
• Extend a warm welcome to newcomers and passer-bys
• Share daily or hourly affirmations with your whole community
• Communicate weddings, festivals and special events
• Promote school spirit, sporting events, and student activities
• Acknowledge student, staff and ministry achievements
• Seek community support for fundraising events
• Draw attention with time, temperature and date displays
An authorized reseller of Watchfire LED signs, Electra Sign and Prairie Sign offers full signage solutions throughout Manitoba, Saskatchewan and Alberta. From one-of-a-kind signs to all-encompassing sign programs, Electra Sign and Prairie Sign are dedicated to providing the highest quality service to all of our clients.
That's why when it comes to LED signs, we work exclusively with Watchfire Signs, which engineers and manufactures LED signs to help businesses and organizations increase visibility and drive growth. The company has created more than 15,000 LED signs for banks, retailers, schools, places of worship and other locations throughout North America and is thoroughly committed to the highest level of education, training and support to make our customers successful.
Complete sign solutions by Electra Sign Ltd. Winnipeg Manitoba and Prairie Sign Regina Saskatchewan, leading the signage industry in award-winning custom design and manufacturing.
← Older Posts
Newer Posts →