History repeats itself in grand style: Centennial Concert Hall
June 28, 2017
What began as an urban renewal project in 1960 has to this day remained the centre of attention in Manitoba's arts & culture community. The Manitoba Centennial Centre Corporation is the overseer of Centennial Concert Hall, Manitoba Museum, The Planetarium, and the Royal Manitoba Theatre Centre (and more)! The MCCC stands proud among the finest of Canada's cultural organizations.


On October 1, 1965, the shovels first hit the ground for a concept that would house incredible programs under the MCCC umbrella of performing arts. Three years later, Centennial Concert Hall opened its doors. Professionals from all over Canada worked together to create this landmark, $8 million, 253,014 square foot building; a venue that would go on to host some of the world's most talented performers in the following decades.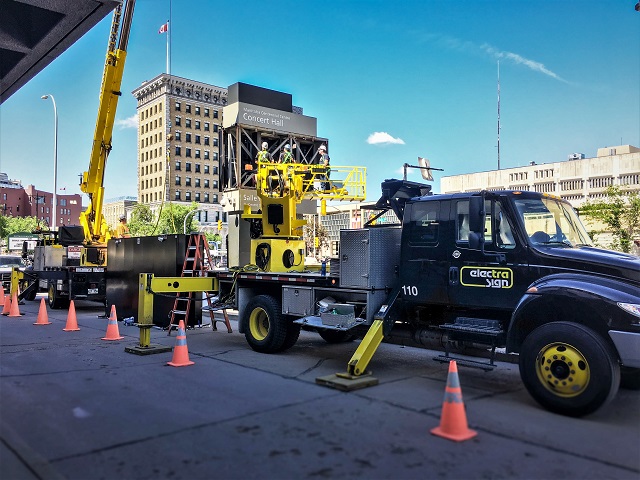 In 2007, Electra Sign was tasked with creating a sign structure that would complement the surrounding buildings, draw visual attention to the area, and further create awareness for the programs offered. Now, more than a decade later, our crew returned to Centennial Concert Hall to upgrade the sign's electronic messaging centre, replacing the previously installed 16mm model with the latest high resolution 12mm model from Watchfire Signs. The difference in picture quality has to be seen to be believed, but ease-of-use received an upgrade as well! Less than a day after installation had concluded, Gerry McDougal (Manager, Marketing and I.T.) had the Concert Hall's messages brilliantly displayed for all of Winnipeg's passersby to see.


With amazing shows, exhibits and more for the whole family to enjoy – visit Centennial Concert Hall and the entire Manitoba Centennial Centre and learn more about the many venues offered. Located in the heart of the city, access is simple via bus, bike, car, or take a walk and enjoy the upcoming celebrations of Canada's 150th birthday along the way!

Centennial Concert Hall

555 Main St.
Winnipeg, M
B
Website: centennialconcerthall.com
Facebook:
facebook.com/
CentennialConcertHall
Twitter:
@
Concert_Hall
Instagram: @
centennialconcerthall
Building Canada's businesses better and brighter at Prairie Sign Regina Saskatchewan and Electra Sign Ltd. Winnipeg Manitoba. The region's largest custom sign manufacturer.
alpha technologies Expands to New Location
June 8, 2017
While watching the Super Bowl in February 2012, Alan Castell had an idea to make technology work better for people and Bruce Froebe was listening. Together, they formed alpha technologies inc. and turned Alan's garage into a secure hi-tech digital centre, inking their first deal in May of the same year.


This vision has allowed these friends to enter into their 6th successful year, focusing on Full IT management, VoIP, access systems/security and now entering the field of 3D printing technology for businesses of all kinds.


The need arose to move into a new location, one more suitable for their expanding operations. Wanting to draw eyes towards their gorgeous new offices, the call to Electra Sign was made, and our team responded with a unique design that was manufactured and installed May 2017. The crown jewel is the custom spinning LED logo, but our careful craftsmanship and beautiful LED lighting is on display throughout the whole sign. We hope it serves them well as their business continues to flourish.


alpha technologies inc. not only stands behind the products they offer, they pride themselves on creating relationships with direct involvement and true, honest partnerships. If you're unhappy with your company's current IT service, give alpha technologies inc. a call or check out their website and learn more about them today.
alpha technologies inc.
1783 Portage Ave.
Winnipeg, MB
.
Customer Profile: Bushido-Kai Canada Karate Academy
October 27, 2014
Electra Sign is proud to work Bushido-Kai Canada and help with there branding awareness of the new location at 194 Tache Ave in Winnipeg. It was important that the signs be clean and readable to capture the attention 35,000+ traffic flows from adjacent St Mary's Road. This sign features internally and environmentally friendly LED (light-emitting diode) creating a small ECO friendly foot print for there new location.
Profile: Bushido-Kai Canada is Winnipeg's premier martial arts program, our mission is to impact people's lives with the positive benefits of karate. Founded by Sensei Angelo Mendoza, 6th Dan Shito Ryu and 5th Dan WKF recognized by Karate Canada, in 1998, Bushido-Kai Canada has long been an institution for inspiration and learning. In teaching the traditional values of martial arts (like discipline, perseverance, respect, confidence, and family), Bushido-Kai strives to not only teach self defense, but also a way of life for all ages.
194 Tache Ave
Winnipeg, Manitoba
Phone: 204-990-7887
Email: sensei@bushido-kai.ca
Website: http://www.bushido-kai.ca
Facebook: https://www.facebook.com/bushido.kai.canada/
Building Canada's businesses better and brighter at Prairie Sign Regina Saskatchewan and Electra Sign Ltd. Winnipeg Manitoba. The region's largest custom sign manufacturer.
← Older Posts
Newer Posts →