alpha technologies Expands to New Location
June 8, 2017
While watching the Super Bowl in February 2012, Alan Castell had an idea to make technology work better for people and Bruce Froebe was listening. Together, they formed alpha technologies inc. and turned Alan's garage into a secure hi-tech digital centre, inking their first deal in May of the same year.


This vision has allowed these friends to enter into their 6th successful year, focusing on Full IT management, VoIP, access systems/security and now entering the field of 3D printing technology for businesses of all kinds.


The need arose to move into a new location, one more suitable for their expanding operations. Wanting to draw eyes towards their gorgeous new offices, the call to Electra Sign was made, and our team responded with a unique design that was manufactured and installed May 2017. The crown jewel is the custom spinning LED logo, but our careful craftsmanship and beautiful LED lighting is on display throughout the whole sign. We hope it serves them well as their business continues to flourish.


alpha technologies inc. not only stands behind the products they offer, they pride themselves on creating relationships with direct involvement and true, honest partnerships. If you're unhappy with your company's current IT service, give alpha technologies inc. a call or check out their website and learn more about them today.
alpha technologies inc.
1783 Portage Ave.
Winnipeg, MB
.
Customer Profile: Bushido-Kai Canada Karate Academy
October 27, 2014
Electra Sign is proud to work Bushido-Kai Canada and help with there branding awareness of the new location at 194 Tache Ave in Winnipeg. It was important that the signs be clean and readable to capture the attention 35,000+ traffic flows from adjacent St Mary's Road. This sign features internally and environmentally friendly LED (light-emitting diode) creating a small ECO friendly foot print for there new location.
Profile: Bushido-Kai Canada is Winnipeg's premier martial arts program, our mission is to impact people's lives with the positive benefits of karate. Founded by Sensei Angelo Mendoza, 6th Dan Shito Ryu and 5th Dan WKF recognized by Karate Canada, in 1998, Bushido-Kai Canada has long been an institution for inspiration and learning. In teaching the traditional values of martial arts (like discipline, perseverance, respect, confidence, and family), Bushido-Kai strives to not only teach self defense, but also a way of life for all ages.
194 Tache Ave
Winnipeg, Manitoba
Phone: 204-990-7887
Email: sensei@bushido-kai.ca
Website: http://www.bushido-kai.ca
Facebook: https://www.facebook.com/bushido.kai.canada/
Building Canada's businesses better and brighter at Prairie Sign Regina Saskatchewan and Electra Sign Ltd. Winnipeg Manitoba. The region's largest custom sign manufacturer.
Customer Profile: Gospel Mission Church
June 1, 2017
On April 12th, 2015, the shovels hit the ground on new real estate in Winkler, Manitoba. This sod turning event marked the first stages in moving the Gospel Mission Church from its Pembina Ave. location after 11 years to 15th Street. From the first service in a shared building in April 2005 with Emmanuel Mennonite Church, to holding their first service in their new building on April 24th, 2016 – the changes were welcomed.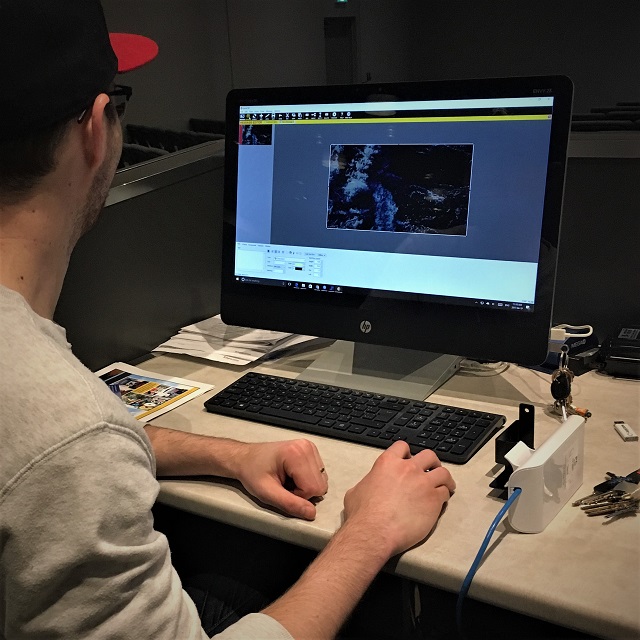 Image: Training on the Watchfire EMC sign software.
Driving onto the gravel parking lot to meet for the first time, Electra Sign provided a detailed presentation using the EMC Demo Truck to visualize the technologies available in an electronic messaging centre(EMC). How these technologies would enhance the communications of the Church and the surrounding communities. With more than 250 members and service attendance of over 800 regularly, Gospel Mission Church has become a recognized gathering with members(partners) growing constantly.
Capturing the unique beauty of the Church, Electra Sign's team custom designed, manufactured and installed a 14-foot-high, double-sided 12mm electronic messaging centre. Boasting full colour high resolution imagery and animation, this structure compliments the building and its shape.
When you find yourself in Winkler, drop in and say hello. Also visit them online and have a look at the construction development, details and pictures.

Website: www.gmchurch.ca
Gospel Mission Church
855 15th Street
Winkler, MB
Phone: (204) 325-6388
The difference in quality starts with employees that love what they do. Electra Sign Ltd. Winnipeg Manitoba and Prairie Sign Regina Saskatchewan show this in every project we create.
← Older Posts
Newer Posts →