BENEFITS OF LED SIGNS: Info-Graphic
May 29, 2017
An LED sign is a smart advertising investment for any organization – a business, a church, a school or a municipality. Other forms of advertising simply can't come close in scope, efficiency or value.
LED signs are the most effective, least expensive form of advertising for small businesses according to the Small Business Administration (SBA). An LED sign gives you the ability to target a large, critical audience of potential customers already at your front door for far less than a traditional advertising campaign would cost.
Advertising is traditionally measured in CPM, or cost per thousand impressions. In a typical town, an LED sign might cost as little as 74 cents per 1,000 impressions — compared to over 22 dollars for television and 13 dollars for radio. Many organizations find they can reduce their advertising budgets for other mediums because their LED sign is so effective.
Call Electra Sign Ltd. Winnipeg Manitoba or Prairie Sign Regina Saskatchewan today for your custom manufactured LED creation.
Customer Profile: Gospel Mission Church
June 1, 2017
On April 12th, 2015, the shovels hit the ground on new real estate in Winkler, Manitoba. This sod turning event marked the first stages in moving the Gospel Mission Church from its Pembina Ave. location after 11 years to 15th Street. From the first service in a shared building in April 2005 with Emmanuel Mennonite Church, to holding their first service in their new building on April 24th, 2016 – the changes were welcomed.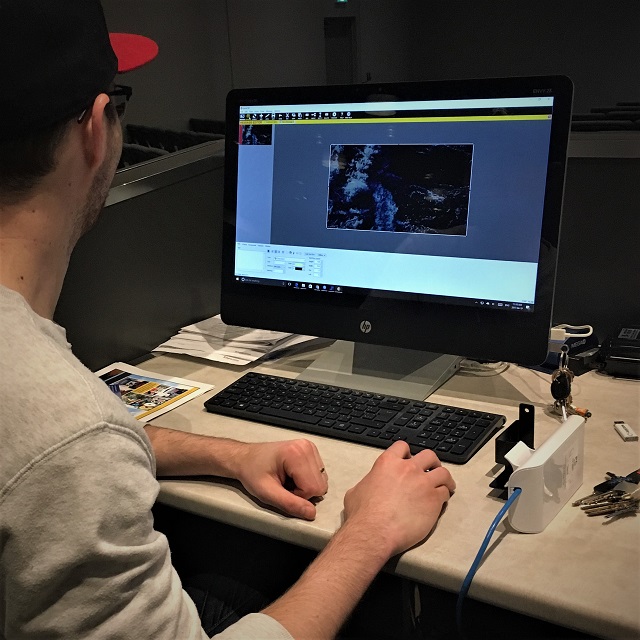 Image: Training on the Watchfire EMC sign software.
Driving onto the gravel parking lot to meet for the first time, Electra Sign provided a detailed presentation using the EMC Demo Truck to visualize the technologies available in an electronic messaging centre(EMC). How these technologies would enhance the communications of the Church and the surrounding communities. With more than 250 members and service attendance of over 800 regularly, Gospel Mission Church has become a recognized gathering with members(partners) growing constantly.
Capturing the unique beauty of the Church, Electra Sign's team custom designed, manufactured and installed a 14-foot-high, double-sided 12mm electronic messaging centre. Boasting full colour high resolution imagery and animation, this structure compliments the building and its shape.
When you find yourself in Winkler, drop in and say hello. Also visit them online and have a look at the construction development, details and pictures.

Website: www.gmchurch.ca
Gospel Mission Church
855 15th Street
Winkler, MB
Phone: (204) 325-6388
The difference in quality starts with employees that love what they do. Electra Sign Ltd. Winnipeg Manitoba and Prairie Sign Regina Saskatchewan show this in every project we create.
Importance of Product Knowledge in Customer Service
April 5, 2017
Along with Sam Nimchonok (pictured above) the entire Electra and Prairie Sales staff are certified EMC specialists trained at the Watchfire factory in Danville Illinois.
Oftentimes simply presenting brochures to prospective clients will do little to build relationships and close sales. Salespeople need to have a proper understanding of their product, because written words and spoken words are very different. The best way to gain product knowledge is by taking a hands-on approach. Whether it's a vacuum, a new car or an electronic sign it is crucial to use and test your product extensively and assess it's features and capabilities yourself before attempting to sell it. With a superior level of experience, you will be able to explain why your product is superior.
A sales pitch should not just cover the black-and-white benefits and advantages of your product, your clients are likely more interested in how your product can meet their own existing requirements. Being overly technical in explaining your product is inadvisable as well. Whenever possible your product should be presented in a way that is self-explanatory.
In closing, great salespeople should not only depend on company training for product knowledge but also express an invested interest in learning about their product themselves.

Branding & Awareness through effective signage. We are here to help at Electra Sign Ltd. Winnipeg Manitoba and Prairie Sign Regina Saskatchewan.
← Older Posts
Newer Posts →