Customer Profile: Hillberg & Berk
December 18, 2015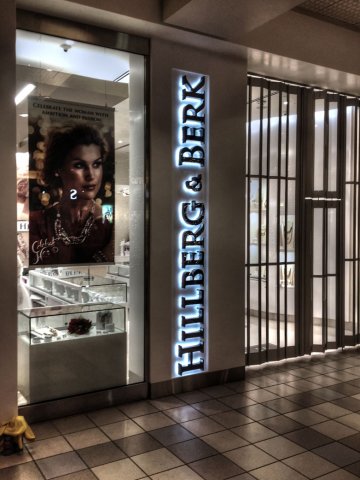 Electra Signs Regina branch Prairie Sign was pleased to work with Hillberg & Berk and help with their branding awareness of their new location. The sign features internally and environmentally friendly LED (light-emitting diode) creating a small ECO friendly footprint. It was very important that the signs be clean and readable so a classic halo illuminated sign was designed and installed which gives the store a further look of sophistication and style.
About: Hillberg & Berk designs luxurious, everyday jewellery for women with a keen sense of style. Our jewellery is modern yet timeless. Through Education, Inspiration and Opportunity, We are women empowering women – one sparkle at a time.
-Rachel Mielke, CEO
You can purchase Hillberg & Berk jewellery in the Regina showroom; at select boutiques, galleries and stores; or on the website.
New Location:
Hillberg & Berk
Midtown Plaza
201 1 Ave S
Saskatoon, SK. S7K1J9
(306) 931-2533
Flagship Location:
Hillberg & Berk
2169 McIntyre Street
Regina, SK, S4P 2R8
(306) 522-5801
The difference in quality starts with employees that love what they do. Electra Sign Ltd. Winnipeg Manitoba and Prairie Sign Regina Saskatchewan show this in every project we create.
CUSTOMER PROFILE: WSL Sport & Leisure Kenora Ontario
September 1, 2016
Electra Sign Ltd. Winnipeg was pleased to work with WSL Sport & Leisure and help with their branding awareness for there Kenora location. The new pylon sign features internally and environmentally friendly LED's and in keeping with the outdoor nature of WSL, authentic wood cladding matching the store's architecture was used in the design.
INFO: WSL Sport & Leisure Kenora
Located on Hwy 17, West Of Kenora. Our location is accessible for Locals and Cottagers alike.
We offer a Full Line of Yamaha Products including ATV's, Motorcycles, Scooters, Snowmobiles, Power Products, and Waverunners. Enhancing this line-up we also carry G3, Skeeter, and HarberCraft/ Kingfisher fishing boats, Cobalt, Four Winns and Malibu towboats.
Our Facility is a fully certified service and well-stocked parts shop with a great selection of seasonal accessories.
Find us online:
www.facebook.com/wslsport
www.twitter.com/wslsport
www.youtube.com/wslsport
www.wslsport.blogspot.com
www.flickr.com/wslsport
Call Electra Sign Ltd. Winnipeg Manitoba or Prairie Sign Regina Saskatchewan today for your custom manufactured LED creation.
Customer Profile: Kemp Hearing Centres
March 3, 2016
Hearing is Believing
.
For over 14 years, family-owned and operated Kemp Hearing Centres has been serving the Winnipeg area and delivering exceptional hearing health care to their clients. The only hearing centre in Manitoba to receive the BBB® Torch Award for Marketplace Ethics and Integrity.
.
Electra Sign worked with Jason Kemp and his team to ensure their image would respond to their specialized markets. Providing signage to both of their state-of-the-art hearing clinics in the St. James and Linden Woods communities, Kemp Hearing Centres continues to stand above all others in customer appreciation, product quality and personalized service.
.
Kemp Hearing Centres is proudly Independent, Family owned business dedicated to helping those suffering from hearing loss. Two locations: 871 Waverley and 3393 Portage.
Phone: 204.487.8000
Website: KempHearingCentres.com
Email: info@kemphearingcentres.com
Building Canada's businesses better and brighter at Prairie Sign Regina Saskatchewan and Electra Sign Ltd. Winnipeg Manitoba. The region's largest custom sign manufacturer.
← Older Posts
Newer Posts →