Low-Energy LED wins Nobel Prize
October 10, 2014
(Reuters) – An American and two Japanese scientists won the 2014 Nobel Prize for Physics on Tuesday for inventing a new energy-efficient and environment-friendly light source, leading to the creation of modern LED light bulbs.
Isamu Akasaki and Hiroshi Amano of Japan and Japanese-born U.S. citizen Shuji Nakamura won the prize for developing the blue light-emitting diode (LED) — the missing piece that now allows manufacturers to produce white-light lamps.
The arrival of such lamps is changing the way homes and workplaces are lit, offering a longer-lasting and more efficient alternative to the incandescent bulbs pioneered by Joseph Swan and Thomas Edison at the end of the 19th century.
Frances Saunders, president of Britain's Institute of Physics, said the shift offered the potential for huge energy savings.
"With 20 percent of the world's electricity used for lighting, it's been calculated that optimal use of LED lighting could reduce this to 4 percent. Akasaki, Amano and Nakamura's research has made this possible and this prize recognizes this contribution," she said.
.
"Red and green LEDs have been around for a long time but blue was really missing. Thanks to the blue LED we now can get white light sources which have very high energy efficiency and very long lifetime," Per Delsing, a member of the Royal Swedish Academy of Sciences, told a news conference.
.The award is a notable example of a practical discovery winning the prize, in contrast to last year when the physics prize went to scientists who predicted the existence of the Higgs boson particle that explains how elementary matter attained the mass to form stars and planets.
"Incandescent light bulbs lit the 20th century; the 21st century will be lit by LED lamps," the academy said in a statement awarding the 8 million Swedish crown ($1.1 million) prize.
Serving Western Canada with the brightest solutions, call the professionals at Prairie Sign Regina Saskatchewan or Electra Sign Ltd. Winnipeg today.
Customer Profile: Bushido-Kai Canada Karate Academy
October 27, 2014
Electra Sign is proud to work Bushido-Kai Canada and help with there branding awareness of the new location at 194 Tache Ave in Winnipeg. It was important that the signs be clean and readable to capture the attention 35,000+ traffic flows from adjacent St Mary's Road. This sign features internally and environmentally friendly LED (light-emitting diode) creating a small ECO friendly foot print for there new location.
Profile: Bushido-Kai Canada is Winnipeg's premier martial arts program, our mission is to impact people's lives with the positive benefits of karate. Founded by Sensei Angelo Mendoza, 6th Dan Shito Ryu and 5th Dan WKF recognized by Karate Canada, in 1998, Bushido-Kai Canada has long been an institution for inspiration and learning. In teaching the traditional values of martial arts (like discipline, perseverance, respect, confidence, and family), Bushido-Kai strives to not only teach self defense, but also a way of life for all ages.
194 Tache Ave
Winnipeg, Manitoba
Phone: 204-990-7887
Email: sensei@bushido-kai.ca
Website: http://www.bushido-kai.ca
Facebook: https://www.facebook.com/bushido.kai.canada/
Building Canada's businesses better and brighter at Prairie Sign Regina Saskatchewan and Electra Sign Ltd. Winnipeg Manitoba. The region's largest custom sign manufacturer.
Customer Profile: Gospel Mission Church
June 1, 2017
On April 12th, 2015, the shovels hit the ground on new real estate in Winkler, Manitoba. This sod turning event marked the first stages in moving the Gospel Mission Church from its Pembina Ave. location after 11 years to 15th Street. From the first service in a shared building in April 2005 with Emmanuel Mennonite Church, to holding their first service in their new building on April 24th, 2016 – the changes were welcomed.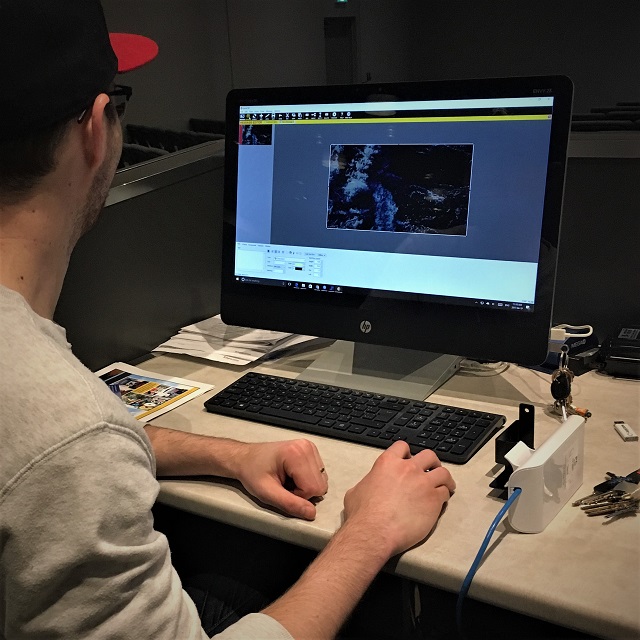 Image: Training on the Watchfire EMC sign software.
Driving onto the gravel parking lot to meet for the first time, Electra Sign provided a detailed presentation using the EMC Demo Truck to visualize the technologies available in an electronic messaging centre(EMC). How these technologies would enhance the communications of the Church and the surrounding communities. With more than 250 members and service attendance of over 800 regularly, Gospel Mission Church has become a recognized gathering with members(partners) growing constantly.
Capturing the unique beauty of the Church, Electra Sign's team custom designed, manufactured and installed a 14-foot-high, double-sided 12mm electronic messaging centre. Boasting full colour high resolution imagery and animation, this structure compliments the building and its shape.
When you find yourself in Winkler, drop in and say hello. Also visit them online and have a look at the construction development, details and pictures.

Website: www.gmchurch.ca
Gospel Mission Church
855 15th Street
Winkler, MB
Phone: (204) 325-6388
The difference in quality starts with employees that love what they do. Electra Sign Ltd. Winnipeg Manitoba and Prairie Sign Regina Saskatchewan show this in every project we create.
← Older Posts
Newer Posts →