Customer Profile: Eye For Business Center
November 7, 2017
If you're a Winnipeg business owner or an individual requiring comprehensive professional care, take a good look at the Eye For Business Center. This new destination conveniently located just outside Kenaston Commons aims to be your turnkey solution for all your business professional needs. Whether it's finance, law, real estate, IT, or all of the above, the folks under the Eye For Business roof have you covered, and they'll work together with you as a team to coordinate your efforts and save you time and energy.
The Eye For Business Center itself boasts a bold aesthetic that stands out from its business sector peers, showcasing both their professional edge and friendly, personable touch. Electra Sign was brought on to help realize this cohesive look. Our first step was installing our high-quality, routed-out building letters. We then followed up by delivering a sharp-looking custom-built LED-illuminated pylon sign that serves to showcase the talent within while seamlessly complementing the Center's architectural elements.
Drop by the Eye For Business Center in person or online and see just how much they can do for your business. And whether you're a scrappy start-up, a well-established company, or anything in-between, contact Electra Sign and let us help you to make a great first impression on your clients with signage that stands out from the crowd.
Call Electra Sign Ltd. Winnipeg Manitoba or Prairie Sign Regina Saskatchewan today for your custom manufactured LED creation.
WIN Advertising on Electra Sign's Demo Truck! - MB Building Expo 2017
September 15, 2017
Win (3) full hours of digital advertising and create amazing awareness for your business with Manitoba's only Digital Messaging truck! Anywhere within City of Winnipeg, MB limits. Full details will be disclosed to the winner.
Terms & Conditions: Location must be within Winnipeg, MB. Canada. Maximum three (3) hours with Electra Sign's digital demo truck. Logos must be supplied by the winner.
This promotion is in no way sponsored, endorsed or administered by, or associated with, Instagram or Facebook.
Electra Sign on the cover of Sign Media Canada Magazine
September 14, 2017
We are very proud to be featured on the cover of this month's latest issue Sign Media Canada Magazine!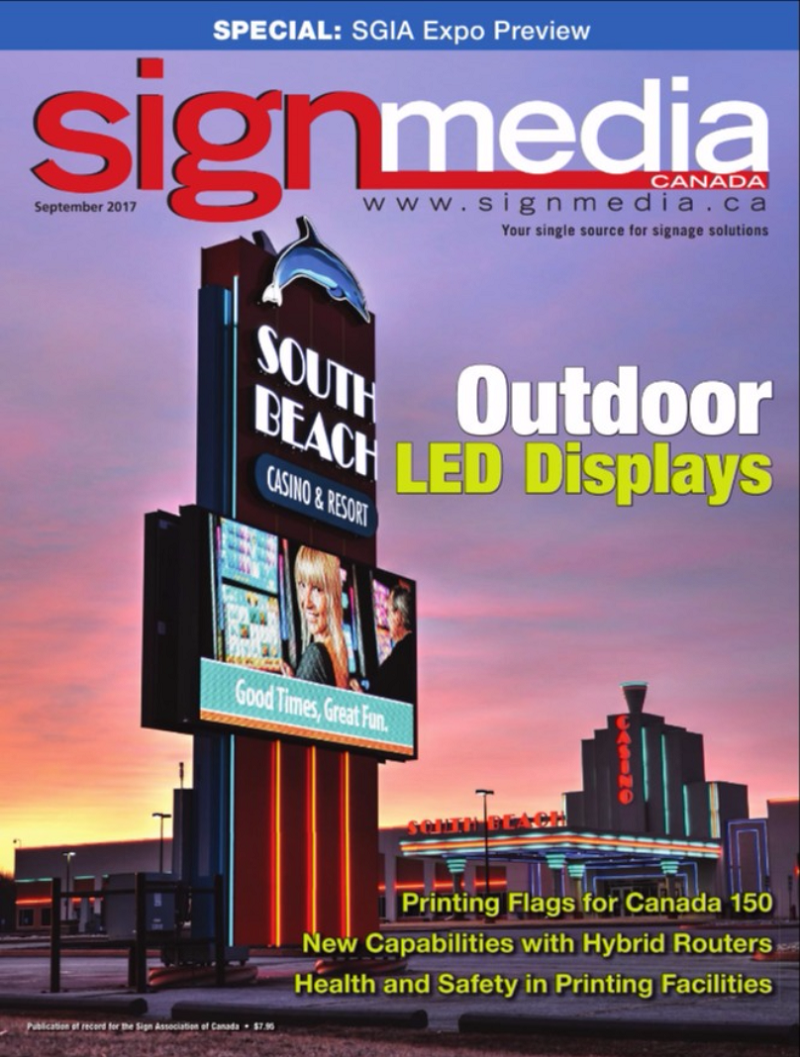 Via Sign Media Magazine... Winnipeg based Electra Sign is the only Canadian winner in Watchfire Signs' 2017 LED Sign Awards program, honored for the pylon sign it built for South Beach Casino & Resort on the Brokenhead Ojibway Nation Reserve.

Designed with an art deco theme and installed in 2016, the pylon sign features a high-definition (HD) light-emitting diode (LED) electronic message centre (EMC) from Watchfire beneath the facility's name and blue dolphin logo. The Casino is located 30-minute drive north from Winnipeg on High 59 and features the art deco theme throughout.

"We congratulate all the winners," says David Warns, Watchfire's vice-president (VP) of on-premise sales. "We share the goal of bringing timely, relevant advertising to audiences while still maintaining the artistry that has been a hallmark of sign shop for decades."
Link... Sign Media Canada Magazine

Complete sign solutions by Electra Sign Ltd. Winnipeg Manitoba and Prairie Sign Regina Saskatchewan, leading the signage industry in award-winning custom design and manufacturing.
← Older Posts
Newer Posts →