A Community Difference in Banking
November 24, 2017
Founded in 1978 Me-Dian as the Métis Credit Union of Manitoba, it first was recognized as a "closed bond" credit union. Members of closed bond credit unions share a distinct association based on religion, profession, culture or some other criteria, and nearly every credit union in the province has been closed bond at one time or another.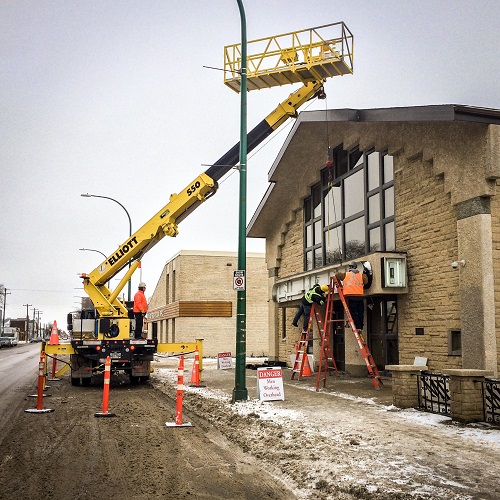 It was in 2009 the doors were widened, welcoming those who are not of aboriginal heritage as associate members of the credit union.

Almost 8 years later, Me-Dian Credit Union continues to share their community commitment in celebrating their high standards of service. With this came the request for Electra Sign to assist in their well-known brand by creating custom LED signage. Poised to meet their fast-approaching Grand Opening, Electra Sign committed to removing all previous signage and install new eco-friendly LED illuminated cabinets, channel letters that would showcase their long standing logo and history behind it.
On November 20th, 2017 Me-Dian Credit Union and their staff held an open-door ceremony in traditional Metis style while they welcomed members to enjoy the making of new memories. The re-launch included a new online look with the website and local media was on-site for the opening ceremonies.
Visit the Me-Dian Credit Union and the great staff today and learn more about the benefits of banking.
The Me-Dian Credit Union
303 Selkirk Ave.
Winnipeg, MB
Phone: 204.943.9111
FACEBOOK
Instagram
Time-lapse look at our crew installing their new signs...
Youtube

The difference in quality starts with employees that love what they do. Electra Sign Ltd. Winnipeg Manitoba and Prairie Sign Regina Saskatchewan show this in every project we create.
Electra Sign on the cover of Sign Media Canada Magazine
September 14, 2017
We are very proud to be featured on the cover of this month's latest issue Sign Media Canada Magazine!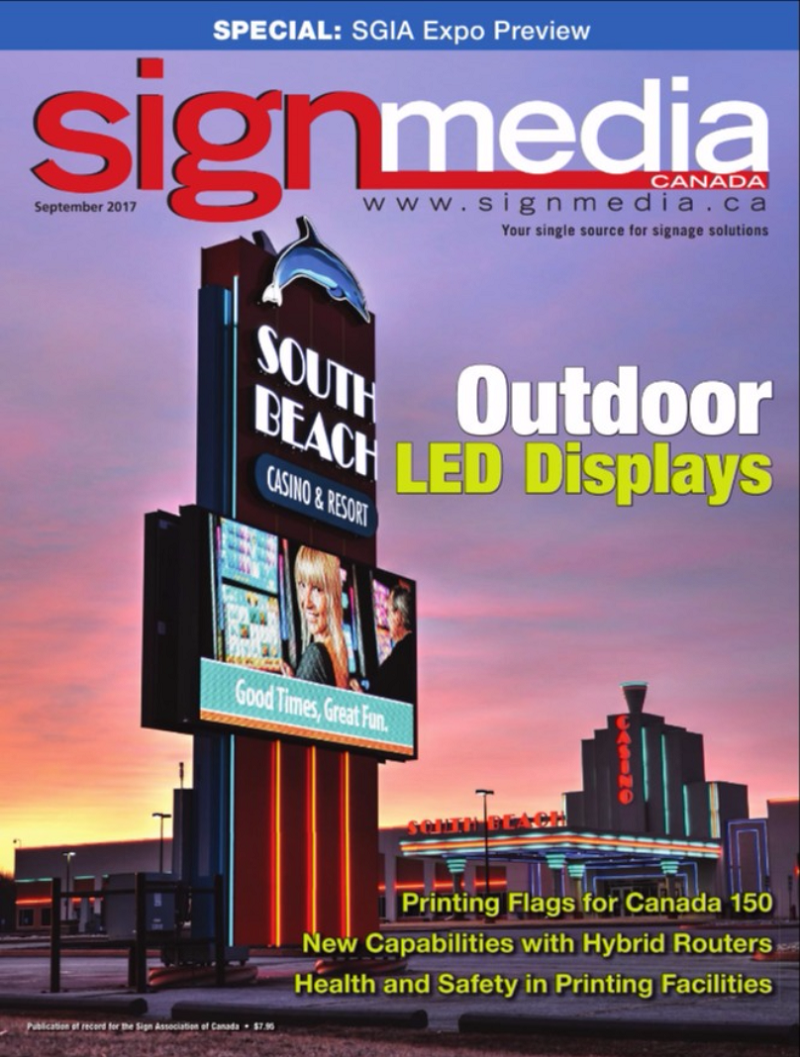 Via Sign Media Magazine... Winnipeg based Electra Sign is the only Canadian winner in Watchfire Signs' 2017 LED Sign Awards program, honored for the pylon sign it built for South Beach Casino & Resort on the Brokenhead Ojibway Nation Reserve.

Designed with an art deco theme and installed in 2016, the pylon sign features a high-definition (HD) light-emitting diode (LED) electronic message centre (EMC) from Watchfire beneath the facility's name and blue dolphin logo. The Casino is located 30-minute drive north from Winnipeg on High 59 and features the art deco theme throughout.

"We congratulate all the winners," says David Warns, Watchfire's vice-president (VP) of on-premise sales. "We share the goal of bringing timely, relevant advertising to audiences while still maintaining the artistry that has been a hallmark of sign shop for decades."
Link... Sign Media Canada Magazine

Complete sign solutions by Electra Sign Ltd. Winnipeg Manitoba and Prairie Sign Regina Saskatchewan, leading the signage industry in award-winning custom design and manufacturing.
J Max Collision & Glass: Rising from the Ashes!
July 31, 2017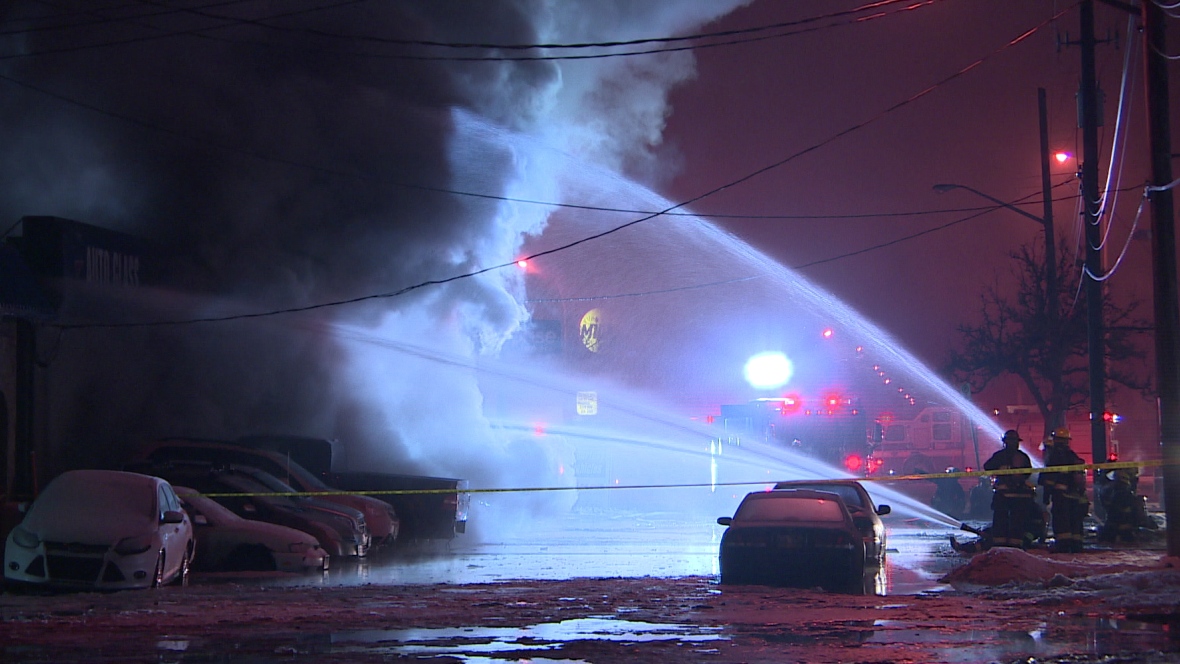 Need to bounce back fast from a vehicular collision? Look no further than Winnipeg's very own J Max Auto Service for help. Their reputation for providing premium local autobody service that's both convenient and stress-free has established them as a Winnipeg favourite for 35 years counting. The same dedication and steadfastness that J Max puts into their autobody work have allowed them to bounce back themselves after the December 2015 fire that destroyed their building. Without missing a step, the J Max family quickly set up a temporary shop and continued to offer reliable and friendly service. And now, J Max returns to their original location at 624 Lorette Ave., boasting a gorgeous new facility that will serve Winnipeg's drivers well for decades to come.
When you bring your vehicle to J Max, you'll get the best service possible, using only the highest quality paints and parts. No matter if it's your new work truck getting rear-ended, your beloved classic car needing a few touch-ups, or anything above or in-between, you can trust them to make your vehicle better-than-new. J Max is an I-CAR® Gold Certified Member, and works closely with known organizations devoted to auto-service quality. Let them go the extra mile for you and your vehicle!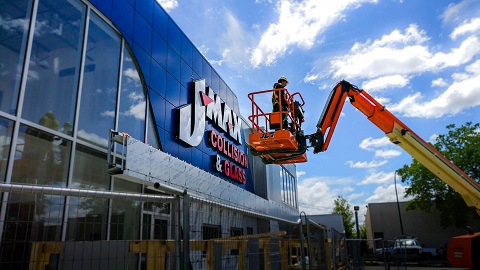 If you're driving down Pembina Highway, J Max will be hard to miss; just look for the striking LED lit letters adorning their building. Electra Sign was thrilled to work with our close neighbours to help bring their vibrant, contemporary vision to life. The results speak for themselves, especially at night when our top-of-the-line LEDs kick into action. We hope you'll stop by and take a look, but don't stare so long you crash into something!
For all your autobody needs, contact J Max today to schedule an appointment or request a free repair estimate.
And for all your sign needs, talk to one of Electra Sign's friendly salespeople and find out what the right sign can do for you.
Branding & Awareness through effective signage. We are here to help at Electra Sign Ltd. Winnipeg Manitoba and Prairie Sign Regina Saskatchewan.
← Older Posts
Newer Posts →