Signs of Winter as Mooyah Mooves Into Winnipeg
November 19, 2015
Electra Sign crews battle the weather to install the signs at the new Mooyah 1765 Kenaston location.
MOOYAH Burgers, Fries & Shakes is a fast-casual, "better burger" concept serving mouth-watering made-to-order burgers, hand-cut French fries made from high-quality Idaho potatoes, and handcrafted 100-percent ice cream shakes.

Founded in 2007, the Plano, Texas-based company only uses fresh, American lean beef and all-natural Jennie-O® turkey burgers, buns baked in house, real cheeses and toppings made from garden-fresh ingredients. It offers online ordering, and a cookout trailer for corporate, social and fundraising events.
MOOYAH, with nearly 100 open restaurants, has been ranked 1st overall in Restaurant Business's 2013 Future 50 list, listed as No. 8 in Fast Casual Magazine's annual Top 100 Movers & Shakers in 2013, a list they have been at the top of for several years in a row, and BurgerBusiness included MOOYAH in its list of "11 Burger Chains to Watch in 2011."
The brand was also recognized in USA Today's Top 50 Franchises for Military Veterans in June of 2013. For more information on MOOYAH, its menu or franchising opportunities, please visit www.mooyah.com. Follow MOOYAH on Twitter @MooyahBurger and connect with MOOYAH on Facebook Fan Page.
Building Canada's businesses better and brighter at Prairie Sign Regina Saskatchewan and Electra Sign Ltd. Winnipeg Manitoba. The region's largest custom sign manufacturer.
Customer Profile: Bluenotes Jeans
February 12, 2016
Founded in 1984, Bluenotes has been one of Canada's leading denim retailers for over 30 years. Electra Sign was pleased to work with Bluenotes in creating their recent exterior branding package at St. Vital Shopping Centre, Winnipeg. The signs feature Eco-friendly LED illumination which provides a brightly lit, impactful punch that is incredibly energy efficient.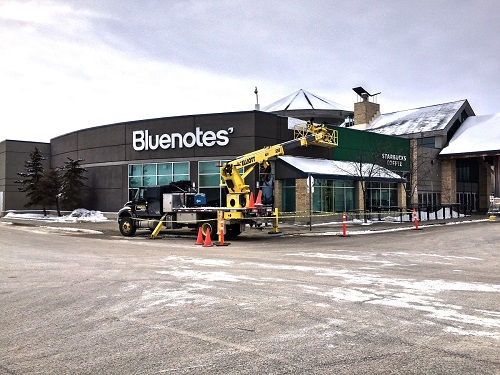 Product Philosophy: Bluenotes' distinct brand of retailing focuses on denim as the standard, as well as hoodies, graphic tees, polos, tanks, and other wardrobe must-haves. Bluenotes strives to provide their customers with un-paralleled quality and value. Bluenotes currently operates 125 stores in Canada. The online store www.blnts.com has recently crossed over the border and launched US shipping in November '09.
Community Involvement: Since 1997 Bluenotes has been a proud and major sponsor for Kids Help Phone, raising more than $1.3 million throughout its years of involvement.
Drop by their spacious retail location at 1225 St. Mary's Rd. Winnipeg, MB. or visit them online.
Web: http://blnts.com
Twitter: https://twitter.com/BluenotesJeans
Facebook: https://www.facebook.com/BluenotesJeans
Instagram: https://www.instagram.com/bluenotesjeans/
Youtube: https://www.youtube.com/user/BluenotesJeans
Complete sign solutions by Electra Sign Ltd. Winnipeg Manitoba and Prairie Sign Regina Saskatchewan, leading the signage industry in award-winning custom design and manufacturing.
LED Screen Sales, Permits and Installations
April 15, 2016
Sign Media Canada Magazine recently wrote a very informative article on LED Electronic Message Centres. Much of the work showcased in the article was designed and manufactured by Electra Sign Winnipeg and its sister company Prairie Sign Regina. The article covers quite a few a topics including… typical sales increases were seen when EMC's are purchased, technical details as well as permits and installation considerations.
The full article can be found here in their online magazine.

Branding & Awareness through effective signage. We are here to help at Electra Sign Ltd. Winnipeg Manitoba and Prairie Sign Regina Saskatchewan.
← Older Posts
Newer Posts →