Winter Funk: Project Manager
February 6, 2023
Meet Winter, a resident of small-town Manitoba and a recent addition to the team at Electra Sign. With four years of experience in the sign industry under her belt, Winter is excited to take on a new role as a project manager and assist different departments in moving projects along smoothly.
When Winter isn't working, they can be found adventuring outside. Winter activities include hiking and snowshoeing, while the summer months bring rock climbing, backpacking, and canoeing trips around the province. Indoor hobbies include planning future trips, playing video games, and reading.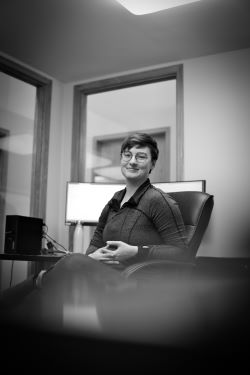 Winter's favourite TV shows are survival-themed, with Survivorman and Alone topping the list. Music-wise, She is a fan of indie music and pop, with Adele, Tom Misch, and The Pirouettes being some of their favourite artists. In school, Winter had a tie for favourite subject between band and gym class.

When asked to describe themselves, Winter said she is always learning and taking pride in a job well done. She enjoys finding ways to use the skills she has learned to help others and solve problems.

Winter is proud of her professional accomplishments, having started her sign career as an administrative assistant and working their way up to project management. When asked about personal accomplishment to be proud of... having learned how to barrel roll a kayak during a white-water kayaking trip in British Columbia this summer. Despite taking a lot of water up the nose, She says it was worth it to not have to haul their boat onto shore and drain it every time they tipped over.