Carlos Betonio: Finance Officer
March 3, 2023
Carlos Betonio is our Finance Officer at Electra Sign, where he performs reconciliations, payroll, creates sales/purchase orders, and general accounting duties. Carlos was born and grew up in Manila, Philippines and is proud of his life as a whole, for being able to enjoy it through his travels, children, and daily experiences because of the wonderful people he has surrounded himself with.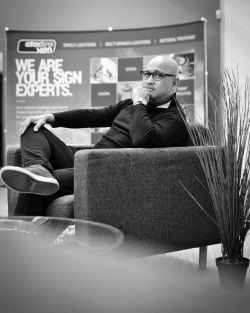 In his free time, Carlos enjoys playing tennis, Latin dancing, going to the theatre and dining out. When it comes to entertainment, his favourite TV show is Yellowstone and he enjoys all types of music except heavy metal. As a student, his favourite subjects were science and ancient history.

Carlos describes himself as "FUN!" and his positive outlook on life shines through in all that he does. He is a well-rounded individual who has a passion for learning and experiencing new things. Whether it's playing tennis, dancing, or exploring new destinations, Carlos is always up for an adventure.