Mark Hallmann: Electra Sign Graphics Department
March 24, 2021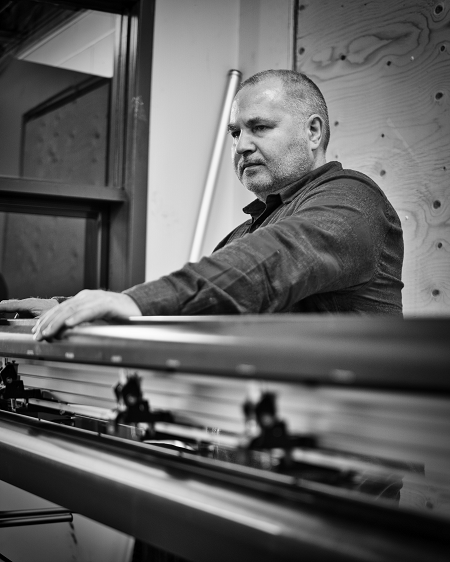 Born and raised here in Winnipeg, Mark is our senior graphics technician. At Electra Sign, Mark is responsible for prepping our signage graphics. Mark has been in the sign industry for over 30 years and we consider him an expert in his field. Mark takes pride in everything that he works on. He always gives 110% and has always been a team player. Mark has spent over 15 years obtaining a black belt in karate. His greatest accomplishments are his two sons, who he loves very much.

Mark spends a lot of his free time with his guitar in hand, writing his own music. A lifelong nerd, he also enjoys playing video games and the odd game of Dungeons and Dragons. His favourite genres are fantasy and sci-fi, and some of his favourite movies include Goodfellas, Rocky and the entire Star Trek franchise.
CLIENT PROFILE: Richardson Innovation Centre
February 3, 2021
We were pleased to work with Richardson International on their new iconic building signage for the new 62,000 sq. ft. Richardson Innovation Centre facility.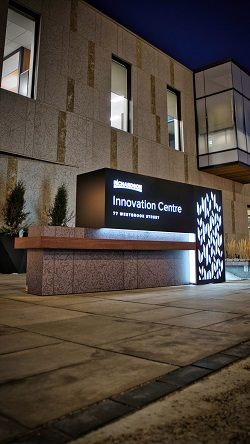 Located in the heart of downtown Winnipeg the facility was designed for advanced food product development. The building is also home to the Richardson Food & Ingredients Team, Oilseed & Milling Product Development Suites, Analytical Laboratory and a Culinary Testing and Demonstration Kitchen. They work with companies to provide comprehensive guidance in areas such as product conceptualization, formulating prototypes, recipe optimization, ingredient analysis, and manufacturing.

The new building letters and monument Electra Sign designed to accent the dramatic angular form of transparent glass and Tyndall stone architecture designed by Number TEN Architectural Group. The LED illuminated signage was crafted to make a bold impact with an engaging evening glow that utilizes environmentally-friendly LED lighting.

Richardson Innovation Centre
77 Westbrook St. Winnipeg, MB.
richardsonfoodandingredients.com
A welcome to Connor Snyder our newest Account Executive
December 30, 2020
We'd like to welcome the newest member to the Electra Sign family.

Connor was born in Toronto, raised in Winnipeg, but wishes he was sitting on a dock at Lake of the Woods. After graduating from the University of Winnipeg with a degree in Marketing & International Business, he started working with companies around the world to develop distribution for a product manufacturer. Throughout his career he has travelled to over 20 countries and to 42/50 states in the USA, building relationships with companies such as NASA and Microsoft.

Now with his roots planted in Winnipeg, he brings his sales and marketing experience to the Electra Sign Team as an Account Executive. In his spare time, Connor enjoys the outdoors, playing music, working on his motorcycle, and sports.
← Older Posts