Client Profile: IVC Vita Health
March 10, 2023
At Electra Sign Ltd. we take pride in every project we undertake. Collaborating with IVC Vita Health was a rewarding experience for us, and we are thrilled with the outcome of the new monument sign at 150 BEGHIN AVENUE in Winnipeg, MB.
Our team worked closely with IVC Vita Health to design and construct a sign that accurately reflects their brand identity their location. The monument sign was custom-made to fit the specific needs and requirements of the client.
The sign's design incorporates a combination of materials, including aluminum, acrylic, and LED lighting. The use of high-quality materials ensures that the sign is durable and withstands harsh weather conditions.
The monument sign features IVC Vita Health's logo prominently, making it easily recognizable to passerbys. The LED lighting enhances the sign's visibility, ensuring that it can be seen from a distance, even at night.
At Electra Sign Ltd., we understand the importance of creating a sign that accurately represents a business's brand and identity. Our team works tirelessly to ensure that each project we undertake is completed to the highest standards of quality and excellence.
We are proud to have been part of this project and look forward to collaborating with IVC Vita Health on future projects. Thank you for choosing Electra Sign Ltd. to design and create your new monument sign.
Top 5 Things to Know Before You Buy a Sign
January 19, 2023
1. Purpose: Determine the purpose of the sign, such as providing directions, advertising a product or service, or promoting a brand. This will help you decide on the size, design, and location of the sign.
2. Audience: Consider who the sign is intended for and tailor the design and language accordingly. For example, a sign intended for children should use simple language and bright colors.
3. Material and Durability: Choose a material that is suitable for the sign's location and the intended duration of its use. Some materials, such as metal or plastic, are more durable than others and can withstand harsh weather conditions.
4. Local regulations: Research and abide by any local regulations for signs, including zoning laws, permits, and size restrictions.
5. Cost: Be aware of the total cost of the sign, including any necessary permits or installation fees, so you can compare options and stay within your budget.
In conclusion, before purchasing a sign, it is important to consider the purpose of the sign, the audience it is intended for, the material and durability, local regulations, and cost. Carefully considering these factors will help ensure that the sign meets your needs and is effective in communicating your message. Additionally, it is important to make sure that the manufacturer or vendor is reputable and has a track record of producing quality signs. By considering these factors, you can make an informed decision on the best sign for your needs.
MICHELLE: Electra Sign Graphics Finisher
January 13, 2023
Meet Michelle, a creative and dynamic individual who has always had a passion for both art and business. Michelle grew up in Winnipeg with her three brothers, and today works as a graphic finisher here at Electra Sign, where she applies printed graphics to sign faces among many other tasks that require her finesse.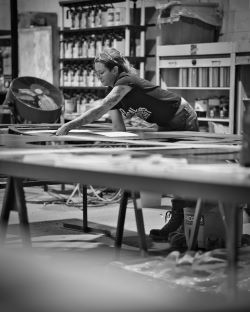 Before starting her career in the sign industry, Michelle ran her own wedding and event planning business for over 10 years. In her spare time, Michelle is a jack-of-all-trades, with hobbies ranging from tattooing and digital art to singing and just making noise.

When it comes to entertainment, Michelle is a fan of Gilmore Girls and Mr. Right and enjoys all kinds of music as long as it has a good beat. In school, Michelle's favourite subject was human development and the arts.

Overall, Michelle describes themselves as delightfully chaotic and a "beautiful mess." With a wealth of creativity and energy, there's no telling what this dynamic individual will do next and we are very lucky to have her as part of the Electra Sign Team!
← Older Posts